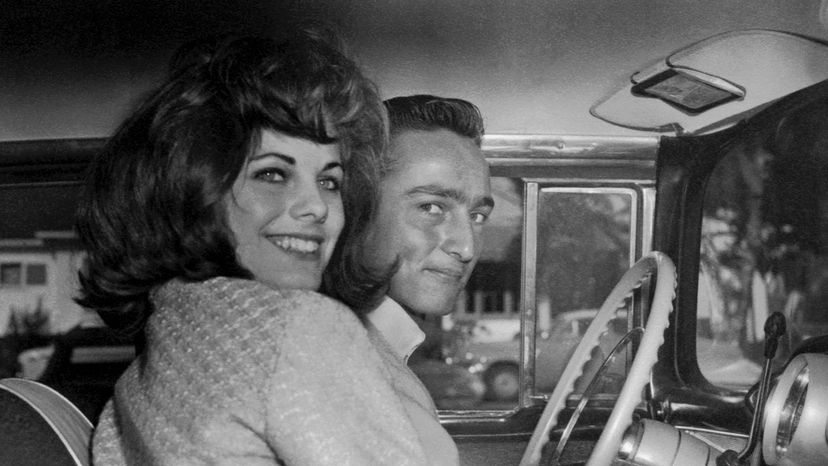 It sounds awful. "The screamin' tires, the bustin' glass, the painful scream that I heard last." The lyrics in Wayne Cochran's hit song "Last Kiss," first released in 1961, go on to tell listeners that the young man was able to find his sweetheart after their car crashed, despite the rain and the blood running in his eyes. When he did, "I lifted her head, she looked at me and said/'Hold me darling just a little while'/ I held her close, I kissed her our last kiss/ I found the love that I knew I would miss."
You may be shuddering -- or snickering -- at such lyrics. Yet "Last Kiss" was one of many such teen tragedy songs penned in the 1960s (it was later recorded by Pearl Jam in the '90s), and part of an intriguing cultural phenomenon known as "death discs." Ken Jennings and John Roderick dig into the topic in an episode of Omnibus, a twice-weekly history podcast. Jennings, who won "Jeopardy!" a record 74 times in a row (and now hosts it), and Roderick, an accomplished musician, dissect curious stories from the present and recent past in their podcasts.
Morbid teen pop songs first began hitting the airwaves in 1959 and 1960, when Mark Dinning's "Teen Angel," and Ray Peterson's "Tell Laura I Love Her" debuted, respectively. As the '60s progressed, so did the songs, which cut across all musical genres. There were "Ebony Eyes" by the Everly Brothers and "Johnny Remember Me" by John Leyton in 1961, "Leader of the Pack" by the Shangri-Las in 1964 and Bobbie Gentry's "Ode to Billie Joe" in 1967. Many of the songs' characters met their demise through car crashes, and often the tunes ended with pleas for everlasting love. A spoken interlude or prelude was another common feature.
What was behind the gruesome fascination with teen death? Some say one factor was the dawning of the jet age in the early 1960s. Americans were suddenly able to use air travel as a means of transportation. As they began doing so, some notable crashes occurred, including "The Day the Music Died" when Buddy Holly, Ritchie Valens, the Big Bopper all perished in one plane crash in 1959. Back in 1955, actor James Dean was killed in a car crash just as his career was taking off. As people learned of these terrible tragedies, it caused them to realize that untimely death is a real possibility for anyone.
In addition, the songs were considered dark and a bit edgy. The BBC banned many of these tunes, dubbing them "splatter platters." People even wrote letters to the editor of Seventeen magazine, Jennings says, to say that "the proper young lady should not be listening to this sort of thing." Of course, forbidding or banning something always increases its appeal, particularly to teens.
But in the end, the podcasters say, the main reason death discs became so popular may have been simple capitalism. The first few dark songs pressed into vinyl were hits. So other singers began emulating them to cash in. That's not the sexiest reason for the emergence of death discs, but it may be the most accurate.