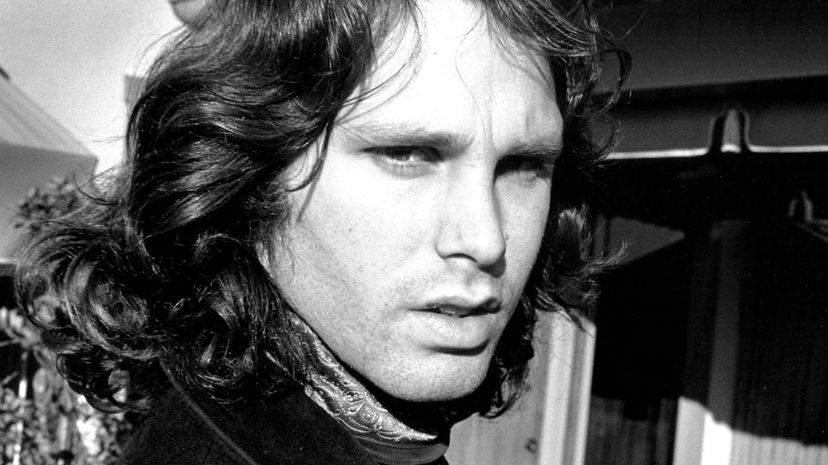 Jim Morrison, lead singer of The Doors, had a genius IQ.
Michael Ochs Archives/Getty Images
Poet, songwriter and lead singer for seminal rock group The Doors, Jim Morrison crammed a lot of living into 27 years. Here are five things you may not have known about him.
1. He Had an IQ of 149
Morrison was a voracious reader from a young age, favoring philosophy, poetry and even books on 16th-century demonology. His musical abilities were unknown to his high-school classmates, who believed the real future star would be fellow student Ellen Cohen. (She later became Cass Elliott of the singing group The Mamas and the Papas.) Morrison graduated from UCLA's film school with a degree in theater arts.
2. Van Morrison Taught Him Everything He Knew
While at UCLA, Jim Morrison met Ray Manzarek, a fellow film student and keyboard player and they formed what became known as the Doors in 1965. The name came from an Aldous Huxley book called "The Doors of Perception."  The other two members were guitarist Robby Krieger and drummer John Densmore. In Densmore's book "Riders on the Storm," he wrote about the group opening for Van Morrison's band, Them, at the Whiskey A-Go-Go in 1966, and how Morrison picked up a thing or two. "Jim Morrison learned quickly from his near-namesake's stagecraft," wrote Densmore, "his apparent recklessness, his air of subdued menace, the way he would improvise poetry to a rock beat, even his habit of crouching down."
3. He Was Banned from "The Ed Sullivan Show"
It didn't take long for fame to come knocking. By 1967, the Doors had a No. 1 hit with "Light My Fire," and an upcoming appearance on the biggest variety show on American TV at the time, "The Ed Sullivan Show." A few minutes before curtain time, one of the producers asked the band to change a lyric from "Light my Fire" —  "Girl, we couldn't get much higher" — to "Girl, we couldn't get much better," because the former could be a reference to drugs (you think?). The band agreed to the change, but after the producer left, Morrison told his buddies, "We're not changing a word." And that's what happened. Ed Sullivan was furious and after the band's performance, rather than shaking their hands, he went straight to commercial. The show's producer told the band, "Mr. Sullivan wanted you for six more shows, but you'll never work 'The Ed Sullivan Show' again." Ironically, the Doors' single appearance paved the way for the variety show to starting booking grittier acts.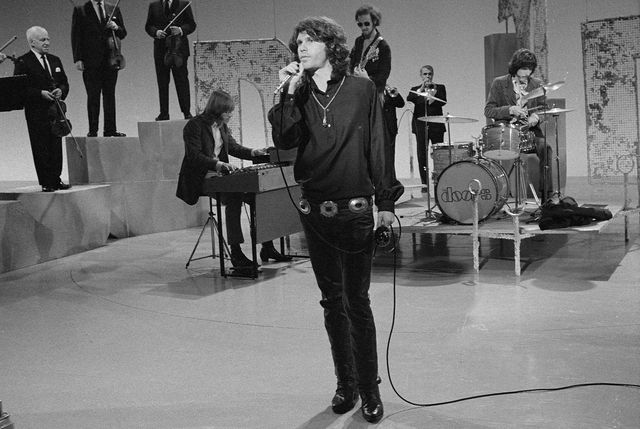 Jim Morrison and rest of The Doors (l-r Ray Manzarek, Robby Krieger and John Densmore) perform on 'The Smothers Brothers Comedy Hour' in 1969.
CBS via Getty Images
4. "Riders on the Storm" Was Inspired by a Serial Killer
The Doors' final album, "L.A. Woman," caused their long-time producer to quit, calling the half-finished material he heard "cocktail music." Nevertheless, this album went on to contain such Doors classics as "Love Her Madly," the title track and "Riders on the Storm." Although a lot of the latter tune was inspired by Morrison's relationship with long-time girlfriend Pamela Courson, the most memorable verse (which starts "There's a killer on the road") came from a screenplay he wrote about real-life serial killer Billy Cook, who murdered six people (including a family) while hitchhiking to California.
5. He is a Charter Member of the 27 Club
Morrison died of a drug overdose in 1971 in a bathtub in Paris at the age of 27. It was just a year after fellow rock icons Jimi Hendrix and Janis Joplin died, also at 27. He was buried in the Père Lachaise Cemetery in Paris, resting place of other famous figures like Edith Piaf, Colette and Oscar Wilde. Morrison's grave has been vandalized for years by zealous fans leaving graffiti and chewing gum and stealing mementoes. Yet at the same time, there's been a persistent myth that the rock star faked his own death and is living somewhere in seclusion. Even in 2016, a cameraman was posting clips on YouTube claiming that he had talked with "Jim Morrison," who was supposedly living in New York.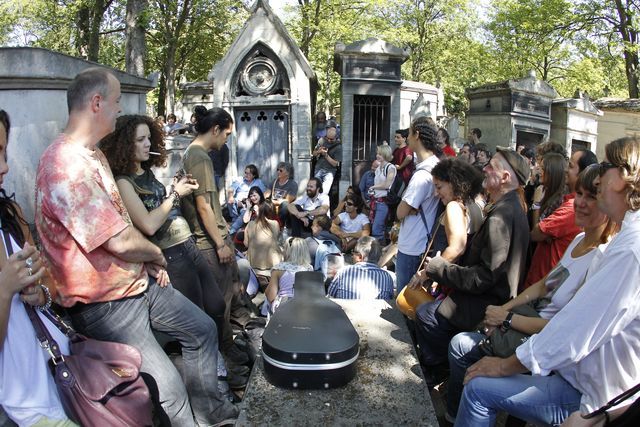 A group of fans gather to pay homage, in 2011 in front of Jim Morrison's tomb at the Pere Lachaise cemetery in Paris, 40 years after he was found dead in a bathtub in his Paris apartment.
FRANCOIS GUILLOT/AFP/Getty Images
Originally Published: Dec 7, 2016