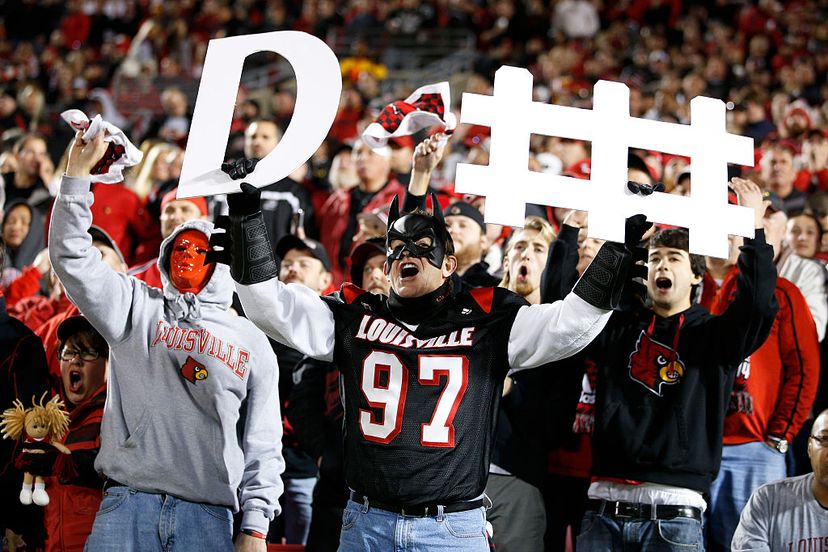 Lots of teams have unique rallying cries that help their fan bases stand out. For example, New York Jets diehards like to show off their spelling skills by hollering "J-E-T-S. JETS! JETS! JETS!" Out west, home crowds at Kansas Jayhawks games intone the school's beloved call to arms, "Rock, Chalk, Jayhawk!" Somewhat more biting is the favored mass taunt of Utah State basketball fans. A triumph over the visiting squad—whomever it may be—is followed by the local fans raising their voices together in a brutal, multi-part jeer called "Winning Team, Losing Team."
Of course, not all chants are team-specific. Consider the famous "DEE-FENSE" cheer which rings out at all kinds of American sporting venues, from soccer fields to hockey rinks. That one has an interesting backstory, one that involved a top-notch football roster and a legendary baseball park.
Yankee Stadium (the old one, that is) was the home of the New York Football Giants from 1956 to 1973. Early in their tenure there, the G-Men were an NFL superpower. Under head coach Jim Lee Howell, the franchise built a hard-hitting defense now remembered as one of pro football's all-time best. Included in its ranks were three future Hall of Famers: Sam Huff, Emlen Tunnell, and Andy Robustelli. With so much defensive firepower at hand, it's easy to see why Howell's Giants made six championship game appearances in an eight-year span.
Much to the chagrin of Gotham sports fans though, the Giants lost all but the very first of those championship games. In 1956, the team put together a record of eight wins, three losses, and one tie during the regular season. Then, thanks largely to that stellar defense, the team won NFL championship game, in which they clobbered the Chicago Bears, 47-7. (The first Super Bowl wasn't held until 1967.) It would be their last league title for over thirty years, as the Giants did not win a world championship again until they bested John Elway's Denver Broncos in Super Bowl XXI in 1987.
The 1956 New York Giants season is notable for another reason as well. On November 11 of that year, the club hosted the Chicago Cardinals in Yankee Stadium. At the time, these were — by record — the two best teams in the NFL's Eastern Conference, so the matchup was highly anticipated. More than 61,000 spectators poured into the stadium, and the G-Men treated them to a 23-10 victory over Chi-Town. Late in the game, as Chicago was driving down the field, the New York fans tried to give their defense some encouragement.
Suddenly, a few attendees started crying "Dee-Fense! Dee-Fense!" And lo, an iconic chant was born. In short order, this became a staple at Giants home games. Fans took to shouting it in unison while the defensive players ran out onto the field before each kickoff. Plus, they'd repeat the statement whenever visiting offenses looked ready to make some trouble. The crowd's passion was deafening; As Giants linebacker Harland Svare once said in retrospect, "It was almost a distraction. You couldn't hear anything."
Good chants are liable to spread. Eventually, the war cry made its way from the Bronx to Manhattan, transcending sports en route. In 1969, the New York Knicks of the NBA were a championship-caliber, defense-minded team—not unlike Howell's Giants before them. That year, pro basketball fans introduced the "Dee-Fense" chant to Madison Square Garden. Here, it was often punctuated by handclaps, resulting in a now-popular upgrade that sounds like this: "Dee-fense!" (*Clap! Clap!*) "DEE-FENSE!"
Having conquered the Big Apple, the intonation began to take root in other cities. It was regularly employed at Pittsburgh's Three Rivers Stadium during the 1970s, a decade which saw the Steelers ride their fearsome "Steel Curtain" defense to four Super Bowl victories. And after an upset road win over Washington in 1979, the New Orleans Saints were met at the Moissant Airport by 3,000 NOLA fans all screaming "Dee-Fense!" over and over. Today, stadium jumbotrons across the country prompt fans into repeating the statement on cue, sometimes with a bit of musical accompaniment from the DJ.
Props are now involved too. Televised football games almost always include footage of some spectator holding up a cardboard "D" in one hand and a picket fence in the other. The true origin of this pun-derful practice is a mystery. But no matter where it came from, the D-Fence sight gag has spawned some cute regional variants. In Seattle, for instance, Seahawks super fan Lorin "Big Lo" Sandretzky likes replacing the "D" with a cutout of the word "Sea." Get it? "Sea-Fence!" Funny stuff.