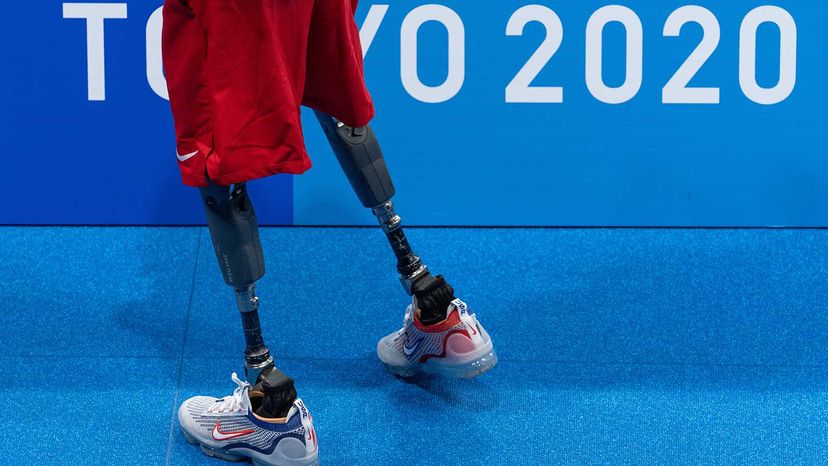 A member of Team USA swimming is seen here during a training session at the Tokyo Aquatics Centre ahead of the swimming events at the Tokyo 2020 Paralympic Games, August 2021.
Joe Toth for OIS
When thousands of highly trained athletes descend on Japan this week for the Tokyo 2020 Paralympic Games, they will be welcomed by a veritable army of technical experts there to support any and all Paralympians in their gold-medal striving efforts.
This support group is different from, say, the pit crew of a NASCAR driver, or the grip gurus who fine-tune clubs for professional golfers, or the bicycle mechanics that follow Tour de France cyclists, or the equipment managers for an NFL team. In truth, the tech teams going to the Paralympics are a lot different.
They are prosthetists and fabricators, welders and builders, doctors, scientists and artists, all versed in the challenges of providing the very best equipment for some of the most discerning athletes in the world.
Without these backup players, without their expertise in technology, the Paralympics as we know them couldn't exist.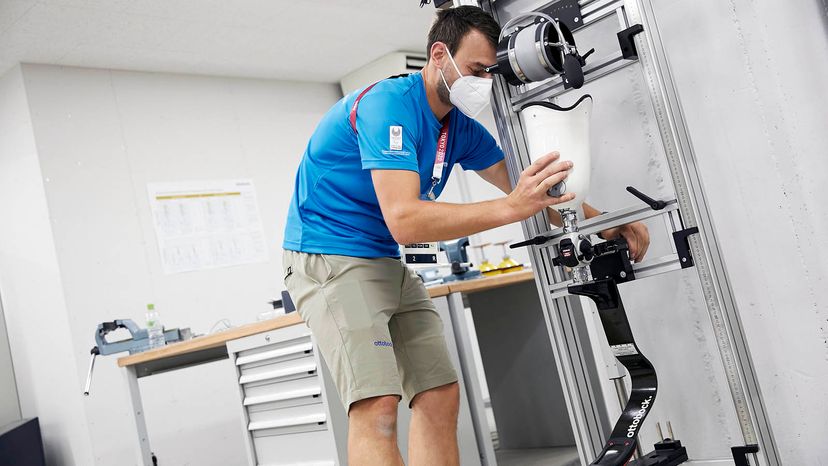 Julian Napp, seen here adjusting a sports prosthesis, is the head of the Technical Repair Service Center in Tokyo.
Ottobock
Tech and the Paralympics
Technical and scientific advances that touch many areas of the Paralympics — prosthetics and wheelchair construction, for two of the more visible ones — have enabled more para-athletes to compete at higher levels now than what was thought possible even just a few short years ago. Carbon fiber "blade" prosthetics have allowed amputees and those with lower-leg limitations to run races faster than ever. Specially designed chairs for paralyzed athletes — along with improved training methods — have translated to world records.
Balls that emit noises so that visually impaired athletes can compete, superlight bicycles, wheelchairs that can take the rigors of a para-basketball game — and can be tilted on their wheels by savvy players to give them a little more room to get off a shot or block one — are just some of the high-tech equipment that Paralympians will rely on in Tokyo.
"These are incredible athletes. They're breaking boundaries. They're doing things that humans have never done before," says Jeff Waldmuller, a prosthetist with German prosthetics company Ottobock, which serves as the Paralympics' official technical service partner in Tokyo. "And with that, they're testing the boundaries of their equipment. Anything from prosthetics to specialized biking or wheelchair equipment, to what's used in the track and field events ... Those things are going to break. It's our responsibility to fix them for all athletes, no matter what nationality they are."
Waldmuller, who lives and works in Salt Lake City, will be among the scores of technicians working long hours in Japan to keep the Paralympians on the playing fields. According to Ottobock, this team behind the Paralympic athletes is expected to carry out some 2,000 repairs during the Games. They'll have more than 17,000 spare parts on hand. They'll have 3-D printers. In all, they'll have almost 20 tons (18 metric tons) of equipment and machinery to take care of the athletes.
Not every athlete comes to the Paralympics toting the best and latest equipment, either. The technical support group is charged with taking whatever equipment that athletes have — a years-old orthotic, a wobbly prosthetic, a bike with hundreds of miles on it, a creaky wheelchair — and making it as good as possible so the athletes can continue to compete.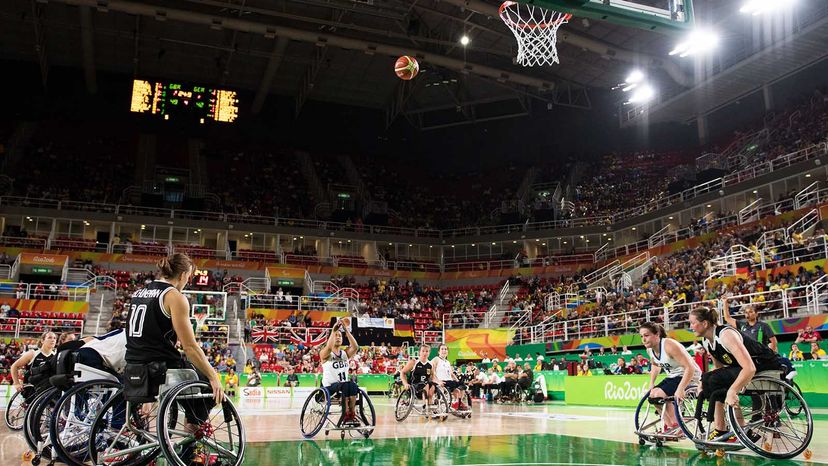 Joy Haizelden of Great Britain takes a free throw during the Great Britain vs. Germany game at the 2016 Paralympic Games in Rio.
Thomas Lovelock for OIS/IOC
Assistive Technology
Assistive technology has become super-specialized. Here are just a few examples of how technology is used in Para sport.
Wheelchairs: Many Paralympic sports use wheelchairs, including badminton, which debuts at Tokyo 2020. These wheelchairs have a backrest and extra rear caster wheels so players can twist or lean backward without tipping over. Rugby wheelchairs are of aluminum metal or titanium so they can endure crashes. Some have a fifth or sixth wheel for greater stability. Wheelchairs for basketball are tailored to the athletes' classification. So athletes with less mobility in their lower body have "bucket seats" and high backrests. Athletes with more mobility may have an extra wheel at the back of their chair so they can lean back to take shots.
Archers: Some use assistive devices, including a release trigger attached to a brace that's strapped on to the athlete's upper body. A manual trigger mechanism or other hinges are added to aid an archer to release the arrow.
Running blades: These light and springy leg prosthetics are used by athletes with lower leg amputations. They're made of carbon fiber and help athletes launch forward competitions like sprints or long jumps.
Tapping devices: Visually impaired swimmers have assistants called "tappers" who use tapping devices to let the swimmers know when they're approaching the wall and when to turn. It's typically long enough to gently tap the swimmer on the head, shoulder or back. No standard tapping device exists — they're all still homemade — must be approved by the IPC before races.
Anastasia Pagonis of Team USA swimming is tapped on the head to indicate that she is near the end of the length during a training session at the Tokyo Aquatics Centre ahead of the swimming events at the Tokyo 2020 Paralympic Games.
Joe Toth for OIS
Striking a Tech Balance
As with any equipment in just about any sporting event — balls, uniforms, engines, bats, sticks, goals, you name it — Paralympic equipment is regulated. The International Paralympic Committee (IPC) has a policy that details four basic principles when it comes to the often tech-forward equipment used by Paralympic athletes: It has to be safe, affordable and available to a sufficient number of athletes, regulated to ensure fairness, and it can't be more important than the athlete wielding the tech. From the policy:
Human performance is the critical endeavor to the sport performance, not the impact of technology and equipment.
Each sport details the regulations for equipment. Because each Paralympic sport can have several different classifications of athletes — Paralympians are placed in specific groups depending on their physical or mental impairments — the regulations regarding equipment can get pretty complex. The goal remains the same, though: To use technology and equipment to even the playing field as much as possible and let athletic ability decide winners and losers.
Waldmuller, 37, has been intimately involved in para sports for more than a decade. When he was 24, he was involved in a traffic accident that resulted in a partial amputation of his leg. Shortly after, he began to compete in para sports with the hopes of making it to the Paralympics. He never made it to the Games as an athlete, but he's there now, thanks to his work as a prosthetist. With Ottobock, he provides a "real world connection" between engineers and clinicians working on new types of prostheses.
His respect and admiration for those who will compete in Tokyo is unbridled.
"The biggest difference, I think, between able-bodied versus adaptive athletes ... most adaptive athletes have a lot more heart. They can really push the limit. Many have seen what true pain feels like. They can push past that threshold of pain and tolerate it," Waldmuller says. "And then they've always been told, 'You can't do this, you can't do that,' so they have this drive to push so much further. That's what makes adaptive athletes so incredibly tough. It's really more about that than the technology."
The Tokyo 2020 Paralympic Games begin Aug. 24 and conclude Sept. 5.
Johnnie Peacock of Great Britain (center) wins the Gold Medal in the Men's 100-meter T44 final at the 2016 Paralympic Games in Rio.
Simon Bruty for OIS