Germany's Vanessa Low is seen here competing in the 2016 Rio Paralympic Games' women's long jump final. She won the gold medal with a 4.93 meter world record jump.
Al Tielemans for OIS/IOC
The Paralympic Games, for those unfamiliar with one of the biggest sporting events in the world, may best be described as a kind of parallel Olympic Games. They happen every couple of years, just like the Olympics. For the past several decades, they've been held in the same host city. Like the Olympic Games, the Paralympics — "para" is a Greek prefix for "beside" — feature thousands of highly trained athletes from hundreds of countries around the world.
Breathtaking competition? The thrill of victory? Heartwarming backstories? Patriotism? Dreams come true? All-out inspiration?
The Tokyo 2020 Paralympic Games, which open Aug. 24 (a year late, just like the Olympics), have all that.
"And I think the key is," says Julie Dussliere, senior vice president and chief of Paralympic sport for the United States Olympic & Paralympic Committee, "the inspiration comes from phenomenal athletic performances."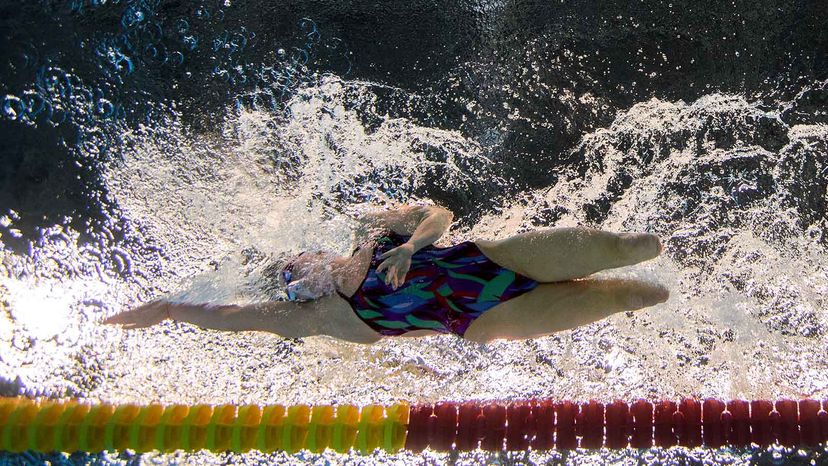 Team USA's Jessica Long, see here swimming in Rio, has won 13 Paralympic gold medals, and hopes to add to her tally in Tokyo, her fifth Paralympic Games.
Bob Martin for OIS
What Are the Paralympic Games?
Paralympians differ from Olympians in a key aspect: Paralympians compete with certain impairments. Those can range from physical — say, a missing limb or limited vision — to intellectual.
The Paralympic Games began at the 1948 Olympic Games in London when German neurologist Ludwig Guttmann organized an archery competition for 16 injured soldiers in wheelchairs. The Stoke Mandeville Games (named after a British hospital famed for its world-class spinal center) were an immediate success. By 1960 in Rome, the Games had morphed into the first Paralympic Games, featuring more than 400 athletes from 23 countries. In 1976, the first Winter Paralympics were held in Sweden.
"The profound value of sport in preventing these patients from retiring into inactivity cannot be exaggerated," Guttman is quoted as saying in "A Sporting Chance: How Ludwig Guttmann Created the Paralympic Games."
Starting with the Seoul 1988 Summer Olympics, and the 1992 Albertville (France) Winter Olympics, the Paralympics and Olympics have been held in the same cities. They're now organized jointly through the International Olympic Committee (IOC) and the International Paralympic Committee (IPC).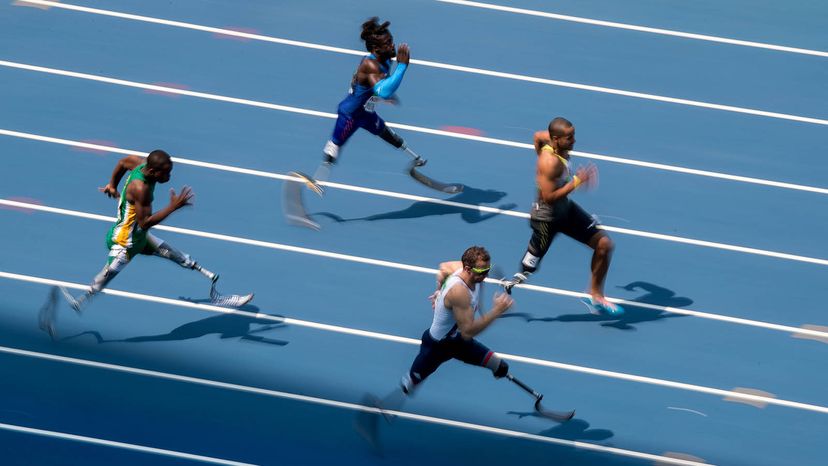 (Left to right) South Africa's Ntando Mahlangu, USA's Regas Woods, UK's Richard Whitehead and Germany's Leon Schäfer compete in a heat of the men's 100 meter at the Rio Paralympic Games in 2016. All four men are expected in Tokyo.
Simon Bruty for OIS
How the Paralympics Work
"I think there's probably a few misconceptions," about the Paralympics, Dussliere says, "but I think the most common one is that, if you have a disability that you're into the Paralympics at any and all levels. That's not the way it is. There is a sports pipeline, just like in Olympic sports. Age-group and grassroots, up through high school, and other intermediary steps up to that elite level. This is elite sports competition. It's athletes all competing for that podium at a very elite level."
In the U.S., any athlete who dreams of a spot on the Paralympics team is encouraged to pick a sport, join a local club, and to fill out a Team USA questionnaire that puts the athlete on the radar as a possible Paralympian. But lots of competition, at many levels, lies between beginning in a para sport and making a trip to the Paralympics. Not everyone makes it that far.
One of the most important parts of being a Paralympic athlete is finding a niche with like-abled athletes; in effect, getting classified. According to the IPC:
Classification is the cornerstone of the Paralympic Movement, it determines which athletes are eligible to compete in a sport and how athletes are grouped together for competition. In Para sports, athletes are grouped by the degree of activity limitation resulting from the impairment. This, to a certain extent, is similar to grouping athletes by age, gender or weight.
Para athletes are first classified depending on their type of impairment. The classifications generally fall under physical, intellectual and vision impairments, and include disabilities regarding:
muscle power

restriction or lack of movement in joints

limb deficiency

leg length difference

short stature

vision

high muscle tension

uncoordinated movements

slow, involuntary movements

intellectual impairment
It's up to the governing bodies of each sport to clearly define which, and how many, of these eligible impairment groups they provide sports opportunities. As the IPC suggests, the whole idea is similar to a weight classification in boxing or wrestling or taekwondo.
In the Paralympics, a single event in a sport — say the 100-meter run in athletics — could have several different classifications competing for different versions of a 100-meter gold medal. Just as, in general terms, welterweights and heavyweights compete for different medals in boxing.
In Tokyo, some 4,400 athletes — including 236 from the United States — will compete in 22 different sports. Within those 22 sports, several classifications will compete. In all, 539 events will be held in those 22 sports in Tokyo, meaning 539 gold medals are up for grabs.
Again, the whole idea (according to the IPC) is, "to minimise the impact of the impairment on athletes' performance so that the sporting excellence determines which athlete or team is ultimately victorious."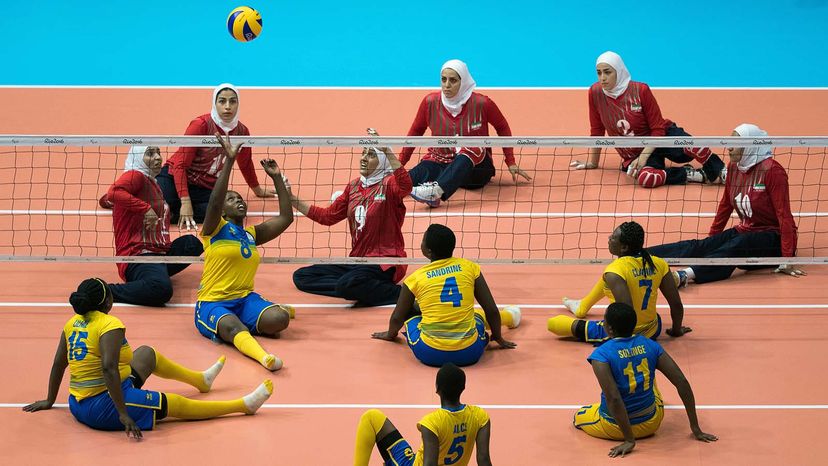 Volleyball is played sitting down in this women's match between Iran and Rwanda at the Paralympic Games in Rio in 2016.
Simon Bruty for OIS/IOC
Paralympics summer sports include 20 Olympic staples (like athletics, swimming, tennis and cycling) and two Paralympics-only sports. All have a Paralympics flair. For example:
Volleyball is played sitting on the floor, with a much shorter net than Olympic volleyball.

Tennis and basketball are contested in futuristic, turn-on-a-dime wheelchairs. The ball can bounce twice in tennis. A basketball player with the ball has to pass, dribble or shoot the ball before touching his wheelchair three times or be called for traveling.

Some runners, bikers and swimmers are allowed to have sighted guides; some cyclists ride on tandem bikes with their guides ("pilots") in front. A runner has to finish ahead of his sighted guide, who is attached to the athlete by a string.

Football (soccer) is played with five-person teams of visually impaired athletes, making it necessary to use a noise-making ball. Players wear eye-shields to make things fair.
The two sports played only in the Paralympics: Boccia, a ball sport played by neurologically impaired athletes in which points are scored by throwing a ball closest to a target ball (think bocce ball). And goalball, in which three-person teams of visually impaired players attempt to throw a noise-making ball into a net defended by the other team.
The Tokyo Paralympic Games run through Sept. 5, when the Closing Ceremonies (yes ... just like the Olympics) will be held. In 2024, Paris plays host to both the Summer Olympics and Paralympics.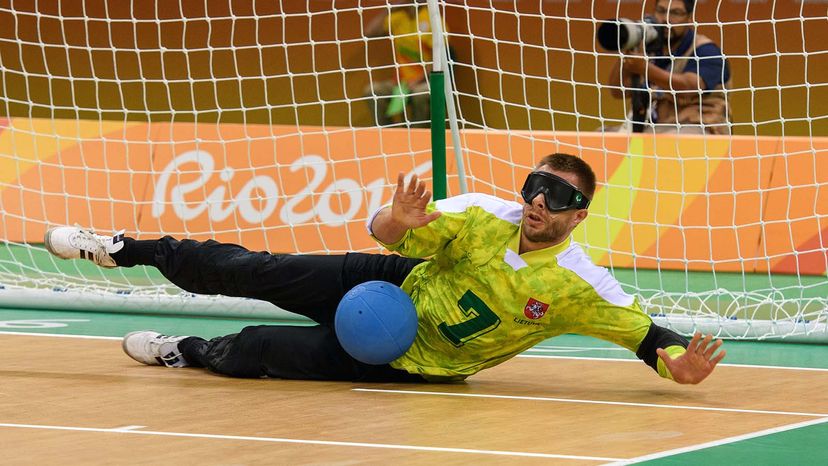 Lithuania's Genrik Pavliukianec makes a save during the men's gold medal goalball match against Team USA at the Rio Paralympic Games in September 2016. Goalball is one of two sports played only at the Paralympics.
Anthony Edgar for OIS/IOC