Wrapping It Up
Considering the complex nature of the process, "The biggest challenge by far was finishing the movie," says Letterman. "There was much to do, and the release date got pushed ahead by a month. I think the total between production and pre-production was three years, and that's really fast for animation. Shrek was five years," he compares. "I think the movies are getting faster now because of computer technology."
Letterman remembers the first time he saw the finished film. "Up until that time, I'd seen it a thousand times in every iteration possible on the AVID system -- we'd watch it on a low-res screen over and over again. But when I finally saw it in a theater with all its resolution, scenes I'd seen a thousand times blew me away. It was like watching it for the first time. The colors were so rich and the details -- it just looked gorgeous."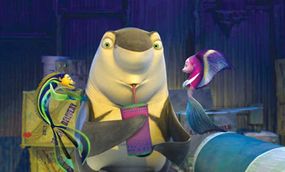 Oscar (Will Smith, left) tries to explain to Angie (Renee Zellweger) why he is hiding a shark named Lenny (Jack Black).
Lignini was equally satisfied to see the results of his efforts, but admits that the film has changed his perception of fish forever. He can no longer pass by a fish tank without imagining what actors they look like.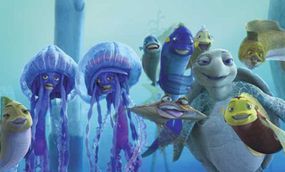 Rastafarian jellyfish Ernie (Ziggy Marley, left) and Bernie (Doug E. Doug) are joined by a school of admirers who believe Oscar is the hero of the Reef.
For more information on "Shark Tale," computer animation and related topics, check out the links below.
Related HowStuffWorks Articles
Inside Ladder 49

The Future of Star Wars?

Adapting Hellboy
More Great Links