Humanizing Fish
Once the characters were set, the animators had to figure out how to anthropomorphize them. "The fish had to use chairs and tables and beds like humans do. They couldn't just float around," explains Lignini. "We had to combine floating and swimming with a little bit of gravity. This was the main challenge, and we kind of made it up as we went along."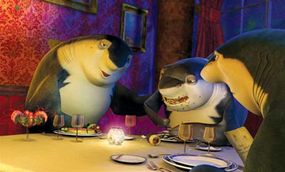 Don Lino (Robert De Niro) and his older son Frankie (Micael Imperioli) try to teach Lenny (Jack Black) how to eat like a shark.
When Lignini needed inspiration, he had only to go outside. Conveniently, "We have some fish ponds here at Dreamworks, and I would go down and watch them a little bit and go back and animate," he confides.
Another equally important aspect for the designers and animators was the underwater environment in which "Shark Tale" takes place, including the downtown Southside Reef, the upscale Top of the Reef, and the sharks' lair in a sunken ship. Artists visited New York's Times Square for inspiration, and then took elements and "fishified" them, such as billboards advertising "Old Wavy" and "Gup." "Everything had to be fishified so it had the spirit of that underwater world," says Letterman.