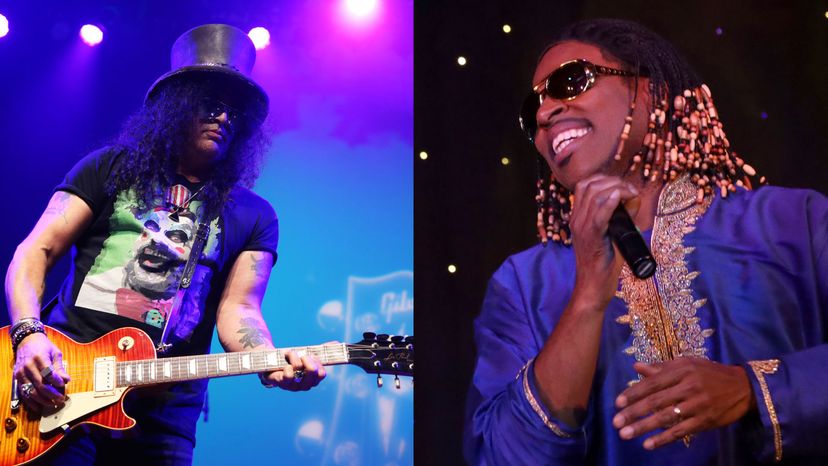 Image: Gabe Ginsberg/Phillip Faraone/Getty Images
About This Quiz
How did Saul Hudson become Slash? And where did the name Meat Loaf come from? Test your knowledge of musical nicknames with this rockin' quiz!
Don't pass him by: Drummer/songwriter Ringo Starr played a vital role in the Beatles' success. What's his birthname?
A love of finger jewelry inspired the name "Ringo." And earlier in his career, Starkey's drum solos were called "Starr Time."
Fill in the blank: Marvin Lee Aday of Dallas, Texas later found fame and fortune as __________.
Legally, his first name is "Michael" now. But Aday says he was once detained for six hours in Germany because he had "Meat Loaf" on his passport. He was given the nickname by a football coach in high school because of his hefty weight.
Stevie Wonder's stage name used to be longer. What was he called originally?
At age 13, Stevland Morris enjoyed his first No. 1 Billboard hit. He dropped the word "Little" from his stage name in the 1960s when he turned 15.
The name "Alice Cooper" was allegedly borrowed from which of the following people?
a seventeenth-century witch
Supposedly, Vincent Damon Furnier changed his legal name to "Alice Cooper" in 1974 after a witch who contacted him via a Ouija board.
Why did Henry John Deutschendorf, Jr. change his name to John Denver?
He loved the Rocky Mountains.
Henry John Deutschendorf, Jr. originally hailed from Roswell, New Mexico and said he chose the stage name "because my heart longed to live in the mountains." That would be the Rocky Mountains surrounding Denver, Colorado. Denver maintained a home in Aspen, Colorado, for all his adult life.
He hated his birth name so he threw a dart at a map and that was where it landed.
Guitarist Saul "Slash" Hudson says his nickname was coined by which of these actors?
Growing up, Hudson got to know Cassel (a familiar face in Wes Anderson movies) who was the dad of a friend. Cassel called the boy "Slash" because of his high-energy levels.
David Bowie stopped using his real name (at least, professionally) because he didn't want to be confused with ______.
Davy Jones (of the Monkees)
"Nobody's going to make a monkey out of you," said his manager. David Robert Jones was the late artist's legal name. Bowie was a tribute to Jim Bowie, the Texas rebel in the movie "The Alamo."
What nickname did Pat Benatar give her husband and longtime musical partner, Neil Giraldo?
The pair once came across a black and yellow sign that said "Spyder's Dinner Club" and the rest is history.
A founding member of Queen, singer Farrokh Bulsara was better known as Freddie Mercury. Where'd that name come from?
He borrowed it from Roman mythology.
It's a reference to one of his own song lyrics.
While "Freddie" was a nickname from school, no one is sure why "Mercury" was added. It might've been a nod to the Roman god — or an allusion to the song "My Fairy King," which has a line about "mercury, mercury."
Bono's rock star moniker was inspired this humble establishment:
a local Italian restaurant
A friend gave Paul Hewson the name after the local Bonavox hearing aid store. Initially he didn't like the name until he found out it stood for "good voice." Bono Vox was soon shortened to just Bono.
Gabe Ginsberg/Phillip Faraone/Getty Images