Never one to make a discreet entrance, when John Lennon came into the world on October 9, 1940, it was amid a Liverpool whose docks and surrounding neighborhoods were under almost constant threat from the bombs of Hitler's Luftwaffe.
The Battle of Britain had moved into high gear as the Germans attempted to complete their takeover of Western Europe, but Mary Elizabeth (Mimi) Smith was prepared to risk the possibility of flying debris and shrapnel. She ran all the way to Liverpool Maternity Hospital as soon as she heard that her sister, Julia, had given birth to a baby son, christened with the middle name of Winston as a tribute to Britain's unflagging Prime Minister.
Mimi's effort to see her new nephew was rewarded for, as she asserted many years later, "I knew the moment I first set eyes on John that he was going to be something special." Mimi's reaction displayed either great premonition or, more likely, natural favoritism. In any case, she need have looked no further than the little boy's mother to determine the broad shape of his personality.
Julia Lennon (born Stanley) was a carefree, fun-loving woman. Her behavior was sometimes irresponsible and often eccentric, and in sharp contrast to the reserved manners and sober attitude of Mimi. "She was witty and full of fun," Mimi told Beatles chronicler Hunter Davies. "She never took life or anything seriously. Everything was funny, but she couldn't see into people until it was too late. She was more sinned against than sinning."
Julia was a movie usherette before she married ship's steward Alfred (Freddie) Lennon on a whim on December 3, 1938. Both in their mid-twenties, they were at first very happy together, but neither of them was ready, emotionally or financially, to bring up a child.
Freddie's father, Jack, had been born in Dublin and toured the United States as a Kentucky minstrel during the 1890s. Retirement brought him to Liverpool, and after Jack's death in 1921 nine-year-old Freddie tried to continue the showbiz tradition when he ran away from his orphanage to join a children's troupe. The authorities soon put an end to his big-time ambitions, however, and by the age of 15 he was well educated and working as an office boy. It was at around this time that he met Julia Stanley.
A year later he quit the office for the sea, finding employment first as a bellboy and then as a waiter, but his lack of ambition meant that he would progress no further. By the time John was born some twelve years later, Freddie was serving as headwaiter on a ship bound for New York. The home life was not for him, and in spite of the occasional visit and the odd postcard, there was little sign of the elder Lennon over the next few years as he sailed his way around Canada, France, Italy and North Africa.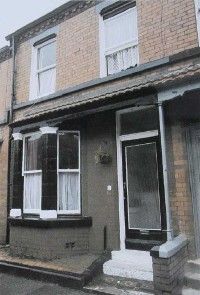 Julia, in the meantime, was not exactly tying herself down either. Having handed over the responsibility for John's upbringing to Mimi and her husband George, she decided that the best way to mourn Freddie's absence was to go out and have a good time with her friends. For a while everything ran smoothly, but then Freddie spoiled things.
In an attempt to save the faltering marriage, he reappeared on the scene shortly after the five-year-old John had been enrolled in Dovedale Primary School off Penny Lane. Needless to say, he came back too late to do the marriage any good. His wife had set up housekeeping with another man, and she showed absolutely no interest in Freddie's desperate pleas to patch up the relationship.
Freddie's response was to take John to the nearby coastal resort of Blackpool, secretly planning to emigrate with his son to New Zealand and start a new life there. Julia, sensing trouble, arrived in Blackpool and demanded that their son return to Liverpool with her. What followed was a reckless tug-of-love that left emotional scars that John would carry for the rest of his life.
In a ridiculous scene straight out of the movies, the parents presented their child with an ultimatum as to whom he wanted to live with. Totally confused, the sobbing boy first opted for his father, but then, after watching his mother walk out of the door and down the street, he changed his mind and chased after her. Freddie later told Hunter Davies, author of The Beatles: The Authorized Biography, "That was the last I saw of him or heard of him until I was told he'd become a Beatle."