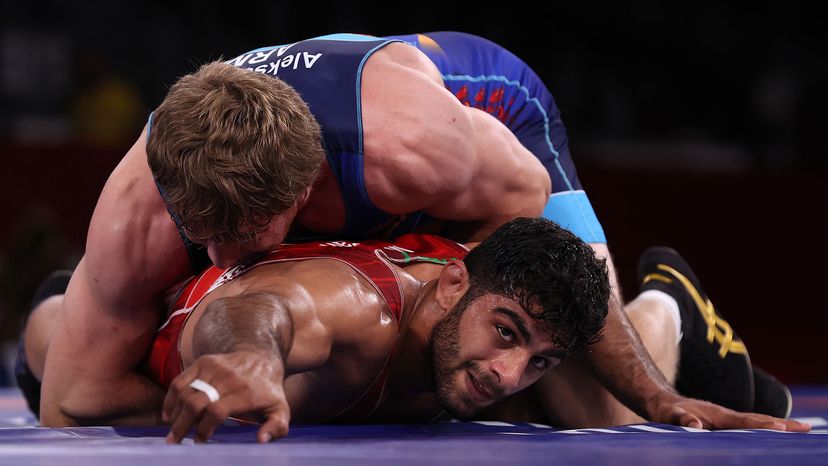 On July 26, 2021, Team USA swimmer Katie Ledecky won the gold medal in the first-ever 1,500-meter freestyle event for women. (The men's event has been held for decades.) If you're surprised that Tokyo 2020 was the first Olympics to hold this race for women, you're not alone. Women have had to overcome many hurdles to compete in the Olympics and even today there are a few events that are still not open to them.
When the modern Olympics began in 1896, no women were allowed to compete. In 1900, they could compete in only five events (tennis, sailing, croquet, equestrianism and golf). Today, women compete in just about every event and since 1991, any sport seeking to join the Olympic program has to have women's competitions.
Still, there are a few summer sports that currently only have men's divisions at the Olympic level. They include:
Greco-Roman wrestling: Even though freestyle wrestling has men and women's divisions, Greco-Roman wrestling is currently open to men. Greco-Roman wrestling has been an Olympic sport since 1896; wrestlers use only their upper bodies and arms, while freestyle wrestlers can use any part of their body. In 2015, the head of United World Wrestling said it was possible that women's Greco-Roman wrestling could be added after the Tokyo Olympics; he mentioned that they had already started developing Greco-Roman programs for women.
Decathlon: The winner of this series of 10 track and field events over two days (100-meter, long jump, shot put, high jump and 400-meter on day one, and 110-meter hurdles, discus, pole vault, javelin and 1,500-meter on day two) is considered to be the world's greatest athlete. Women compete instead in the heptathlon, which is seven track and field events (100-meter hurdles, high jump, shot put, 200-meter sprint, long jump, javelin throw and 800-meter run) over two days.
Some female athletes are campaigning to have a women's decathlon at the Olympics, but not all women are on board with this. "Heptathletes are considered primarily speed-oriented and decathletes more endurance-oriented," Shauna Farnell wrote for The New York Times. If the women's decathlon becomes a reality, it is likely the heptathlon would no longer exist at the Olympic level.
One-person dinghy (heavyweight) - Finn: This men's event involves sailing a catboat, or cat-rigged sailboat, which is a sailboat with its mast well forward on the boat with a single sail. It requires a lot of brute strength. U.S.A. silver medalist (2008) Zach Rainey called it "a true test of power, endurance and mental strength. Anyone who has sailed a Finn in steep chop and 20 knots can tell you just how physically hard the boat is to sail... You have to be big and have the frame to build the strength needed to sail the boat."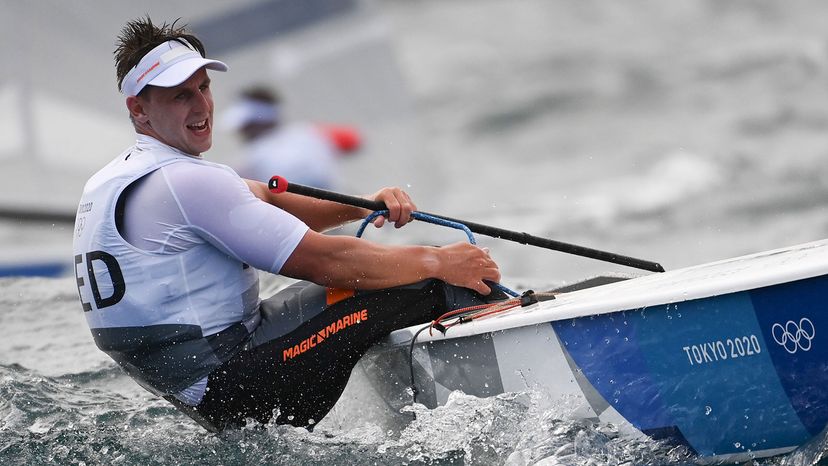 50-kilometer race walking: At 31 miles, this is the longest race at the Olympics, but its lack of female participation might be moot since it could be going away after 2021. "It would appear, some at the IOC and World Athletics consider it lacks the 'wow factor' and would prefer to see the current major championship distances of 20km and 50km shortened to what is akin to long distance sprinting, at least in walking terms: 10km and 30km," wrote Athletics Weekly. Women competed in this event for the first time at the 2017 World Championships.
On the flip side, there are two summer Olympics events that have only female representation.
Rhythmic gymnastics: Call this the "other gymnastics." It features elements of dance and acrobatics while the gymnasts handle props such as a ball, hoop, ribbon or rope. There are few men who participate in rhythmic gymnastics , although there are teams in Japan that incorporate martial arts into their routines.
Synchronized swimming: Maybe its roots in "water ballet" discourages men from participating. A hilarious "SNL" video from the 1980s featuring two male synchro swimmers probably didn't help matters either. But interestingly, synchronized swimming was originally a male-only sport in the 19th century. "Contests were originally solely for men but it was soon recognized that artistic swimming was better fitted to women who were overall more buoyant, in particular in the legs," wrote the website British Swimming. An all-male British synchronized swimming team petitioned to compete at the 2016 Rio Olympics but was turned down. It's possible that the IOC could reverse its position in the future.
In recent years, the IOC has increased the numbers of mixed-gender events. For instance, mixed medley swimming relays and mixed track relays, where teams of two men and two women compete against each other are part of the Tokyo Olympics. Equestrian is one of the few Olympic sports where men and women compete directly against each other.