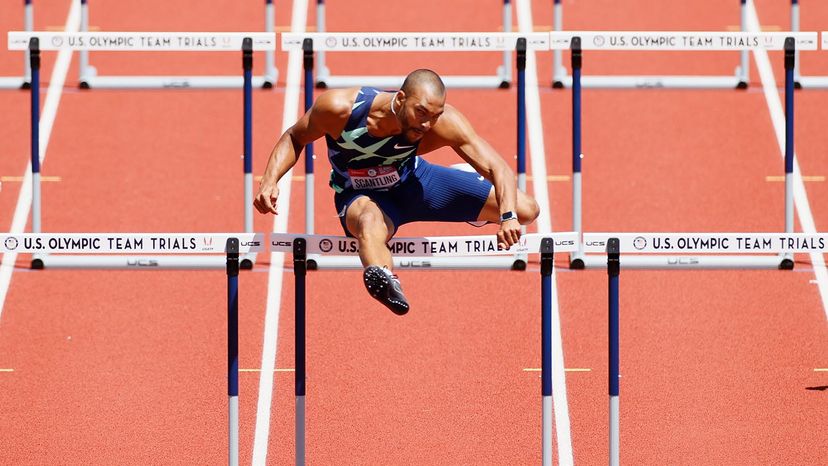 When the great Native American multisports star Jim Thorpe blew away his competition in the decathlon at the 1912 Olympic Games, Sweden's King Gustaf V — a pretty fine tennis player, by the way — reportedly grabbed the champion's hand, shook it and declared, "Sir, you are the greatest athlete in the world."
Thorpe was a pretty good baseball and football star, too, in the early part of the 20th century. But it was that gold medal in those Stockholm Olympics that brought him his biggest fame. And thanks to Thorpe (with a hat tip to the Swedish king), every winner of the Olympic decathlon now earns the unofficial title: The World's Greatest Athlete.
But ... really? A decathlete?
"I like the title — it's fun, but who can really say how accurate it is? Bo Jackson might have been the world's greatest athlete. Maybe Michael Jordan," Dan Steele, the associate head coach for track and field at Iowa State, says in an email. Steele recruited U.S. decathlete Ashton Eaton, the defending Olympic gold medalist and the reigning world record holder, to the University of Oregon. "When it comes to Ashton Eaton, his body of work makes a pretty compelling case for that title."
Still, in the decathlon, you don't get smacked in the mouth, like you do in boxing or football. You don't have to tread water for what seems like forever, as water polo players do. You don't have to run for what seems like forever, like marathoners.
In the decathlon, you don't have to constantly zip back and forth, like basketball or soccer or rugby or hockey players do. You don't risk life and limb as in downhill skiing or ski jumping or even auto racing.
So ... really? The decathlon? The greatest athlete?
"You might say an outstanding person, like [the NBA's] LeBron James, or a great football player could win the decathlon, and maybe they could," Fred Samara, a former Olympic decathlete (he competed in the 1976 Games) and the longtime coach of the Princeton track and field team, tells HowStuffWorks. "But would they be able to win the pole vault? Would they be able to run the mile?
"So, yeah, to say 'The World's Greatest Athlete,' that may be a little bit of a stretch; there's billions of people in the world. But the athlete that wins the Olympic gold, or is the world record holder [in the decathlon] certainly can lay claim to being one of the world's greatest athletes, I think. That's for sure."