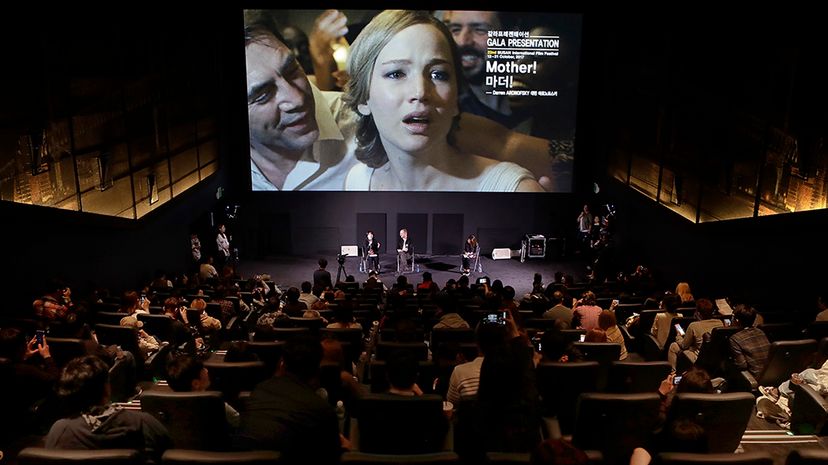 Director Darren Aronofsky attends a post-screening Q&A of his controversial 2017 film "Mother!" at the Busan International Film Festival.
Woohae Cho/Getty Images for Paramount Pictures
Darren Aronofsky is nothing if not polarizing. Whether it's a mind-bending trip down a drug-fueled rabbit hole in "Requiem for a Dream," or a dark peek at eroticism on the professional ballet circuit in "Black Swan," the award-winning writer/director's films tend to elicit strong feelings.
Aronofsky's opus "Mother!" is garnering a new kind of feedback from moviegoers. As with many Aronofsky flicks, many viewers appear to be leaving the theaters confused about what it actually is that they just watched. Per usual, the film has also divided critics. But a vocal group of movie watchers are also miffed because they say the final product on the big screen looks very little like the trailer promoting the film that they watched on TV or online. (Those expecting a straight-up psychological thriller, per the trailer, were treated to an extremely bizarre allegorical horror show.)
The team behind "Mother!" isn't the only one to be accused of using film trailers and other movie marketing tools to sell moviegoers a bill of goods. Here are seven films that didn't exactly line up with their previews.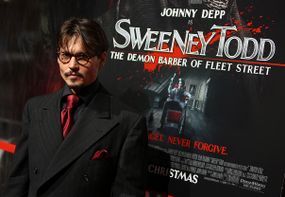 Actor Johnny Depp starred in "Sweeney Todd: The Demon Barber of Fleet Street," a 2007 movie whose marketing team avoided overtly cluing in audiences to the fact that it was a musical.
Stephen Lovekin/Getty Images
1. "Sweeney Todd," 2007
The combination of Tim Burton, Johnny Depp and the story of a murderous barber out for revenge in Victorian London is something akin to a holy trinity in some cinephile circles. It was certainly enough to get many folks out to the theatre when the film dropped in 2007. The only problem is that Dreamworks left out one important detail in the film's trailer: "Sweeney Todd" is a musical. Johnny Depp sings. The entire time. So do most of the characters. Sure, Broadway veterans certainly understood going in that the movie was based on Sondheim ditties. The rest of the crowd was a little surprised.
2. "Drive," 2011
Nicolas Winding Refn's 2011 noir crime piece is a nuanced film about a guy who drives really well, and doesn't do much else. It won critical praise and rave reviews from audiences, but it also offered some filmgoers a little less than what they bargained for at the box office. Just about all of the action that takes place over the course of 100 minutes of movie was also jammed into two and a half minutes of movie trailer. The good news is action-craving crowds still got to see a guy get his head stomped in like a watermelon; the bad news for those same people is the film was more meditative and artistic than they'd expected.
3. "The Tree of Life," 2011
If Aronofsky has a kindred spirit behind the camera, it's fellow art-leaning director Terrence Malick. The man who delivered the Pacific World War II fever dream that is "The Thin Red Line" in 1998 followed it up with "The Tree of Life" 13 years later. The film – which stars Brad Pitt, Sean Penn and Jessica Chastain — tells the tale of a Texas family, the father's memory of his own upbringing, and how it all ties back to the creation of the universe. In other words, it's long and sometimes tough to follow, but it's also a beautifully shot piece of film.
If you watch the trailer, you're not likely to walk away with any idea of what the film is about other than a family and some strife. Then again, some moviegoers had the same experience after walking out of the theater; some cinemas even posted a no-refunds policy for the film, warning moviegoers ahead of time they were in for a nontraditional ride.
4. "National Treasure: Book of Secrets," 2007
Nic Cage may be a strange human being, but he is also a cinematic treasure. For all of the dreck that he churns out, it can be easy to forget that the actor who first turned heads in "Raising Arizona" every once in a while still has a delightfully over the top performance or two left in the tank. Unfortunately, "National Treasure" is not one of those films. It is not good. So not good that the movie's marketing team loaded its trailer with scenes that are not actually in the film.
5. "Scream," 1996
If you were a teenager in mid-'90s and remember going to see "Scream" on the big screen, you likely also remember expecting Drew Barrymore to play a starring role in the horror flick. She was featured heavily in movie posters and ads. She also did much of the press tours in advance of the film. Turns out Drew's turn in front of the camera for Wes Craven lasted about as long as the previews.
The misdirection was probably by design. "Scream" is a film about horror films, and the tropes that often feature heavily in them. Wes Craven wanted us to think that Barrymore would play the damsel in distress protagonist role, and he wanted us to be shocked when she met her very early demise.
6. "Lost in Translation," 2003
Sofia Coppola and the team behind "Lost in Translation" were robbed. Sure, everyone knew going into the 2003 Oscars that "The Lord of the Rings" was going home with the best picture award, but that doesn't mean it was the best picture. The Coppola flick is a dry, dark comedy about loneliness and Japanese whiskey. It is not the lighthearted romantic comedy that it was made out to be in this trailer.
7. "The Rules of Attraction," 2002
"The Rules of Attraction" is a move about college starring James Van der Beek and Jessica Biel. What folks who are not Brett Easton Ellis disciples may not have known going into the film is that it's based on a book written by the guy who penned "American Psycho." This is no simple "Animal House," despite the trailer's focus on sex, drug and rock 'n' roll on campus. It's a jaunt over to the darker side of the dorm.