A Minor League Team as a Business
As we mentioned earlier, the major league club's player development goals must co-exist happily -- and profitably -- with the local owners and operators of a minor league club. According to Bulls' assistant general manager Mike Birling, who works with general manager George Habel to handle the team's business affairs, there is clear delineation between what the major league affiliate does and what the local administration does. There are also some areas of shared responsibility.
Baseball is the Thing
An important -- and little known -- point to make is that the major league organization makes all the decisions about who plays for each minor league team for the season. The process to determine which players will report to which team is intense, wrapping up after six or more weeks of play and discussion at spring training camps.
That's why, Bulls Community and Public Relations Director Brian Crichton says, the main office in Durham didn't have their final roster of players until the teams broke spring training camp in Florida. "We have a list of about 30 players who are likely to come here," he reported in late March. "But we won't know exactly which 24 players will be here until the last minute. The Devil Rays make all the decisions about who comes, goes and gets moved up through the system." (Baseball "wives" are familiar with this aspect of professional baseball -- with packing for unknown destinations and waiting for the word while staring at two or more possible routes drawn out on a map!) Read more about how these assignments work in the Durham Bulls' transaction glossary.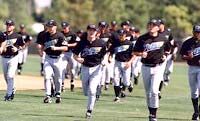 The major league club director of player development also assigns the manager, who runs the team, coaches, who work with players on hitting, pitching and catching skills, and trainers, the guys who help keep the players healthy and in good shape. (In many organizations, managers and coaches also work their way up through the minors to the majors.) The Devil Rays have sent Bill Evers to Durham as manager this season -- his fifth season with the Rays and his third with Durham.
Major league clubs keep close watch on their farm teams, sending scouts and front-office staff to watch games and keep stats on players -- all of which contributes to the future progression of the players. (Other teams also send scouts to check out young players they might be interested in picking up when their contracts are up and they're available as free agents.)
It's Also a Business!
One of the reasons the Durham Bulls -- often held up as a textbook example of how a minor league baseball team can succeed -- have done so well is that owners like Wolff and Goodmon have carefully marketed the team and not the individual players. That's why local folks have continued to be loyal Bulls fans no matter which players are around or with which major league team the Bulls are affiliated. They also understand that running a baseball team is a business -- a different kind of business, but still a business, Birling said.
"What successful business people like Miles Wolff and Jim Goodmon understand is that a minor league baseball game has to offer the kind of entertainment that can compete with the wealth of entertainment choices people have today," Birling said. "Our mission to provide the finest in entertainment for the family and people of all ages."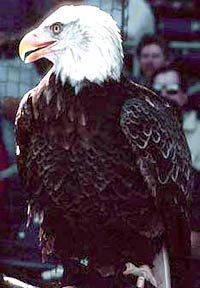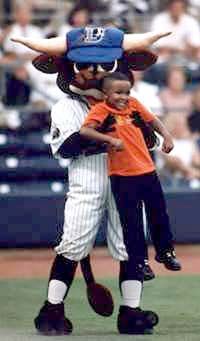 That's why Crichton and his staff pull out all the stops at home games. It's not just a ball game (although that's why many people are there) -- it's nine innings of flashy, family entertainment.
For example, the first home game of the 2000 season, the U.S. Army Parachute Team, the Golden Knights, helped the Bulls start their quest for a third straight South Division title by landing on the field and delivering the official game ball to ceremonial first pitch guest Wade Boggs, a future hall-of-famer.
And there's more: Later in the season, an American bald eagle named Challenger, who'd been injured and was rescued by a local man, swooped down from a nearby office building to land on his trainer's arm just in time for the last note of the National Anthem. "People really love this -- it's great for the kids and contributes to the patriotic feeling people get when they watch our national pastime," Crichton says.
During every game, a lucky child is selected to "run with the bull" -- that is, to race Wool E. Bull around the bases. (Funny, how the kid always wins!) Participation is big at the DBAP -- if it's your birthday, you may be asked to stand on top of the dugout and lead the crowd in its traditional 8th inning rendition of "YMCA."
And you never know when Scout the Bat Dog (she's a real dog and she really carries bats) might put in an appearance or when Wool E. will break out his 6-horsepower Briggs & Stratton-powered go-cart and race across the field to give the youngsters a thrill. He may also sign autographs in the Ballpark Corner Store or make an appearance at the complex's playground, where children romp in the ball pit or on the slides while their parents watch them and enjoy a good view of the game at the same time.
The 10,000-seat park, designed by HOK Sport, the same group that designed Baltimore's beautiful Camden Yards, offers several different venues from which to watch the game:
Gallery/Diamond View seats or Reserved seats (all seats have cup holders and seat backs)
Club or Field Box seats for a closer look
You can have a group picnic in one of the right or left field picnic areas
You can celebrate a special occasion with your coworkers or friends in a Sky Box (indoor-outdoor seating with the best views of the field, cable TV and private attendant taking care of food and drink orders).
And because sitting on the lawn was such a popular part of life at the old DAP, designers deliberately incorporated that feature -- a grassy hill out beyond center field -- into the park's layout.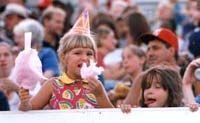 Another important part of the overall experience at the DBAP is the food -- even opposing teams can't wait to play there. Hot dogs, burritos, ice cream, nachos, pizza, cotton candy, barbecue, fried dough -- you name it, you can find it there. There are more than a dozen concessions stands and several free-standing concession carts, operated by more than 100 local vendors.
Show Me the Money!
There are three main sources of revenue for a minor league team, according to Birling:
Ticket sales - Several weeks before the 2000 season opener, the Bulls had sold over 220,000 tickets -- that's almost half of the 460,000 typically sold in a season. (Birling says the Bulls place a cap on the number of season tickets they sell to allow more tickets for group sales.)
Corporate sales - Ads, wall signs and sponsorships
Actual game revenues - This includes the team's percentage of concession profits (concessions are independently operated), merchandise from the Ballpark Corner Store (gift shop) and proceeds from the popular speed-pitch machine.
Major business expenses include rental of the ballpark (owned and maintained by the city), player-related expenses, payroll for around 100 employees (office, promotional, field, parking staff) on any given game day, National Association of Professional Baseball Leagues dues, and ticket taxes.
The Devil Rays negotiate and pay player salaries, and the Durham Bulls participate with them in paying for bats, balls, equipment and uniforms. Since umpires must remain neutral, the National Association of Professional Baseball Leagues trains, assigns and pays umpires.