Pick 'Em Leagues
In pick 'em, fantasy players pick who they believe will win between the two opposing teams in each of the NFL's weekly regular season contests. While some games feature the same point value for every game, others have the player rate games with confidence points in which point values are assigned to games based on the fantasy player's certainty of outcome. For example, in a confidence point game with point values of 1-15, a player might assign a 15 point value to a game if he feels sure of the outcome, but might assign a 1 point value to a game if he is unsure of the outcome. In other games, the player must pick whether or not the favored team will cover the point spread (win and score more points over their opponent than the number of the spread) or if the underdog team will beat the spread (either defeat the opposing team or lose within less points than the spread). Usually, the point spreads are provided by the Associated Press.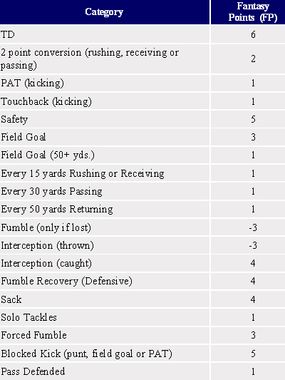 Here are some of the more popular pick 'em sites:
Public leagues and groups are available for anyone to join, random leagues are available for anyone to join as players are grouped at random, and private leagues and groups are available to join only by password invitation.