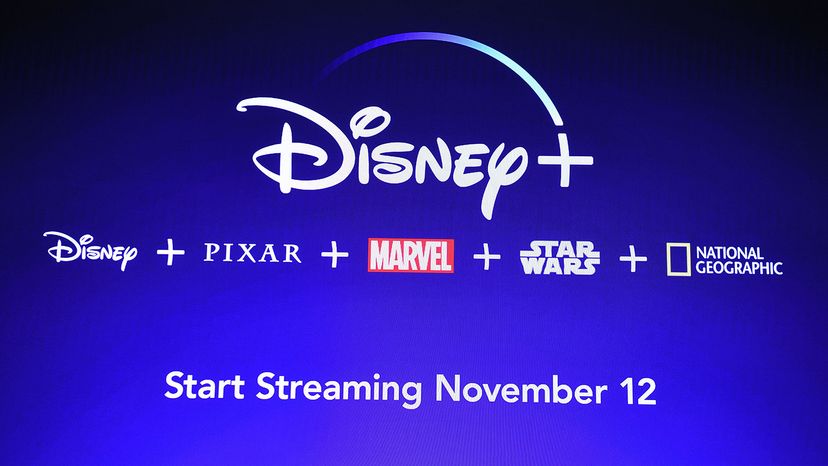 Disney+ will launch on Nov. 12, 2019 and will compete with other streaming services such as Netflix, Amazon, HBO Now and soon, Apple TV Plus.
ROBYN BECK/Contributor/Getty Images
In the increasingly crowded scrum for streaming video supremacy, Netflix still rules. But Disney+ (read that "Disney plus"), which debuts in November with a brand-name bonanza of old favorites and new offerings, is going to be a challenger worth watching.
It'll cost to watch, of course. That, in the minds of Disney+ executives, is kind of the point. The so-called streaming wars, not unlike real ones, will end up costing everybody something, sooner or later.
But if sitting at home in front of your 65-inch 4K TV is your thing — or gobbling up video on your smartphone, your tablet or laptop anywhere — then Disney+ instantly has to be in the running for your entertainment dollars. Which undoubtedly makes King Netflix, and all the other pretenders to its throne, more than a little uneasy.
"We are confident," Disney's chairman and CEO, Bob Iger, told investors back in April, "that the combination of our unrivaled storytelling, beloved brands, iconic franchises, and cutting-edge technology will make Disney+ a standout in the marketplace, and deliver significant value for consumers and shareholders alike."
Disney+ Basics
The new service launches Nov. 12, 2019. The cost for an annual subscription (at presstime) is $6.99 a month, or $69.99 a year. That price includes unlimited downloads and is nearly half the price of Netflix, which offers two different streaming plans that range from $12.99 to $15.99 a month.
In addition to Disney's already impressive back catalog, the service plans to release 25 original series and 10 original films in the first year alone (more on that in a second). But bingers beware: The new series will be released just once-a-week (think HBO), rather than all at once (think Netflix).
When Disney+ launches, you'll be able to watch Disney+ programming through an Apple Store or Google Play store app, for use on iPhones, iPads or Android devices. Additionally, streaming devices like Apple TV, Roku and Chromecast will support it, as well as some gaming devices (PlayStation and XBox). You'll be able to download content, too, to watch offline.
What's On Immediately
Disney+ will launch with a fraction of the amount of video available on 22-year-old Netflix. But what it will have is instantly recognizable and, to competitors, infinitely desirable.
The animated Disney movie oeuvre: Everything will eventually be available, once some legal hurdles are cleared and other licensing agreements expire, but expect classics like "Fantasia," "Bambi," "101 Dalmatians" and "Frozen" to be there on launch.

Disney live-action movies: All will eventually get to Disney+, but in November, look for things like "The Parent Trap" and "High School Musical".

Disney channel shows (like "Kim Possible" and "That's So Raven").

Movies from Pixar (again, all eventually will be on, but "Up," "The Incredibles" and "Toy Story" will be there at the start).

Movies from Marvel (including "Iron Man" and "Thor: The Dark World").

At the start, almost the entire Star Wars movie franchise.

National Geographic ("Amazing Planet" and others).

Thirty seasons of "The Simpsons," thanks to Disney's recent acquisition of 21st Century Fox (and 20th Century Fox Television, which produces Homer and the gang). Some Fox classic movies ("The Sound of Music" and "The Princess Bride") and other TV shows eventually will be available, too.
Disney Original Programming
Like Netflix, Disney is already pouring millions into its own programming, including:
Marvel shows "The Falcon" and "The Winter Soldier," "WandaVision" and "Loki", all taken from the latest films and all starring the actors who played the roles in the movies.

A live-action remake of the 1955 classic "Lady and the Tramp," with Tessa Thompson voicing Lady and Justin Theroux as the Tramp.
A Christmas comedy, "Noelle" starring Anna Kendrick and Bill Hader.
A new Star Wars series, "The Mandalorian" backed by writer/director/producer Jon Favreau (of "Iron Man" fame).
Disney+ promises lots more, all in an attempt to make a run at Netflix while staying ahead of other streamers already out there (Hulu, CBS, Amazon) and getting a jump on streamers to come (like HBO Max, from AT&T's WarnerMedia division, NBCUniversal's to-be-named service, and Apple TV+). It's a rapidly crowded space with billions of dollars at stake, the next step in home (and on-the-go) entertainment as paid TV subscriptions continue to plummet.
Even if these services are not an immediate money-maker for big corporations like Apple and AT&T, they can be used to gather consumer information and to market things like new computers and iPhones and cell phone plans to users. The scramble is on.