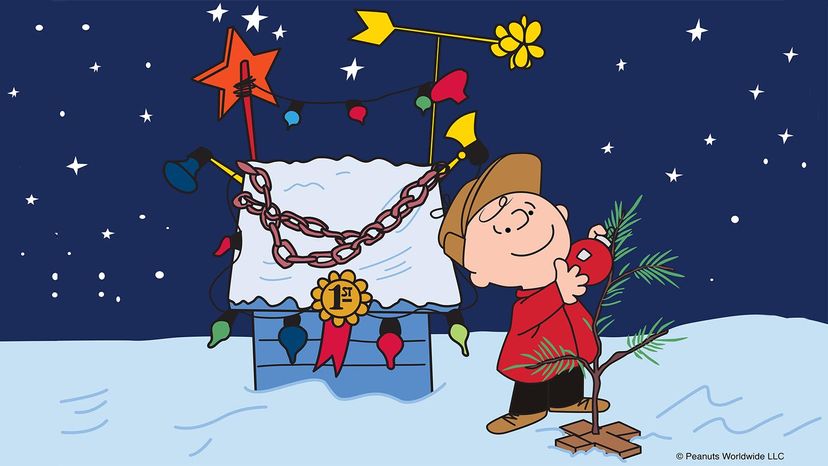 The beloved "Peanuts" classic "A Charlie Brown Christmas" debuted Dec. 9, 1965.
Peanuts Worldwide
"To be the show by which all others are measured is an accomplishment indeed," says "Peanuts" historian Scott McGuire in an email.
Of course, he's talking about that perennial Yuletide favorite, "A Charlie Brown Christmas."
The winner of both an Emmy and a Peabody Award, the animated special has been rebroadcast every year for more than five decades — ever since it premiered Dec. 9, 1965. And guess what? "A Charlie Brown Christmas" still gets solid ratings.
"It set the pattern for virtually all of the subsequent 'Peanuts' specials and established the half-hour special as a staple of network television," emails Charles Solomon, animation historian and the author of several books, including "The Art and Making of Peanuts Animation: Celebrating Fifty Years of Television Specials."
But the Christmas classic might not exist if it wasn't for baseball hall of famer Willie Mays.
"Say Hey!"
They called him the "Say Hey Kid." Born in Alabama May 6, 1931, Mays was a center fielder whose play style was, in a word, enthusiastic.
Mays made his major league debut with the New York Baseball Giants in 1951. Three years later, his club prevailed over Cleveland in the 1954 World Series.
Game 1 was a high point in Mays' career. During the eighth inning — before a raucous Manhattan crowd — Mays snagged a ball that had been hit 425 feet (129.5 meters). He then immediately spun around and threw it to second base, denying the Cleveland Indians a potential 5-2 lead.
Known as "The Catch," this play's gone down as one of the greatest World Series moments in history.
Yet it couldn't solve the Giants' attendance woes. New York's changing demographics and intense competition from the crosstown Yankees forced the Giants to relocate. After the 1957 season, the Giants packed up and moved more than 2,500 miles (4,023 kilometers) away to San Francisco with their "Say Hey Kid" in tow.
Soon enough, northern California attracted another famous transplant: "Peanuts" creator Charles Schulz.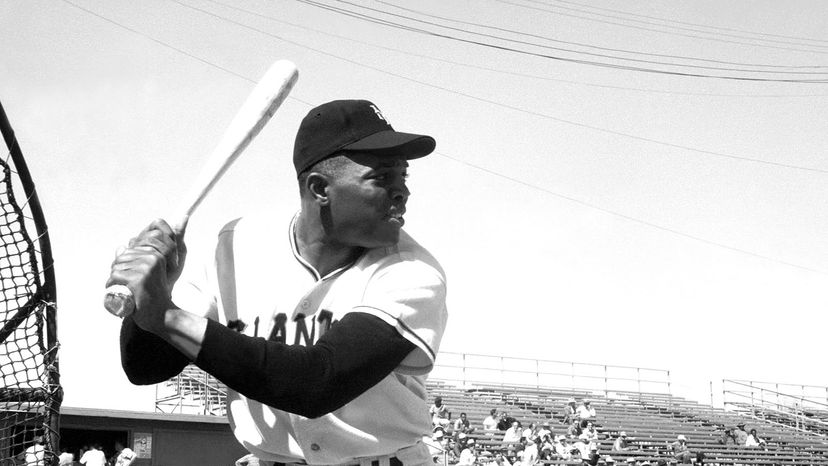 Television producer Lee Mendelson created a documentary about San Francisco Giants Willie Mays who, at the time, was considered the world's best player.
Michael Ochs Archives/Getty Images
Throw the Ball, Chuck
Schulz' first "Peanuts" comic strip ran Oct. 2, 1950. At the time, it appeared in just seven newspapers. Little did anyone know that Charlie Brown, Snoopy and their lovable neighbors would become American icons. At the time of Schulz' death in 2000, roughly 2,600 papers were carrying the iconic "Peanuts" strip.
Much of the humor was thoroughly researched. If Schulz needed Schroeder to play some classical tunes, he would include the actual sheet music in his comic strip panels. He also discussed his lawyer and medical jokes with real-life attorneys and doctors.
When it came to America's pastime, though, Schulz was a self-taught expert.
"Charles Schulz did play baseball as a kid," McGuire says. "In fact, in St. Paul [where Schulz grew up], he organized the neighborhood boys into a team." Not only did the future cartoonist manage the team, but he also played pitcher.
"Does that sound familiar?" McGuire asks.
Schulz moved to the San Francisco Bay area with his growing family in June 1958. And he took that love of baseball with him.
"I don't think I've ever seen a direct quote from Schulz saying they were his favorite team, but he was at least a fan of the San Francisco Giants. He said that ... Willie Mays was one of his idols, and Mays is mentioned in the Peanuts comic strip several times," McGuire says.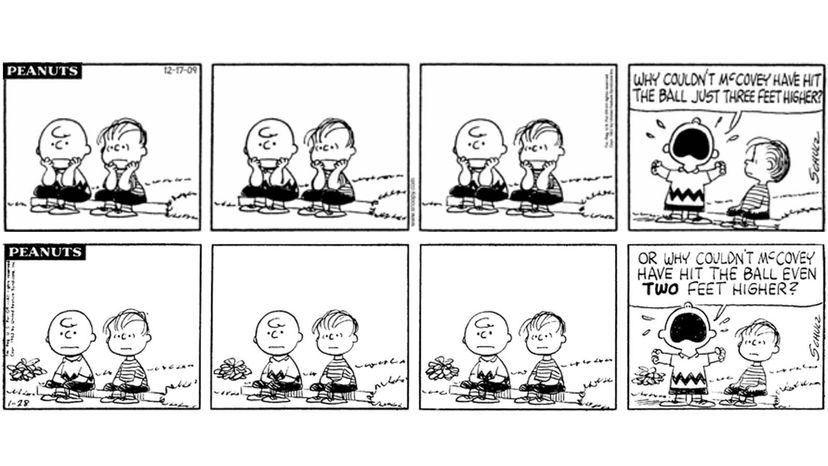 Charlie Brown took the news hard when the San Francisco Giants lost the 1962 World Series.
Peanuts Worldwide
Best Meets Worst
The Giants lost the 1962 World Series in heartbreaking fashion. At the bottom of the ninth in Game 7, Willie McCovey (Mays' teammate) hit a line drive that could've won the series for San Francisco. But Lady Luck had other ideas. New York Yankees second baseman Bobby Richardson nabbed the ball and the Bronx Bombers were crowned champions.
No one took the news harder than Charlie Brown. In a memorable "Peanuts" strip released after the '62 series, Chuck yells, "Why couldn't McCovey have hit the ball just three feet higher?"
Mays wouldn't return to the World Series for another 11 seasons. But in 1963, he embarked on a different adventure. Television producer Lee Mendelson created an hourlong documentary about Willie Mays that year.
Titled "A Man Named Mays," it featured numerous interviews with the beloved Giant, exploring his life both on and off the field. Audiences liked what they saw; the show claimed a 28 percent share of the ratings when it was aired on NBC-TV.
Months later, Mendelson was reading some "Peanuts" when inspiration struck. If Mays was the best baseball player on Earth, surely Charlie Brown was the worst. So why not make a documentary on Charles Schulz?
The cartoonist had some reservations at first. But according to the Charles M. Schulz Museum's website, he changed his tune after learning that Mendelson had produced "A Man Named Mays."
"If Willie can trust you with his life, maybe I can do the same," Schulz reportedly said.
Getting Animated
"The documentary — titled 'A Boy Named Charlie Brown,' a title that was reused for the 1969 theatrical Peanuts film — is a gentle and informative half-hour examination of both Charles Schulz and his comic strip," says McGuire.
Even the Giants got involved. One segment covered a "Charlie Brown Appreciation Day" event held at Candlestick Park in San Francisco, where Mays and his teammates played. "A cut-out of Charlie Brown takes the pitcher's mound before the pitchers do ... at which point the skies open up and rain starts to fall on him," McGuire explains.
"A Boy Named Charlie Brown" also marked the dawn of "Peanuts" animation. "In between the live-action segments were some brief animated sequences, drawn by Bill Melendez's studio," says McGuire. Highlights included "familiar Peanuts tropes, such as the gang playing baseball; Lucy pulling away the football as Charlie Brown tries to kick it; and Snoopy stealing Linus' blanket."
And let's not ignore the music. According to McGuire, "A Boy Named Charlie Brown" was "the first Peanuts-related show that Vince Guaraldi scored." In case you weren't aware, Guaraldi is the maestro who composed the "Peanuts" de facto theme song: a jazzy piano riff called "Linus and Lucy."
We guarantee you've heard it.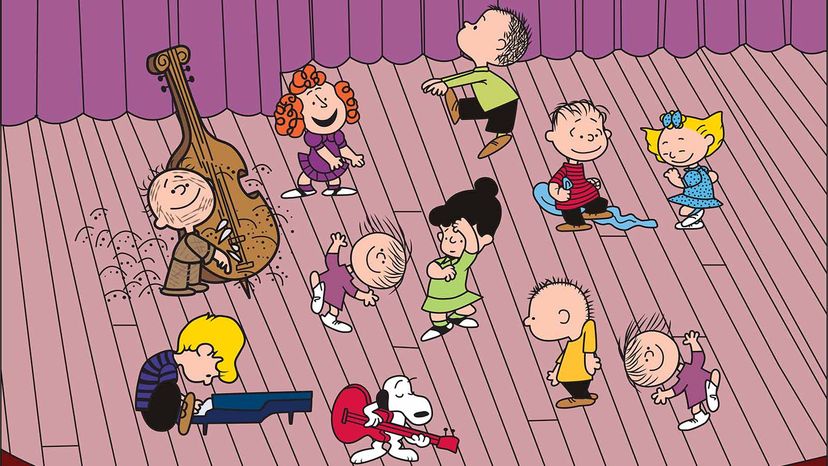 The much-loved "A Charlie Brown Christmas" has aired every year since it debuted in 1965.
Peanuts
An All-Star Program
Try as he might, Mendelson couldn't sell his new documentary — despite the first-rate creative team he'd assembled. Then along came Time magazine.
"After Time ran a cover story about 'Peanuts,' the McCann-Erickson Agency asked Lee Mendelson, Charles Schulz and Bill Melendez to create an animated special that Coca-Cola would sponsor. They had less than a week to prepare an outline, which was approved," says Solomon.
The rest is history. Schulz, Mendelson, Melendez and Guaraldi were given six months to create what became "A Charlie Brown Christmas." Their hard work paid off; it would be the first in a long line of animated "Peanuts" TV specials.
As for Willie Mays, he retired in 1973 following a two-year stint with the New York Mets. Today, many sportswriters regard him as the greatest all-around baseball player to ever suit up for the majors. (Only five MLB players have more home runs to their credit.)
In an indirect way, Mays gave Charlie Brown a helping hand. And every Christmas since has been all the better for it.
HowStuffWorks earns a small affiliate commission when you purchase through links on our site.
Originally Published: Dec 9, 2020