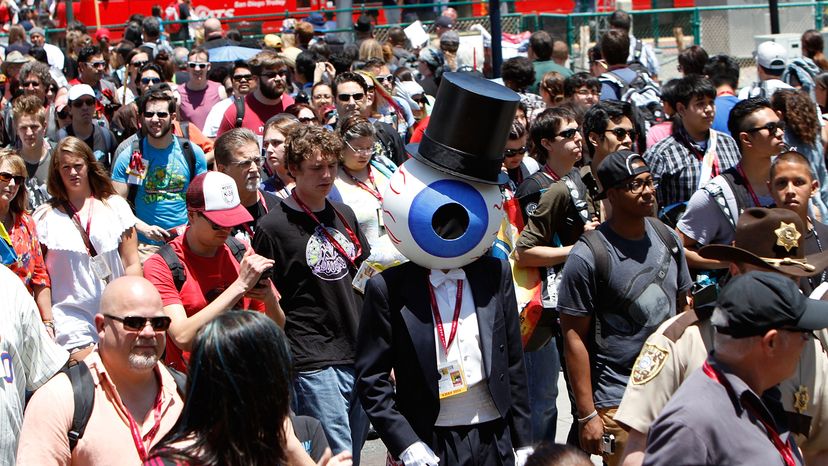 In 1970, a group of young, nerdy guys put together one of the first comic conventions in the U.S. Their goal was simply to facilitate the buying and selling of comic books, and to geek out over them with fellow fans. Little did they know that their event — San Diego Comic-Con — would one day be the best-known pop culture convention in the world.
The inaugural Comic-Con — the name is short for Comic Convention — was actually two events, say Dani Fernandez and Ify Nwadiwe, co-hosts of the new podcast Nerdificent. In its inaugural episode, Nerdificent, which takes a deep dive into nerd culture, discusses the history of comic book conventions. The first Comic-Con was a "mini-con," held in San Diego in March 1970 to test the waters. The response was positive, so the organizers launched a full-blown three-day event that August. Ray Bradbury, author of the popular sci-fi novel "Fahrenheit 451," was the featured speaker. They were thrilled — and amazed — when 300 people showed up.
By the mid-2000s, 130,000 people were flocking to the conference annually (300,000 if you include the New York version of Comic-Con). Comics were now cool, thanks in part to the film industry popularizing characters such as Batman, Spider Man, the X-Men and the Green Lantern. With so many fans around, copycat conferences began popping up in cities such as New York, Salt Lake City, Denver, Atlanta and Seattle. Spin-offs were also birthed, such as Anime Expo, the largest anime convention in the U.S. and the gaming world's PAX Expo.
So, what, exactly, happens at Comic-Con? The original event, held in San Diego's modestly sized El Cortez Hotel, mainly served as a place to buy and sell comics.The event also included some programs, panels and science fiction/fantasy film screenings.
"Now it looks like an amusement park, " says Hernandez. "You'll walk through some type of an interactive zombie maze" just to get inside. The atmosphere is frenetic, loud, sweaty and intense.
Today's four-day extravaganza, which includes a fifth preview day, bears little resemblance to the original. The focus is now on film screenings, hands-on workshops, games, awards and a costume contest. Movie studios and major corporate sponsors show up to pitch products that may have very little to do with nerd culture. Comic-Con brought in $17.3 million in revenue in 2014 from ticket sales and exhibit space rentals. Not bad for a nonprofit.
But is this growth and metamorphosis a good thing? Some say no, asserting the convention's focus is now on commercialism and the superhero, science fiction, gaming and fantasy franchises, not comic books. Indeed, Mile High Comics dropped out of Comic-Con — after 44 years! — citing declining foot traffic and exorbitant booth costs. Not to mention, the Comic-Con contractor failed to deliver Mile High's comic books to its booth on time.
But no one is predicting Comic-Con's downfall. After all, most folks think it's a lot more fun to run around in tights and a cape, hobnobbing with zombies and Princess Leia look-alikes, than to leaf through comic books.
To find out more about Comic-Con, including what goes on inside Hall H, download Nerdificent.