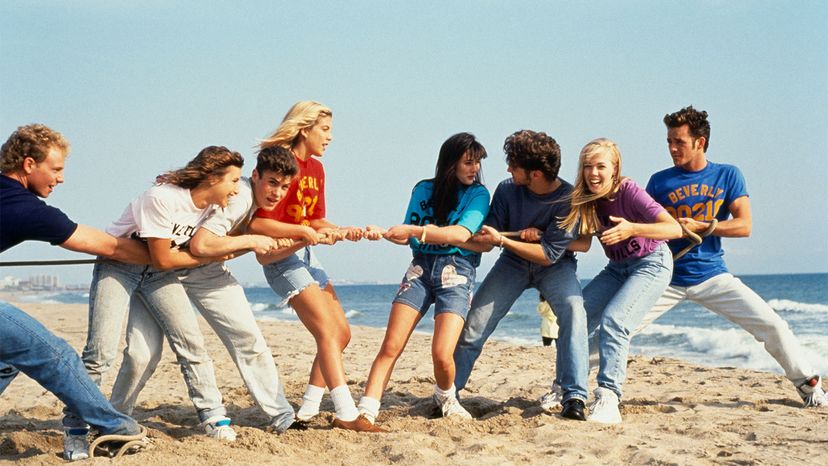 Image: mikel roberts/Sygma via Getty Images
About This Quiz
From West Bev to college and beyond, "Beverly Hills, 90210" actors and their characters got up to some serious high jinks. How much do you know about the classic teen soap that's now getting a reboot?
Which character was originally slated to appear for only two episodes?
McKay, played by the late Luke Perry, was the ultimate rich bad boy. He was only supposed to be on the show for a measly two episodes, but creator Aaron Spelling saw promise in the young rebel and championed keeping him around. Spelling even paid Perry's salary until the character became so popular that the rest of the bigwigs agreed.
How old was Gabrielle Carteris when she landed the role of 15-year-old Andrea Zuckerman?
Carteris was pushing 30 when she signed on the dotted line to play Zuckerman, but she fudged that little detail when she got the part. In fact, the actress discovered that she wouldn't be in violation of any rules as long as she disclosed that she was at least 21.
Why was Scott Scanlon dramatically killed off?
He wanted to enlist in the Air Force.
He was busted for drug use.
Douglas Emerson, who played the part of Scanlon, reportedly got tired of acting and asked to be let out of his contract. Little Scotty then died at his own birthday party when he played with a loaded gun. Emerson decided to go to junior college and then joined the U.S. Air Force.
What did Shannen Doherty do that was considered the last straw, effectively ending her time on the show?
Midway through the filming of the season four finale Doherty went out and got herself an ill-timed haircut, which seriously messed up the filming process. This exploit was merely the icing on the cake of several seasons' worth of bad behavior, so the producers elected to cut her loose. Frenemy Tori Spelling later copped to encouraging the firing.
She cussed out a producer.
What was the name of Brandon Walsh's car?
Mondale, named for a popular U.S. Senator from Minnesota (where the Walshes moved from), was sadly wrecked when golden-boy Brandon drove while intoxicated.
How many episodes did it take for Donna Martin to lose her virginity?
It wasn't until the very end of the seventh season that Donna Martin became a little less chaste. Famously portrayed by Tori Spelling, word is that her father Aaron (you know, the show's creator) wanted her character to stay virginal until she graduated college, at least.
Who played the part of Brandon's tough, but soap-opera-loving boss at the Beverly Hills Beach Club?
The role of Henry Thomas, who never missed an episode of "The Young and the Restless," was played by James Pickens, Jr. Although hardly a newbie at the time, he has since gone one to achieve greater fame as a cast member on Grey's Anatomy, on which he portrays Dr. Richard Weber.
What happened to Jim and Cindy Walsh?
Jim's Minneapolis-based company transferred him back.
The got divorced and remarried new people.
They moved to Hong Kong with Jim's job.
After the kids graduated high school they couldn't very well leave 90210, so in an attempt to help them mature the parents were written out (for the most part -- they returned a couple of times in the remaining seasons).
Which '90210' actress was NOT romantically linked with Brian Austin Green?
Green was quite the ladies' man! He allegedly had a fling with co-star Tori Spelling, later dated Tiffani Thiessen and fathered a child with Vanessa Marcil.
Which now-famous musician NEVER rocked the Peach Pit After Dark?
Before she was a Black Eyed Pea, Fergie was in a '90s group called Wild Orchid, which performed on the show in 1999. 1997 saw an appearance by Kara's Flowers, a group that later changed its name to Maroon 5.
mikel roberts/Sygma via Getty Images