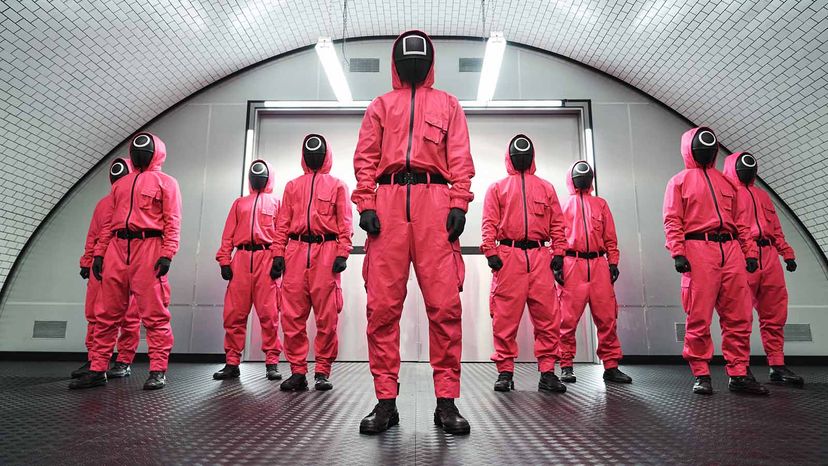 "Squid Game" is Netflix's most popular show ever.
Noh Juhan/Netflix
When the South Korean thriller "Parasite" was named 2019's Best Foreign Language Picture at the 77th annual Golden Globe Awards, director Bong Joon Ho gave some free advice in his acceptance speech. "Once you overcome the one-inch barrier of subtitles," he said, "you will be introduced to so many more amazing films."
The same goes for TV shows.
In 2020, viewership of non-English content on Netflix rose by 50 percent among subscribers living in the United States.
Foreign and foreign-language productions are now sweeping the nation; they're doing huge business on just about every major streaming service, from Amazon Prime to HBO Max. Here are seven hit series that all deserve a spot on your "must-see" list.
1. "Lupin"
Arsène Lupin is an old character enjoying newfound fame. French author Maurice Leblanc created this fictional "gentleman thief" back in 1905, giving Lupin seniority over the likes of Tarzan, Superman and Mickey Mouse.
Today, the suave antihero is synonymous with Netflix. "Lupin," a popular series distributed by the streaming giant, stars Omar Sy as a master of disguise — and a guy who just so happens to be a big fan of those classic Leblanc stories.
The show's acclaimed second season dropped in 2021 and it left viewers hungry for a third installment in the saga. "Lupin" is filmed in French, but an English dub is available for some viewers.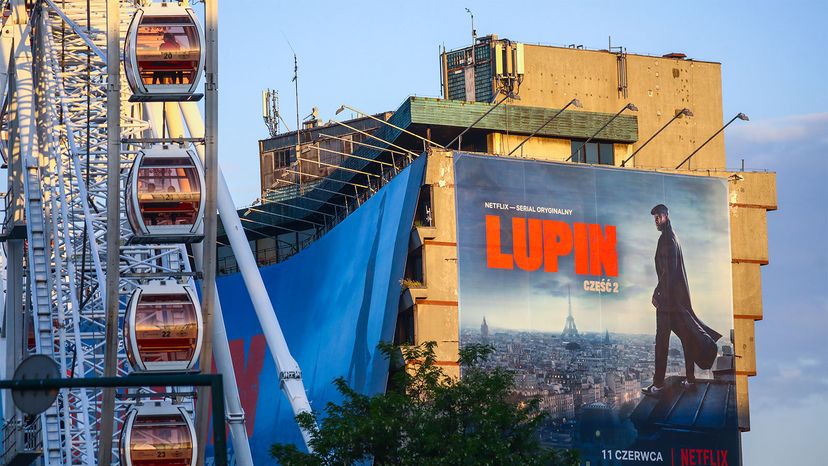 A banner in Krakow, Poland, promoting the Netflix original series 'Lupin,' which is a huge hit in the U.S. and worldwide.
Beata Zawrzel/NurPhoto/Getty Images
2. "Squid Game"
What would you sacrifice to make your money troubles go away? In "Squid Game," an offering from South Korea, hundreds of desperate, debt-ridden people compete for a cash prize worth 45.6 billion won (around 38 million in U.S. dollars).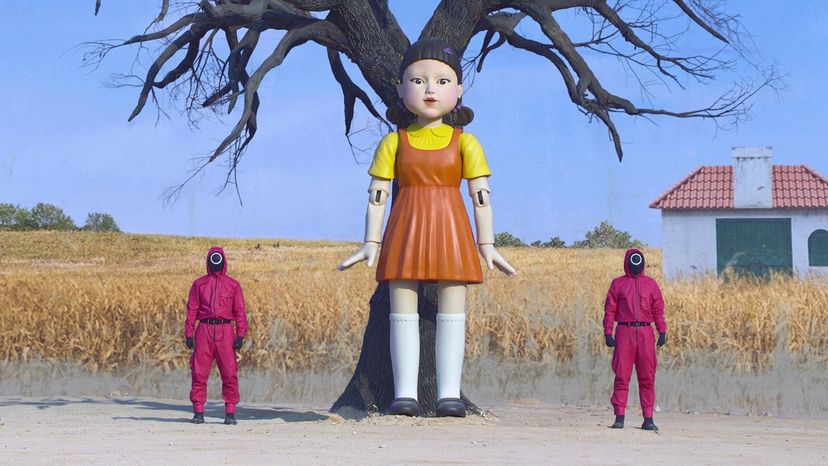 The animatronic doll from "Squid Game's" Red Light, Green Light game is especially creepy.
Netflix
Here's the catch: Anyone who wants the big payday has to survive — literally survive — blood-soaked versions of popular children's games.
"Squid Game" is Netflix's most-watched original series as of this writing, with 111 million views to its credit. We won't dare spoil season one's grand finale; let's just say it probably wasn't what NBA superstar LeBron James expected.
3. "Money Heist"
Winner of the 2018 International Emmy Award for Best Drama Series, "Money Heist" is a crime thriller about an attempt to rob some of the most powerful financial institutions in Spain.
Though the show didn't make much of a splash when it first aired on the Spanish channel Antena 3, "Money Heist" has blown up on Netflix; the trailer for the second half of its final season (airing Dec. 3, 2021) currently has 4.5 million views on YouTube.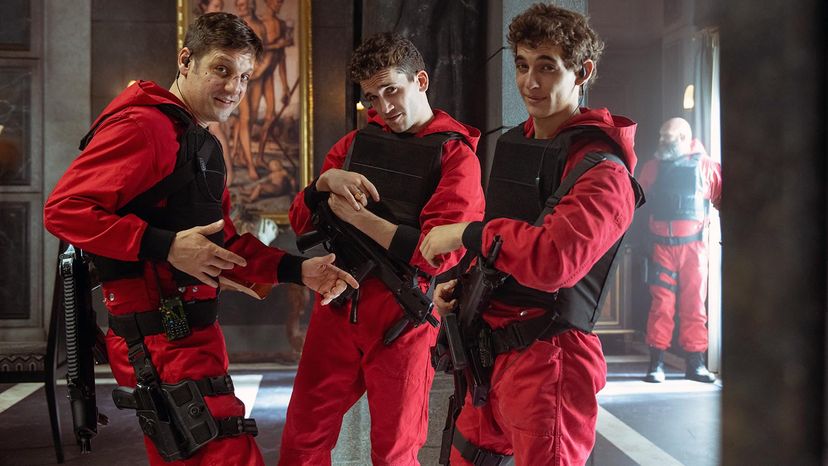 (Left to right) Rodrigo de la Serna, Jaime Lorent and Miguel Herrán all star in "Money Heist."
TAMARA ARRANZ/NETFLIX
4. "Gomorrah"
Turning from Spain to Italy, "Gomorrah" is an organized crime saga for the 21st century. The series is based on a nonfiction book of the same name written by investigative journalist Roberto Saviano.
Like its source material, the "Gomorrah" TV series — available for streaming on HBO Max — centers around the Cammora mob, which has long plagued the Italian city of Naples. Comparisons have been made to that modern American classic, "Breaking Bad."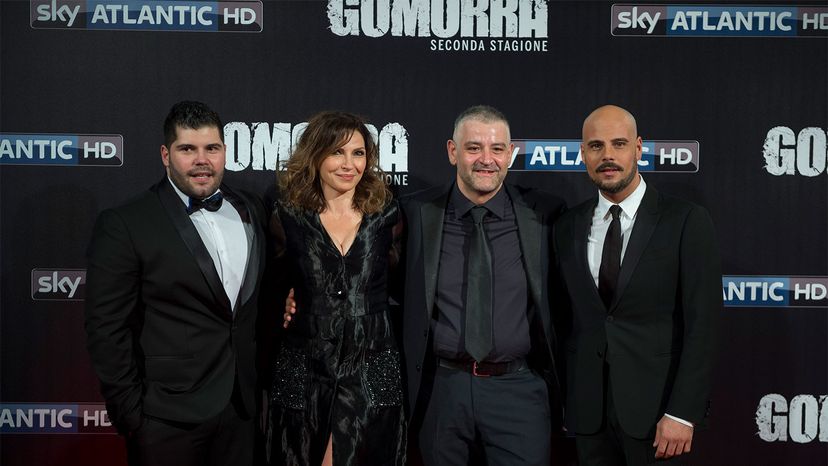 (Left to right) Salvatore Esposito, Maria Pia Calzone, Fortunato Cerlino and Marco D'Amore attend the "Gomorra 2" premiere in Rome, Italy May 10, 2016.
Antonio Masiello/NurPhoto/Getty Images
5. "Made in Heaven"
The protagonists of this Amazon Prime Video smash are Tara (Sobhita Dhulipala) and Karan (Arjun Mathur), a couple of high-priced wedding planners based in Delhi, India.
To say they've got rich clients would be a gross understatement; some of the big days orchestrated by these two give a whole new meaning to the word "ostentatious."
After the first season debuted to great commercial and critical success in 2019, Amazon was quick to order a follow-up, though the COVID-19 pandemic has caused multiple production delays. Might as well binge the existing episodes while you wait.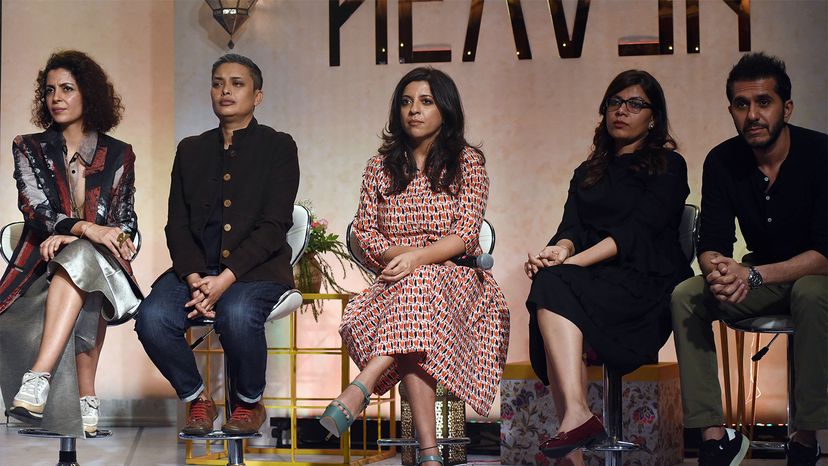 Indian Bollywood film director and screenwriter (from left) Nitya Mehra, Reema Kagti, Zoya Akhtar, filmmaker Alankrita Shrivastava and producer Ritesh Sidvani attend a press conference for the launch of the Amazon Prime original series "Made in Heaven" in Mumbai March 7, 2019.
SUJIT JAISWAL/AFP/Getty Images
6. "El Marginal"
What is it with Netflix and prison dramas?
"El Marginal" was one of two Argentine shows picked up by the streaming platform in 2016 (the other being "Stockholm"). The story centers around various inhabitants of San Onofre prison in Buenos Aires, including Miguel Palacios, an undercover ex-policeman played by Juan Minujin.
Three seasons in, the series has tackled every taboo topic from smuggling to kidnapping to government corruption. "El Marginal" is populated by morally ambiguous characters, including loads of inmates you can't help but root for.
7. "Borgen"
The three branches of Denmark's government all meet in Christiansborg Palace, a building informally known as "Borgen," or "the Castle."
Naturally, the "Borgen" TV series spends a lot of time exploring the place. Available on Netflix, it's the tale of centrist politician Birgitte Nyborg Christensen (Sidse Babett Knudsen), who breaks the glass ceiling and becomes her nation's first female prime minister.
Reality imitated art to a degree. "Borgen" premiered in 2010, the year before Helle Thorning-Schmidt took office as Denmark's first female PM in real life. The show's long-anticipated fourth season is set to arrive sometime in 2022.