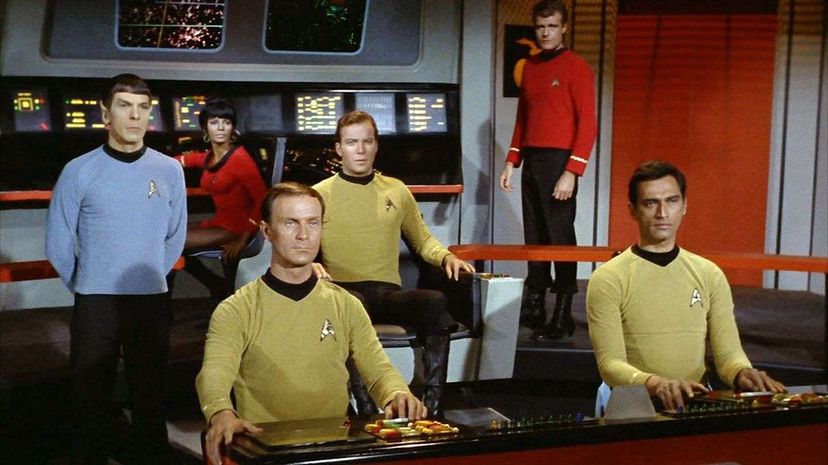 The starship Enterprise first hit television screens on Sept. 8, 1966. Since then, it's become a global phenomenon, spanning 700-plus individual episodes of television and more than dozen feature films, including this year's "Star Trek Beyond."
There are events going on all over the globe to commemorate the anniversary, and a brand-new box set of remastered episodes on Blu-ray with every adventure of the original crew from screens big and small.
What is it that's given "Star Trek" its remarkable staying power? That's the question we put to David Gerrold and D.C. Fontana, two writers who have helped bring "Star Trek" to life over the years.
"The stories still ring true, even now," Fontana told us. She was one of the first writers to work on the original "Star Trek" series and wrote the pilot for "Star Trek: The Next Generation." It was the message "Star Trek" had that she felt gave it staying power.
"You sit down and you watch one and you get the message from the middle of the story, the one we were hiding behind science fiction, whether it was about feminism or racism or, you know, the Vietnam War, which nobody else could talk about but we could under the guise of science fiction," Fontana said.
Of course, "Star Trek" has made waves for many, including aliens, women and blacks, from the beginning. It even featured one of TV's first interracial kisses — between William Shatner's Captain Kirk and Nichelle Nichols' Lieutenant Uhura.
Writer David Gerrold was in college when "Star Trek" premiered on television, and he instantly began sending pitches for episodes into the studio. He's perhaps most famous as the writer who brought us the furry Tribbles and their love of the advanced space-grain quadrotriticale in the original series episode "The Trouble with Tribbles."
Over the phone, he told us that the success of "Star Trek" can be attributed to three things. The first part was that the show was fun. The second part was that it presents a "positive vision of the future where we're all thriving and working on interesting challenges."
He insisted that the third part of the franchise's longevity, however, isn't immediately obvious. "[The show] says that everybody's included; we're all going to be a part of the future. Nobody's being left out," Gerrold noted.
"In the past, television as a medium tended to erase," Gerrold elaborated. "Originally it erased blacks and Asians, and when they were included, it erased gay people. It didn't recognize the contributions that women make. And, so, 'Star Trek' was saying, look, here's women captains and black people and Asian people and now we have gay people and Klingons. So, it didn't matter who you were, 'Star Trek' says, you're part of this. And that's very important to the little kid watching TV at home wondering if he's going to be a part of the future."
Over the years, "Star Trek" has boldly offered a vision of the future that audiences have been able to look up to. With a new series called "Star Trek: Discovery" helmed by Bryan Fuller coming in January 2017, fans can only hope that "Star Trek" lasts another 50 years and beyond.