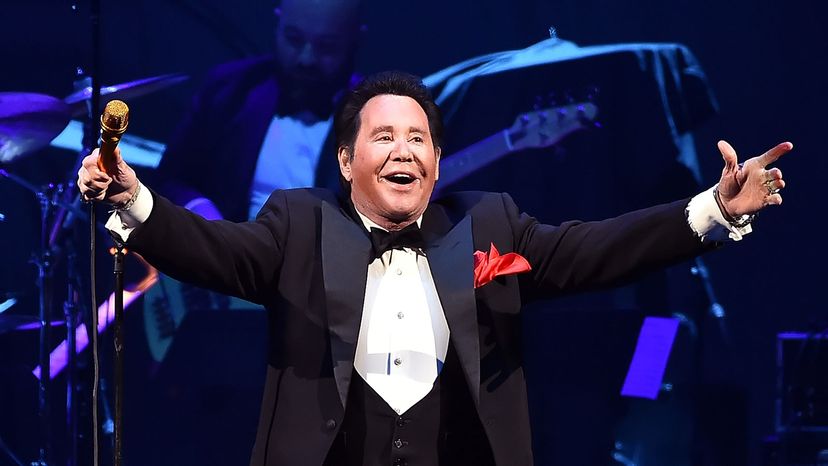 Entertainer Wayne Newton performs onstage during the grand opening of T-Mobile Arena on April 6, 2016, in Las Vegas.
Kevin Winter/Getty Images for ABA
He was Vegas when Vegas wasn't cool. And even today, when almost every big-name star has done a residency at a hotel or concert hall on the Strip, Wayne Newton is still drawing the crowds, having performed to over 40 million people, according to his website. But how did he get so big there? Here are five facts you may not know about Mr. Las Vegas.
1. By Age 6, He Had a Daily Radio Gig
At the tender age of 4, Newton had already decided a life onstage was his career calling, and he set about learning piano, guitar and steel guitar by ear. Unbelievably, by the age of 6 he was performing on a radio show every morning before going off to elementary school. On weekends he and his brother performed at movie theaters and in Opry road shows.
In his junior year of high school, the Newton brothers caught the attention of a Las Vegas booking agent who booked them for two weeks at a hotel on the Las Vegas Strip. Those two weeks turned into five years of grinding out six shows a day, six days a week. The toll on his voice forced him to learn new instruments just to get some vocal relief, Newton says on his site. He now plays 13 instruments.
2. "Danke Schoen" Wasn't His Only Unusual Hit
Quick, name a song on the U.S. charts with a German title (besides "Der Kommissar" and "99 Luftballons"). While you're thinking it over, add Wayne Newton's "Danke Schoen" (German for "thank you") to the list. As a chubby 21-year-old singing soprano, Newton had an unlikely hit with this loungey tune in 1963.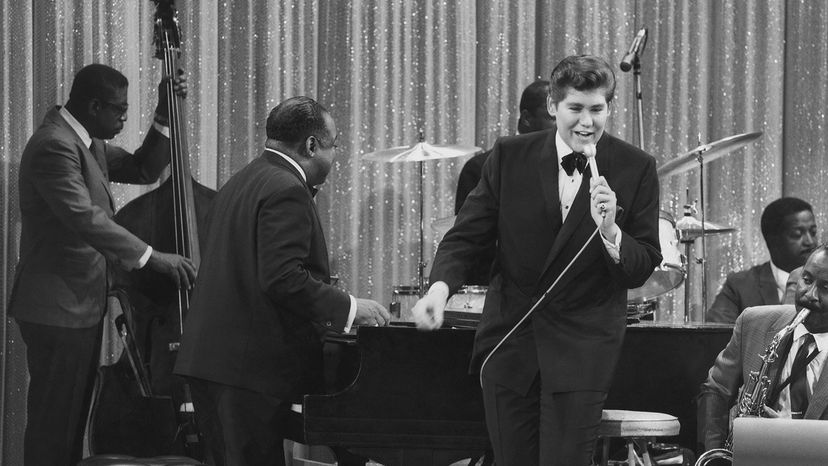 Wayne Newton performs on stage with jazz pianist and bandleader Count Basie, in his "Danke Schoen" days, circa 1963.
Archive Photos/Getty Images
And that wasn't his only odd chart maker. In 1972, he scored again with "Daddy, Don't You Walk So Fast," in which a little girl begs her daddy not to leave the family home. As noted in the documentary "Radio Revolution: The Rise and Fall of the Big 8," Canadian music director Rosalie Trombley of influential station CKLW added the record to her playlist to embarrass her ex-husband who hadn't been coming by to see their kids. It zoomed up the Canadian charts and then stateside, where it eventually sold a million copies. By this point Newton's vocal register had dropped a few notches and he was sportin' sideburns.
3. He Works Hard for His Money
So, here's the million-dollar question: How does Wayne Newton consistently draw such large crowds to Vegas despite only having a handful of hits? Let's quote from this 1980 Washington Post article that wondered the same thing:
"He bites into 'I Can See Clearly Now' in his bronchial Brenda Lee tenor, eye-contact spraying around the room. He grins, he winks, he glides, he spins, working harder than a man changing a tire in the rain.

"He slams into his second number. Other performers make it look easy, but Wayne Newton wants to sweat, straining at the long holds in 'Staying Alive' from 'Saturday Night Fever.' ... It's started — the patented Wayne Newton push-me-pull-you routine, praising and scolding the crowd toward frenzy, meanwhile disarming any possible resistance to Wayne Newton."
Now in his 70s, Newton's voice is not what it used to be, but he's still giving great entertainment value, singing, playing multiple instruments, telling jokes, showing old TV clips and reminiscing about his experiences with showbiz luminaries. He's such a Vegas fixture that the road leading to Terminal 1 at McCarran International Airport in Las Vegas is named "Wayne Newton Boulevard."
4. He's Been Involved in Several Lawsuits
In 1980, NBC News reported that Newton had ties to the Mafia. At the time, Newton was part owner of the Aladdin hotel, which gave rise to other news reports that he was a "frontman" for the mob. Newton sued NBC for defamation and won. An appeals court said that although the report was inaccurate, there was no malice and so Newton couldn't collect any damages as a public figure, according to the Las Vegas Sun.
That wasn't the only lawsuit Newton was involved with. In 2005, he filed court documents disputing claims that he and his wife Kathleen McCrone owed the IRS $1.8 million in taxes and penalties. And in 2019, he was sued by a woman who claimed his pet monkey bit her daughter during a visit at his former mansion.
5. His Other Great Love Is Horses
Next to music, Newton loves nothing more than Arabian horses. In fact, he owns around 45 of them, and is considered one of the world's top breeders of Arabians. Many of his horses have won equestrian competitions, too. In 2019, when Newton heard that Lady Gaga's beloved horse Arabella had died, he realized her bloodline came from a horse he'd owned, and he offered Gaga to come to his ranch to see if she wanted a replacement.
"Horses have always been there for me, through all of the ups and downs," Newton told the Las Vegas Review-Journal. "When I need to have peace and sanity, I go to my stables."
Originally Published: Mar 23, 2020