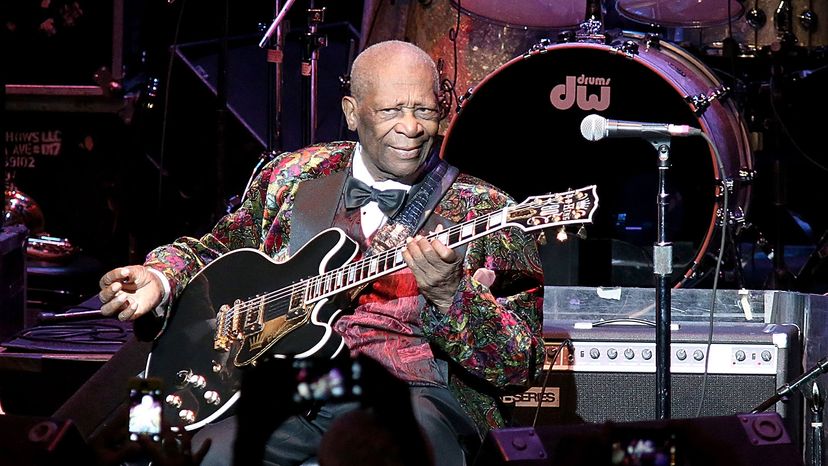 Image: Gary Miller/Getty Images
About This Quiz
If you think only rock stars can be famous, think again. Many of their guitars have achieved legendary status in their own right. Find out why with this quiz.
Who invented the electric guitar as we know it today?
All were critical to the evolution of the electric guitar, but it was a 13-year-old Paul who used an old photograph needle wired to a radio speaker to turn his acoustic guitar into a thing of the future.
Which was NOT the name of one of Jimi Hendrix's favorite guitars?
Black Beauty was Hendrix's A-list guitar, which he rarely, if ever used in performance. He famously lit Black Widow on fire in an attempt to upstage The Who's Pete Townshend, but rumor has it that he switched out the beloved axe with a replica just before the critical moment.
Who is Willie Nelson's beloved guitar, Trigger, name for?
Named for Roy Rogers' steed, Nelson has played his favorite guitar for more than 50 years! The instrument has been saved from a fire and even hidden away when the IRS came a-calling.
Winnie the Pooh's sidekick
A trigger-happy friend of Nelson's
Which guitar god hand-made his electric axe with his father, and used it throughout his career?
Way before forming legendary rock band Queen with Freddie Mercury, May was a poor kid. So, when he asked his father for an electric guitar, the two crafted it themselves using items found around the house, like a knitting needle, mother-of-pearl buttons and a bicycle saddlebag holder. The guitar was dubbed "The Red Special" and has always been May's favorite.
What happened to Joni Mitchell's 1956 Martin D-28 before it was given to her?
It was rescued from a fire.
It survived a shrapnel hit.
The guitar, which remained Mitchell's favorite until it was stolen in the mid-1970s, was given to her by a Marine captain back from Vietnam.
It was completely refurbished following extended time in the ocean.
What name did B.B. King always give his guitars?
B.B. King actually ran into a burning building to save his guitar. He later found out that the fire was started by two men fighting over a woman named "Lucille," so thereafter he dubbed all of his with the moniker.
Which rocker couldn't find the sound he wanted in a conventional guitar, so he took apart three different models and created his own super-guitar?
Named Frankenstat, Van Halen's guitar was cobbled together by pieces of a Gibson Les Paul, Gibson ES-335 and a Fender Stratocaster.
How much money did Bonnie Raitt drop for "Brownie," the guitar she's played ever since buying it in 1969?
Raitt, who pioneered the slide guitar sound, found an unpainted Fender Stratocaster for a real bargain price of $120 while out and about at 3 a.m. one morning.
Which country legend did Neil Young name his axe for?
Fittingly dubbed "Hank," the guitar once belonged to Williams, who was a major musical influence on Neil Young.
Which famous guitar has an entire book written about it?
David Gilmour's "Black Strat"
"Black Strat" has been Gilmour's guitar of choice since 1970, but it has been modified so many times over that guitar/equipment tech and friend Phil Taylor actually wrote a book about its evolution.
 Vernon Reid's "ESP Mirage"
Gary Miller/Getty Images