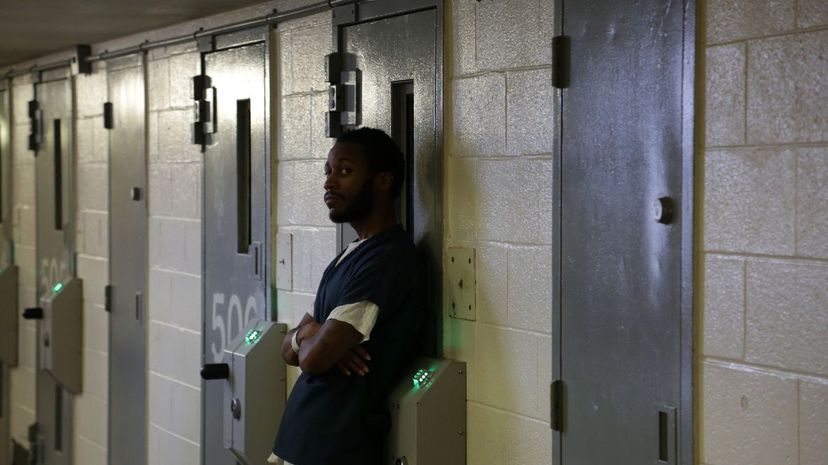 There are few places that inspire more fear and anguish than prison. Just the thought of spending a night in jail is enough to give most normal Americans a panic attack, or at least keep us on the straight and narrow. Yet the hit A&E show "60 Days In" has had no problem finding willing volunteers to spend 60 full days behind bars. What's wrong with these people?
The show, now it its third season, follows nine undercover inmates as they navigate the waking nightmares of life in jail. Unhinged cellmates, daily fights, wretched living conditions, nasty food — it's all too real. The current season was shot in the notorious Fulton County Jail in Atlanta, home to 2,500 inmates awaiting trial for serious crimes.
The regular inmates think they're being filmed for a documentary and have no idea that some of the "fresh meat" being marched to their cells are really participants on a new kind of reality TV show.
Who would voluntarily spend two months in a place that few people would even care to visit?
Calvin has his reasons. The young father of three from Texas (who didn't want his last name used) got a degree in social work and worked as a caseworker with Child Protective Services before becoming an eighth-grade teacher. He's seen how families are torn apart and lives permanently damaged by prison. Still, there are kids and adults in his community who see prison as a badge of honor.
"My whole career has been in child welfare, working with adolescents and teens," Calvin says. "I just wanted to show the kids that I teach and mentor that if you make bad decisions or wrong choices, this is a place that you might end up."
In his prison clothes, tattoos and short-cropped dreadlocks, Calvin looks like just another inmate at Fulton County Jail. That fact isn't lost on Calvin, who cites the nationwide debate over race and police violence as another motivation for signing up. He wants to show his students — and the country — that people who look like him aren't all "gang bangers."
For Calvin's eighth-graders, who are used to seeing their smiling teacher in a dress shirt and bowtie every day, even the commercials for the show are having an effect.
"It's documented," says Calvin of his two-month experience behind bars. "My students can see it with their own eyes. 'Whoa, that's my teacher! You was in that environment?' Their eyes and ears are wide open to me now. They're very receptive."
"60 Days In" executive producer Jeff Grogan says that the show's creators never set out to cast a game show like "Survivor." 
"There's a reason we call them 'participants' and not contestants," says Grogan. "There's no prize at the end. There's no winner. We have to focus on people with a genuine motivation for wanting to go to jail, which I know sounds a little crazy."
Those motivations fall into several main categories, Grogan explains. The first is law enforcement, people who are either active police or corrections officers or who want to enter the field."
"If you want to work in law enforcement, there are very few opportunities where you can actually spend time behind bars," Grogan says. Also, if you have a criminal record with jail time it's hard to get a job as a cop or corrections officer. The show is a way to pad your resume without staining your record.
Other participants are motivated by family members who have served or currently serving time behind bars. The only way for these folks to understand the psychological toll on their loved ones is to experience it for themselves. That's what motivated season two participant Monalisa Johnson, whose daughter is serving a 10-year sentence, and who founded the national support organization Parents With Incarcerated Children.
Others share Calvin's motivation and backstory. They are social workers and educators who want to walk a mile in their clients' and students' shoes. Still others are criminal justice reformers and activists who want to shine light on the "prison state" and the disproportionate incarceration of young black men.
Grogan says that when casting each season of the show, the goal was to choose eight participants who represent a diversity of viewpoints and motivations. There should be a balance of hardliners who think that if you "do the crime, you do the time" and people who believe prison sentences are too long and arbitrarily handed down. There also have to be a few "everyday Americans" with whom viewers can easily identify.
The recipe seems to be working. Within weeks of the show's premiere in March of 2016, "60 Days In" became the most-watched show on A&E and one of the highest-rated reality shows of the year among adults 25-54. It doesn't hurt that the show features clips of prison brawls, violent threats and occasional scenes of female inmates playing strip poker.
"To start a conversation, you have to do something loud," says executive producer Grogan. "I feel like this series was loud enough to get people to pay attention. While it's hopefully an entertaining show, it's also an important show in starting the discussion about criminal justice reform."
You can see a promo clip for the show below.