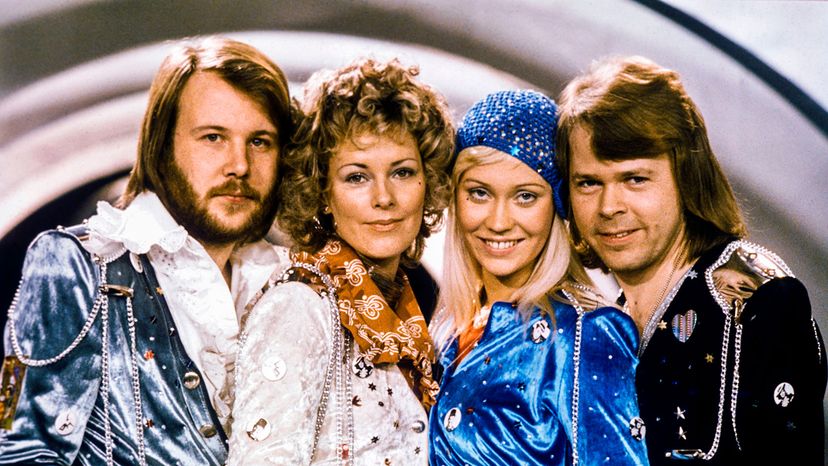 Image: OLLE LINDEBORG/AFP via Getty Images
About This Quiz
In 1972, Agnetha Fältskog, Björn Ulvaeus, Benny Andersson, and Anni-Frid (Frida) Lyngstad formed ABBA in Stockholm, Sweden. It became one of the most successful groups in music history. Test your knowledge of the Swedish supergroup with this quiz.
One of this fab four wasn't born in Sweden. Who is it?
Frida was born in Bjørkåsen, Norway in 1945, the daughter of an occupying German soldier. Frida and her mother moved to Sweden when Frida was young to escape discrimination against children like herself, who were born of liasions with "the enemy."
ABBA got their big break during the 1974 Eurovision song contest. Who else found success there?
French-Canadian Celine Dion won the contest for Switzerland in 1988, which launched her international career.
As much as they were beloved for their music, the group also was known for their crazy stage costumes. Why were they so outrageous?
The women in the group liked to walk on the wild side.
They took a page from Funkadelic's book.
They were trying to avoid the tax man.
Swedish tax laws at the time allowed stage costumes to be tax-deductible as long as they couldn't be considered street wear. "Nobody can have been as badly dressed on stage as we were," Björn said in "ABBA: The Official Photo Book."
What was the original version of "Fernando" about?
"Fernando" was originally released by Frida before ABBA became a group. The original lyrics featured a friend consoling Fernando, who has lost his love. The revised lyrics are about two freedom fighters from the war between Mexico and Texas, according to Björn.
a famous soccer/football player from Italy
What was significant about the 1975 release "ABBA's Greatest Hits"?
The original records were red vinyl.
The cover image was banned.
Most of the songs had not been hits yet.
Only half the tunes on this disc had charted somewhere in the world. But thanks to the addition of "Fernando," the album went multiplatinum around the globe.
What is the 1980 song "The Winner Takes it All" allegedly about?
a night of excessive gambling
an early failed romance of Frida's
the divorce between Björn and Agnetha
Although they deny this, it is widely believed that "The Winner Takes it All" is about Björn and Agnetha's divorce. Considering the content of the lyrics (which he wrote), the fact that she sung the vocals and they did get divorced around that time, you can understand the skepticism. (The other couple, Frida and Benny, divorced in 1981).
The director of their music videos later became famous for his movies. Which of these films did he direct?
"What's Eating Gilbert Grape"
Lasse Hallström, who directed many ABBA videos and their feature-length film "ABBA: The Movie" went on to greater fame as director of "What's Eating Gilbert Grape" and "Cider House Rules."
What was ABBA's biggest hit?
This one should be easy. "Dancing Queen" went to No. 1 in more than 12 countries and was ABBA's only No. 1 hit in the U.S. Its first live performance was at a pre-wedding gala for King Carl XVI Gustaf and Queen Silvia of Sweden. No doubt Queen Siliva could identify with the tune.
Before "Mamma Mia," which of these movies prominently featured ABBA tunes?
This 1994 Australian movie featured an awkward girl who was obsessed with weddings and ABBA's music.
"My Best Friend's Wedding"
"My Big Fat Swedish Wedding"
The stage version of "Mamma Mia" is credited with sparking which Broadway trend?
puppets discussing mature themes
Jukebox musicals, where all the music in the show is from one popular group or singer, had existed before "Mamma Mia" but this play was the one that made the trend explode.
super-expensive theatre tickets
OLLE LINDEBORG/AFP via Getty Images