Machinima Then and Now
Machinima traces its history back to 1996, when a group of gamers called The Rangers created a short film titled, "Diary of a Camper." The Rangers used a demo function in "Quake" to record their film. Developers designed the demo function to allow players to record gaming events to share with friends, and up to that point most gamers used it to record particularly impressive kills or speedy level completions. The Rangers' film went a step beyond, using the demo function to tell a story. While the film is primitive compared to machinima produced today, it is important in that it was the first to use video games as a film medium.
Other films followed and were commonly called "'Quake' films." Before long, gamers made movies using other gaming engines. In January 2000, two machinima filmmakers named Hugh Hancock and Anthony Bailey decided they needed a new term to describe all video game films, and the term machinima was born.
The early audiences of machinima films were mainly other gamers, particularly since almost all early machinima required the viewer to have a copy of the respective game engine in order to view it. In 2003, Rooster Teeth helped expand audiences' awareness of machinima when they unveiled "Red vs. Blue." The game's developers and publisher, Bungie Studios and Microsoft, gave their blessing to the group and the series rapidly attracted viewers -- even those who had never played "Halo." "Red vs. Blue" ran for five seasons with 100 episodes and several short films. Rooster Teeth continues to produce machinima using other game engines.
Machinima continues to grow in popularity, and has even been used to storyboard more traditional films. The New Zealand company Regelous created a special-effects program called Massive for Peter Jackson's "Lord of the Rings" movies. The program generated digital crowds, with each member of the crowd having its own set of behaviors, allowing the character to make their own choices. Steven Spielberg used machinima as a tool in pre-visualization for his movie "A.I." A modified version of the Unreal game engine served as a platform to create animatics in pre-production.You can also see examples of machinima on television. The video for Zero 7's song "In the Waiting Line" used the "Quake" game engine with extensive modifications. MTV2 hosts a show called Video Mods that uses machinima to create music videos. G4TV produces shows that frequently use machinima, such as the Splinter Cell machinima vignettes called "The Adventures of Bob and Steve" on X-Play. In October 2006, an episode of South Park titled "Make Love, Not Warcraft" used machinima extensively to make fun of gamers and griefers - players who only log on to a game to cause grief and frustration.

"TrashTalk" is a popular series produced by Ill Clan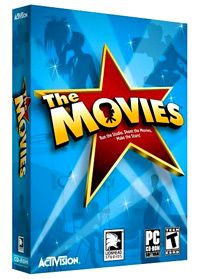 "The Movies" puts gamers in the role of a movie studio executive
Image courtesy Consumer Guide Products
Some people have even used machinima in live performances, something that isn't possible with traditional computer animation. ILL Clan Machinima produces improvisational comedy shows where performers control video game characters and the action is projected on a large screen in front of the audience. The performance takes place in real time and no two shows are the same. At Disney's The Living Seas pavilion at Epcot, visitors can watch a show called "Turtle Talk with Crush." Viewers can interact with Crush, a digitally animated turtle from the film "Finding Nemo." Behind the scenes, a puppeteer controls Crush's animation in real time and answers children's' questions using a device similar to a game controller.
Machinima films could even help change the world. A young man named Alex Chan made a film called "The French Democracy" using the game engine in "The Movies" to address the issue of race relations after a string of riots in France. Alex had never produced machinima before, but felt the game gave him the tools to express his beliefs effectively. Critics have praised the short film for its honesty and insight.
As video game graphics improve, we'll see more machinima projects reach mainstream audiences. Games like "The Movies" or the virtual world of "Second Life" are making machinima films more accessible and user friendly than ever before.
To watch some examples of machinima and learn even more about how to make your own, check out the links on that follow.