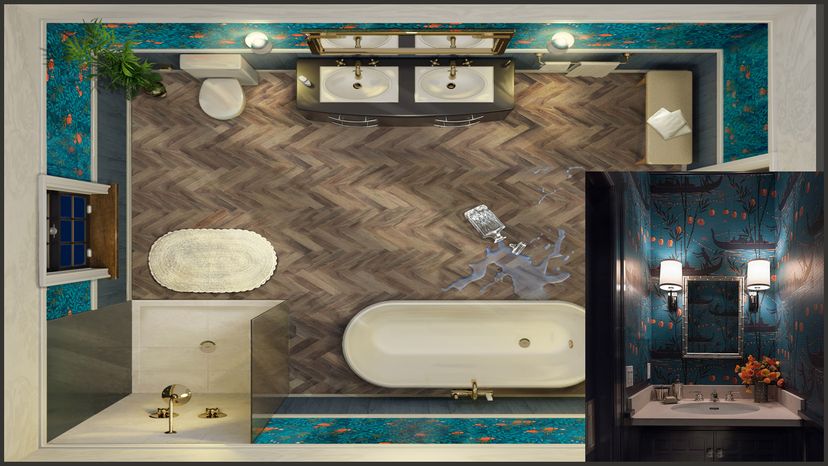 Col. Mustard is getting a new bathroom! In celebration of the 70th anniversary of CLUE — or CLUEDO depending on where in the world you live — Hasbro teamed up with home remodeling and design platform Houzz to update the look of the CLUE Mansion.
The design of rooms in CLUE's Tudor-style house, which is more precisely under the ownership of Mr. Boddy, the ill-fated host of the board game's murderous dinner party, had not been changed since the game was released in 1949.
Knowing that design trends and indoor plumbing (the original mansion doesn't have a bathroom!) have evolved significantly since the mid-20th century, Hasbro and Houzz asked fans to vote on the room they would most like to see featured on the new gameboard. Interested voters visited the Houzz website to choose from a newly designed bathroom, drawing room, guest room and a modern update to the hall. Each of the proposed spaces was based on designs from Houzz community professionals.
When the votes were tallied, the bathroom came out on top. It will be added to the new version of the game when it is released in December 2019.
Inspired by a dramatic powder room from California-based interior designer Ann Lowengart, the two-dimensional version includes a walk-in shower, a double vanity and a traditional herringbone-pattern wood floor. But it maintains the drama and mystery of Lowengart's design, in particular the Gondola Blue wallpaper from Cole & Son.
Invented by Anthony E. Pratt, CLUE is a mystery game that challenges players to suss out who murdered poor Mr. Boddy. There are six suspects, six weapons and nine rooms. Players narrow down the options to determine who committed the crime in which room and with what weapon.
The game and its colorful characters — currently Miss Scarlett, Professor Plum, Mrs. Peacock, Mr. Green, Col. Mustard and Dr. Orchid — have inspired a 1985 film, an early 1990s British television game show and an upcoming remake directed by Jason Bateman and starring Ryan Reynolds.
Although the bathroom addition will be the first new room in CLUE's mansion, the game itself has changed throughout its seven decades of play. One of the original characters, Mrs. White, was killed off in 2016 and replaced by Dr. Orchid, a plant toxicologist. Weapons have changed, too.
At one time, a syringe was among the choices and the little plastic rope was previously made of string. According to legend Pratt created CLUE to stave off boredom during World War II air raid drills, having witnessed many murder-mystery parties in earlier years.
So was it Professor Plum with the lead pipe in the bathroom? That will soon be one of the 324 possibilities.