Role of the Spirit
­I­n the long history of martial arts, expert fighters have used their physical skills as a means of building mental and spiritual skills. This is especially true of karate; in fact, for many karatekas, the art is primarily a path towards spiritual fulfillment rather than a means of self-defense.
Karate and its martial arts forerunners are historically linked with Zen Buddhism. In this branch of Buddhist belief, people achieve enlightenment through everyday activities. By experiencing every moment for itself and leaving the mind open to all experiences, Zen Buddhists find inner peace. The cornerstone of Zen Buddhism is being in-tune with the world around you.
There are many strong connections between this philosophy and karate. In solitary practice, karatekas must learn to concentrate on their own movements, letting everything else go. This is a powerful form of meditation. In fighting competitions, karatekas need to react quickly to any action by their opponent. This quickly teaches the karateka to be open and attentive to whatever they encounter: If you're not paying complete attention in a fight, you lose the match.
Not all karatekas practice Zen Buddhism as such. Karate masters might be Jewish, Christian, Hindu or agnostic -- the martial arts discipline fits well with a wide range of religions and beliefs. But to advance through the higher levels of karate, it is essential that a karateka cultivate spiritual power, whatever their religious beliefs. The basic element of this power is ki.
Ki is an amorphous, undefinable force, but it is generally described as the energy of life itself. It binds all living things together and gives each person his or her spiritual, physical and mental power. In most schools, beginning karatekas won't worry too much about ki. They focus mainly on proper technique and breathing exercises. But in these basic activities, they are laying the groundwork for later ki exercises.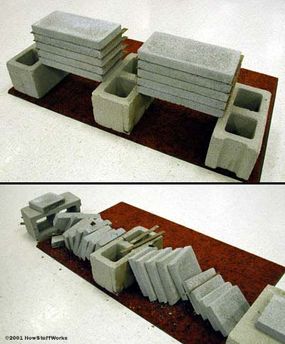 Through the power of ki, a karateka can break through concrete blocks as if they were made of paper. To break through these blocks, Kathy Olevsky imagined that they weren't even there. She focused her energy and just stepped down through them.
As karatekas develop heightened physical control, they become more aware of the seat of ki in their body. With concentration, karatekas can move their ki up and down, so their source of energy is higher and lower. Experienced karatekas generally center their ki, in order to achieve maximum balance and power. Ki is absolutely crucial in the higher levels of karate: It gives masters the power they need to break blocks and topple much larger opponents.
Karatekas say that the actual fighting principles they learn in karate help them in all aspects of life. To understand the connection between karate and real life, consider a stressful situation anyone might encounter -- let's say getting fired from your job. In this situation, there are any number of ways you could react. You could take it as a sign that you are an absolute failure and completely shut down mentally. This is the equivalent of taking a punch squarely in the chest. Or you could accept the turn of events and learn from the experience. This is like deflecting the blow and using your opponent's momentum to your advantage.
When looking for a new job, you might send out resumes blindly and interview at dozens of companies you don't know anything about. This is like fighting an opponent with no plan at all, waving your arms around wildly. Instead, you could fully focus your efforts on the positions that interest you, tailoring your letter of interest and resume to fit the company and job description. This is like focusing your physical force into the side of your hand and finding the weak spot on your opponent.
You could practice these principles without undertaking karate, of course. But karatekas claim that exercising this philosophy physically as well as mentally strengthens their resolve and character. In the study of karate, you learn to carry your body a certain way through many hours of practice. After a while, you deflect blows and land punches almost without thinking: It is simply part of who you are. And if you know to automatically deflect physical attacks and land effective kicks and punches, karatekas say, you will also know how to handle everyday threats and opportunities. Your body and mind know right away how to handle whatever crisis arises.
For more information on martial arts and related topics, check out the links below.
Related HowStuffWorks Articles
Partner Links
More Great Links