Karate Schools
It is­ practically impossible to learn karate without the aid of a karate master. These days, most novice karatekas find their master through a karate school. In the past 25 years, schools have sprung up in shopping centers all over the United States and Europe. If you live in a larger city, you might have dozens of schools to choose from.
Karate schools mean different things to different people. Some students take up karate as a form of exercise or a way to relieve stress. Others only want to learn a few moves to aid in self-defense. Karate can also be an excellent way to build self-confidence. Whatever their original interest, many karatekas eventually fall in love with the practice: Karate becomes a way of life.
Larger karate schools typically cater to a wide range of students. They include elements of exercise, relaxation and self-defense. The goal of karate is not necessarily to progress through the different kyus; if a karateka gets what he or she needs from the experience, then the training is a success. But most karatekas end up advancing to higher levels if they come to class regularly.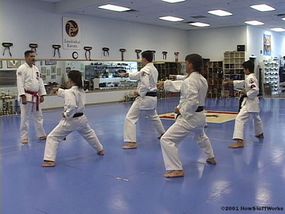 Master instructor Rob Olevsky leads karatekas through practice exercises.
­Karatekas may come to class once every week, or they may come every day. According to Kathy Olevsky, a sixth-degree black belt and an instructor at Karate International of Raleigh, a karateka's rate of progress depends on a number of factors. A karateka who comes to class two or three times a week can progress to green belt (roughly halfway to black belt) in four months. After this point, Olevsky says, it takes longer to advance. A strong athlete who comes to class four or five times a week might make it to first-dan black belt in 18 months. But for the average student, it takes at least three years.
Karate schools may combine elements from multiple martial art forms. Robert Olevsky, the head instructor at Karate International, is not only a ninth-degree black belt in karate, but also a second-degree black belt in judo, a sixth-degree black belt in jujutso and a first-degree black belt in kendo. He incorporates throwing techniques and other combat moves from these disciplines into his instruction of karate. Among other things, these supplementary skills improve a karateka's self-defense ability.
Karate schools may also teach weapons techniques, even though this is not a traditional element of karate. In martial arts, students learn to use weapons as extensions of their own body. They channel their power into external equipment the same way they channel power to their fist or foot.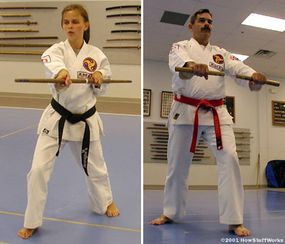 At
Karate International of Raleigh
, advanced karatekas may take up a traditional martial arts weapon. On the right, Rob Olevsky holds the Nunchaku. On the left, Mindy Mayernik wields the long staff.
A number of traditional martial arts weapons were originally developed out of everyday farm and household equipment. When the ruling class banned swords and other weapons, the peasants learned to use these everyday objects for defense. The nunchaku, for example, evolved from a threshing tool used in grain harvesting. Some karate schools also teach how to use improvised weapons -- such as brooms and telephones -- to fight off an unexpected attack.
If you're looking for a karate school, it pays to shop around. Make sure the school covers the areas you're interested in and that the class times fit your schedule. Also, look for a school that is in a convenient location; otherwise, you might be tempted to skip class. Attend a few trial classes to get a feel for the atmosphere and the instructor's style. Ask other karatekas about their experiences.
Kathy Olevsky suggests that women find a karate school that has a good attitude toward female karatekas. Look for a school that has advanced female students (and, ideally, female instructors), and find out whether they are happy with the class environment.
According to Olevsky, parents enrolling their kids in karate classes should look for a school with an open atmosphere. There should be an area for parents to watch their kids' classes, and there should not be hidden, off-limits training areas. Additionally, parents should seek out an instructor who is a good fit for their child. A child who is shy or has learning difficulties needs an instructor who is patient and encouraging, rather than intimidating and militaristic. Since children and adults learn at a different pace, look for a school that teaches kids separately.
Karate requires strength and good technique, but it also depends on mental focus and discipline. In the next section, we'll look at the role intelligence, attitude and spirituality play in karate.