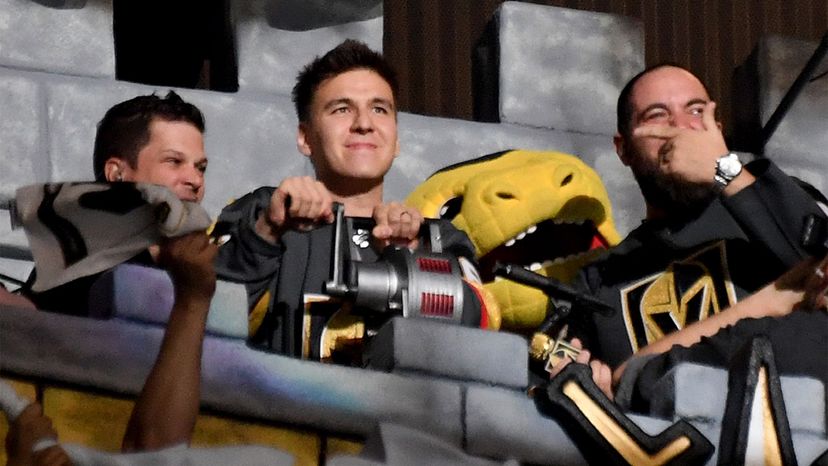 Professional sports gambler and "Jeopardy!" champion James Holzhauer sounds a siren before the start of game six of the Western Conference first round between the San Jose Sharks and the Vegas Golden Knights during the 2019 NHL Stanley Cup playoffs in Las Vegas.
Ethan Miller/Getty Images
The iconic quiz show "Jeopardy!" is in its 35th season, but the largely unprecedented reign of contestant James Holzhauer is schooling us in lots of new ways. As of May 20, 2019 his winnings totaled $1,780,237 after only 23 days, the second-longest winning streak ever.
Holzhauer, 34, hasn't yet bested legendary contestant Ken Jennings, but if Holzhauer continues at his astonishing rate, he certainly will. 2004 saw Jennings obliterate records of the day with a 74-game run, totaling $2,520,700 in winnings. Holzhauer makes that total look like child's play, however. If he continues his run for 74 eps like Jennings at his current rate of $77,401 per episode, he would wind up with $5.7 million!
Wondering how this level of success is possible? Here are a few insights:
1. He's Mastered the Buzzer
With the "Jeopardy!" buzzer, timing is everything. There always seems to be that one contestant who's locked in silent battle with an uncooperative buzzer, but clearly Holzhauer doesn't have that problem. He paid special attention (and reportedly asked a lot of questions) about how the buzzer works during his first pre-show orientation. He also practiced at home after reading a book by a former champion who discussed techniques.
The buzzer process goes like this: Host Alex Trebek reads a clue aloud, then once he's done a staff member must activate the buzzers. If the contestants buzz in before their "enable light" switches on, they'll effectively be locked out for one-quarter of a second, plenty of time for a less trigger-happy contestant to buzz in. So in addition to knowing most or all of the answers, Holzhauer is calm and collected enough to wait until precisely when the device is usable before clicking.
2. He's Not Afraid to Bet the Farm
A professional sports gambler by trade (yes, that's a thing), Holzhauer isn't scared to place a big bet and let it ride. In fact, he regularly uses gambling lingo when making Daily Double wagers. Perhaps he's confident because his response accuracy is a whopping 97 percent. Or maybe his professional background makes him more comfortable with risk-taking. (Most contestants tend to bet small amounts when they've racked up enough money that they don't have to bet big to win the game.) Either way, it's paid off in spades because as of May 20 he'd answered 52 out of 56 Daily Doubles correctly. On April 17, he had the highest-one day total so far in "Jeopardy!" history: $131,127. He's also wagered the most-ever on a Final Jeopardy question: $60,013.
And while it might seem like Holzhauer's success is bleeding "Jeopardy!" dry, his winning streak is also boosting the show's viewership. Since his tenure began, the show has ranked No. 1 among all syndicated shows thanks to occasional viewers tuning in to see what all the fuss is about. That should certainly increase ad revenue.
3. He Bucks Conventional "Jeopardy!" Strategy
Not always, but most of the time, contestants start with the low-amount clues as warm-up, then hit the larger ones later. Holzhauer, however, builds up his cash reserve fast and early, by hitting the big-bucks tiles first. This strategy (and the fact that he almost always gets the answers right) allows him to make larger wagers when he inevitably hits the Daily Double(s).
This methodology is clearly helping him dominate. Of his first 19 games, 17 of them were runaways, meaning that neither of the other contestants could mathematically catch him. It appeared that more contestants are getting wise to his ploys when the April 29 episode saw him win by only $18 against an opponent who matched Holzhauer for buzzer agility, category selection and big bets. But that seems like a fluke as he has continued to dominate since then.
4. This Isn't His First Rodeo
This isn't Holzhauer's first stint on a game show. In 2014 he competed on "The Chase," a show which pitted a professional trivia expert against regular people, like Holzhauer. Mark Labbett, the pro, has since described his experience with Holzhauer as "the worst beating I've ever had."
With that kind of game-show chops, it's surprising that Holzhauer tried out for "Jeopardy!" several times before getting on, taking the online test every year and auditioning twice (as well as once for "Sports Jeopardy!"). "I'm very happy they called this time!" he says on Jeopardy's website. "I think I had to wait about 23 months from my audition."
5. He Upped His Trivia Game by Reading Children's Books
Despite the often highbrow categories and clues, Holzhauer says that he gets a significant amount of his trivia knowledge from an unconventional spot. "I've talked about the children's aisle at the library or the bookstore, and really I can't say enough about it," he explains on the "Jeopardy!" website. "I don't know if you've read books written for adults in nonfiction, but they're pretty boring. But books that engage children, they come at you rapid fire with different subjects, and I've seen lots and lots of answers that came straight from that."