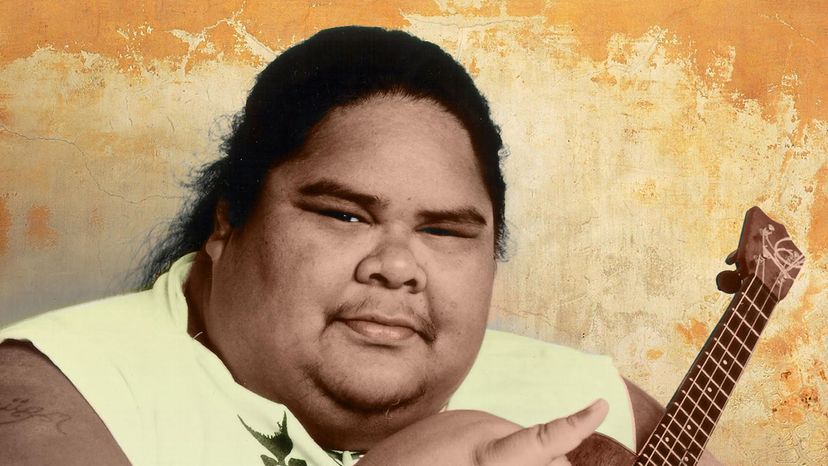 Known as IZ to his fans, Hawaii's Israel Kamakawiwo'ole was a big man with a gentle voice. Born May 20, 1959, this ukulele-playing native son of the islands created a lilting version of "Somewhere Over the Rainbow/What a Wonderful World" that became beloved worldwide. Even if you didn't know who IZ was, you've probably heard his music.
Israel was the third child of Evangeline Keale Kamakawiwo'ole, a pure-blooded Hawaiian born on Ni'ihau and Henry "Tiny" Kaleialoha Naniwa Kamakawiwo'ole, a part Hawaiian born on Oahu. (The family surname is pronounced Kah-MAH-kah-VEE-voh-OH-lay.)Their ancestral roots run deep. IZ's mother can trace her ancestral roots back to Ni'ihau, called the Forbidden Isle. Even today, no one is allowed to visit Ni'ihau unless invited by one of the Native Hawaiian residents or through a special tour.
Israel's exposure to music came at an early age. In the late 1960s, his father was a bouncer and his mom the manager at a nightclub called Steamboats in Waikiki where the Sons of Hawaii performed, often singing traditional songs in Hawaiian. Israel was a 10-year-old boy watching from the side of the stage, sometimes with ukulele in hand. He was often called up onstage to perform by his uncle, the well-known musician Moe Keale, or some of the other big names in Hawaiian music like Eddie Mamae or Gabby Pahinui.
His family left the city, much to his chagrin, and moved to the Wai'anae coast. But it was there, in the early 1970s, that IZ and his brother Skippy met John Kapualani Koko, forming a friendship that was the basis for the musical group the Makaha Sons of Ni'ihau. The Makaha Sons went on to record 21 albums and win countless Hawai'i Academy of Recording Arts Awards (also known as Na Hoku Hanohano Awards).
In 1993, IZ left the Makaha Sons to begin a successful solo career. His first release, "Facing Future," included his memorable cover of "Somewhere Over the Rainbow/What a Wonderful World," which was recorded around 3 a.m. in just one take. "Facing Future" became the top selling Hawaiian music album in the world; it was certified gold in 2002 and platinum (selling more than 1 million units) in 2005. IZ's version of "Over the Rainbow" has been used in many films, television shows and ad campaigns. In 2004, the song reached No. 12 on Billboard's Hot Digital Tracks chart and has sold millions of digital copies.
Morbidly obese most of his adult life, IZ's life was cut short by a heart attack June 26, 1997, just as "Over the Rainbow" was starting to become successful. He was only 38 years old and one of the most beloved singers in the history of Hawaiian music. His body lay in state at Hawaii's Capitol building; flags flew at half-mast and 10,000 people came to pay respects. His body was cremated and his ashes were taken by traditional Hawaiian voyaging canoe down the coast of Hawaii. People lined the ocean roads to honk their car horns in tribute to IZ.
Special thanks to IZ's record label Mountain Apple Company for the main photo.