Bob Marley performs live at the Rainbow Theatre in England in 1977.
Vincent McEvoy/Redferns/Getty Images
He's been called many things: a reggae ambassador, a Third World prophet, and one of the world's richest dead celebrities. Here are some lesser-known facts about this Jamaican superstar.
1. He Once Was a Lab Assistant at DuPont
During a lean early period in Jamaica, Bob Marley decided to move to America and earn some money. His mother had moved to Wilmington, Delaware, and sent her son a plane ticket. During an eight-month period in 1966, he worked on the Chrysler assembly line and also as a lab assistant at DuPont. But his heart wasn't in either job and when his visa ran out, he moved back to Jamaica to continue with music. One legacy of that brief time is that Wilmington holds a People's Festival every summer in Marley's honor. It's organized by a man named Ibis Pitts who befriended Marley during the future reggae star's time there. 
2. The Wailers Had a Complicated Family Connection
Marley was born in 1945 to Cedella Booker, a 19-year-old black woman and Norval Marley, a 60-year-old white Englishman, in the rural parish of St. Ann, Jamaica. Bob's mixed race heritage was a source of discomfort, and people in his community disparaged him. "Them call me half-caste, or whatever. Me don't dip on the black man's side nor the white man's side.  Me dip on God's side, the one who create me and cause me to come from black and white, who give me this talent," he said in 1975.
Norval Marley rarely saw his son and wife and, after Norval's death, Bob and his mother moved to Trench Town, an impoverished area in the Jamaican capital Kingston. There, Cedella lived with Thaddeus Livingston and his son Bunny, who as Bunny Wailer, became a founding member of the group that later became known as the Wailers (and eventually Bob Marley and the Wailers). Cedella and Thaddeus also had a daughter together, named Claudette.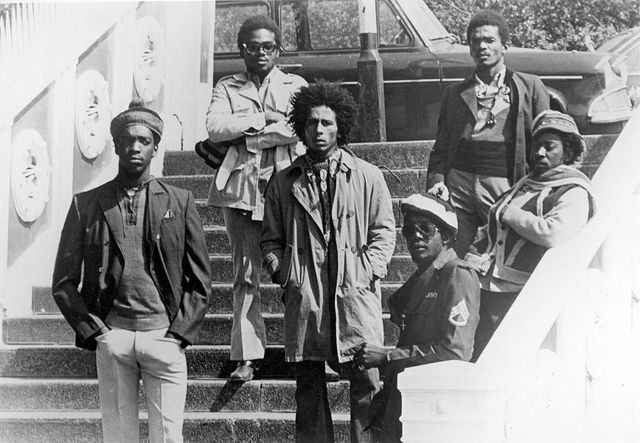 An early shot of Bob Marley and the Wailers (L-R Peter McIntosh 'Tosh', Aston 'Family Man' Barrett, Bob Marley, Earl 'Wire' Lindo, Carlton 'Carly' Barrett and Neville 'Bunny' Livingston) in 1973
Michael Ochs Archives/Getty Images
3. The Zimbabwe Concert Truly "Set the Captives Free"
One very memorable performance for Marley and the Wailers took place during celebrations for Zimbabwe's independence in 1980, which came after a bitter civil war against an apartheid government. Marley was personally invited to perform at the ceremonies because his songs had been an inspiration to the guerilla forces. But then a riot broke out. "After the third tune, there was total confusion, people running from everywhere ... There was tear gas over the walls of the stadium," remembered Tommy Cowan, who was MC at the concert. "We realized that when he played 'I Shot the Sheriff,' — there was prisoner of war camp a few chains away, and ... 7,000 of them broke jail intending on coming into the stadium, so they threw tear gas at them  ... The guys broke down the gate, they came in and sat down. They got a standing ovation because these were the guys who [had] actually fought [for freedom]."
4. The "Is This Love" Video Features a Very Young Naomi Campbell
This video was shot at the Keskidee Community Centre, a black arts center in London in 1978. Marley chose the site and the video shows him singing and playing with kids recruited from various stage schools, including a young Naomi Campbell, the future supermodel. "I was just seven, and didn't know what it would involve. I didn't realise Bob Marley would be standing right next to me, tucking me under a blanket. He was the most handsome man, with beautiful bone structure; mellow, too, and soft-spoken, with a strong Jamaican accent, the kind I already knew from home," she said in an article in The Guardian.
5. He Died a Christian
Marley was synonymous with the Rastafarian religion, which originated in Jamaica. Among its beliefs: The former emperor of Ethiopia, Haile Selassie, is part of the Trinity; ganja (marijuana) is a sacred herb that can bring one closer to Jah (God); and the comb and scissors are tools of Babylon (corrupt Western society), which gave rise to the dreadlocks style — co-opted by many non-Rastas.
While Marley vigorously promoted the Rasta faith in many songs, there is evidence that he changed beliefs before he died. Haile Selassie was distressed to learn that people were worshipping him as a god and sent a representative from the Ethiopian Orthodox Church to Jamaica to try and convert the Rasta faithful to Christianity. A year before his death from cancer, the archbishop of the local Ethiopian Orthodox Church, Abuna Yesehaq, baptized Marley and gave him the name Berhane Selassie (Light of the Trinity). Yesehaq presided over his state funeral in Jamaica where Marley was buried with a guitar, a Bible and a stem of ganja in his casket.
Originally Published: Feb 3, 2017