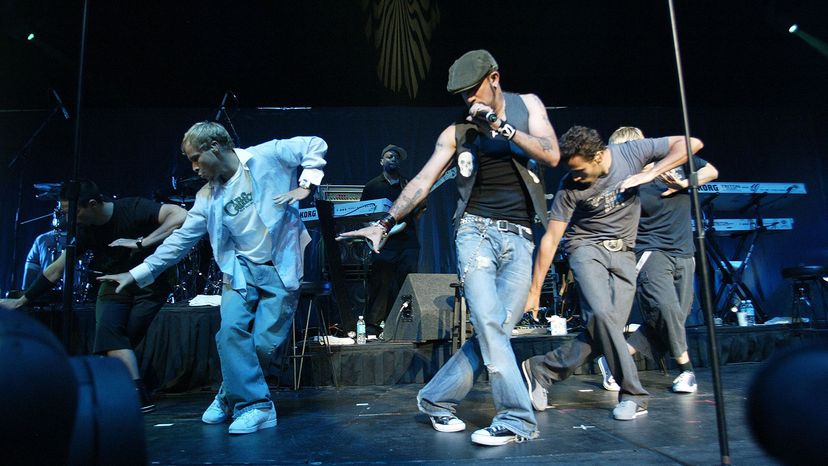 Image: Alberto Tamargo/Getty Images
About This Quiz
Whether you're a tween, teen or middle-aged mom, chances are good that at some point, your heart has been captured by at least one boy bander. So, we think you've got the right stuff to ace this quiz.
Which boy bander was not a star on "The All-New Mickey Mouse Club"?
Although he certainly had the singing pipes and boyish good looks to make the cut, Nick Carter (of Backstreet Boys fame) did not rub elbows with future stars like Ryan Gosling, Britney Spears, Keri Russell, Christina Aguilera, Justin Timberlake and JC Chasez.
True NKOTB fans remember an early song titled "I Wanna Be Loved By You" during which each band member revealed his astrological sign. Which answer is accurate?
Danny is a Taurus, Joe is a Capricorn and Jordan is a Taurus.
For the record, Donnie (Wahlberg, of course) is not just a Leo, but a "loveable Leo" at that.
Joe is a Saggitarius, Danny is a Taurus and Donnie is a Libra.
Donnie is a Leo, Jordan is a Gemini and Jon is a Capricorn.
Which of the following women was not mentioned in the O-Town song "Liquid Dreams?"
Yes, Britney doesn't get a mention. And while the boys do sing about a Jennifer, they just don't specify which one (is it Lopez? Love-Hewitt? Who knows!)
Which *NSYNC song inspired a hilarious annual meme?
Timberlake's vocals sound like he's saying "It's Gonna Be May," instead of "Me," so recent years have seen social media littered with memes featuring the star on the last day of April.
What year was the boy band Menudo formed?
That's right, the group known for its revolving door of members was first formed in 1977, and boys were phased out once they got too old for the trademark youthful sound. Ricky Martin joined the group in 1984, and future star Marc Anthony (that's the former Mr. Jennifer Lopez), was relegated to backup vocals during Martin's reign.
Which current member of the K-Pop boy band BTS is the only remaining original?
Just call him the last man standing! Originally known as "Rap Monster," the stage name RM now stands for "Real Me" according to this member of the massively popular boy band. Incidentally, his real name is Kim Nam-joon.
What's the name of the "Bonus Jonas?"
Little Frankie didn't get to join in on the boy-banding fun, as he is eight years younger than the youngest Jonas in the group. Still, he's lovingly known to their fans as the "Bonus Jonas." He's done a little acting too.
In which major motion picture did former One Direction member Harry Styles make his acting debut?
The role of Alex in "Dunkirk" was quite the way to kick off Styles' acting career, as the World War II epic won big at the box office. Director Christopher Nolan said he was unaware of the extent of Styles' fame when he cast him. Rumor has it that Styles plans to focus more on his acting career than music from here on out.
"The Man with the Iron Heart"
Which star was NOT connected with New Edition?
Bobby Brown launched a successful solo career after getting the boot from New Edition in 1985. The hip-hop super group Bel Biv DeVoe (with the middle name representing Bivens' membership) was another spinoff success story.
Which New Kids on the Block video did Mark Wahlberg appear in?
At the time, Mark was little more than Donnie's brother, although he would soon achieve some of his own success as frontman for Marky Mark and the Funky Bunch.
Alberto Tamargo/Getty Images