A man walks on to a subway train in New York City wearing a button-down shirt, tie, suit jacket and boxer shorts. He stands and reads the paper. At the next stop, a woman walks on the train wearing a down coat, scarf, sweater and panties. She sits down and listens to her iPod. A few stops later, there are maybe a dozen pantsless people on the 6 train, none of whom seem to know each other, and most of the people who did remember their pants that day have gone from staring at their laps to looking around quizzically to laughing out loud to placing mock bets with strangers on how many pantsless people will board at the next stop. In fact, at the next stop, a person boards the train selling pants for $1 a pair.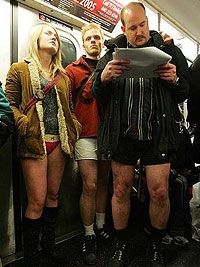 It takes a lot to surprise people in New York, the city where Naked Cowboy roams Times Square in his tighty whities playing guitar on a regular basis. The city where an underwear company sent out men and women in their skivvies to roam the streets as a promotional stunt. But the people at Improv Everywhere try real hard. The pantsless subway ride is a mission (a performance) that the group's agents (the actors) have carried out once a year since 2002, and it's just one of many missions that Improv Everywhere sets up, often with unbelievably meticulous planning. The goal? According to Improv Everywhere founder Charlie Todd, it's "to create moments that are so astonishing, people will have a story to tell for the rest of their lives."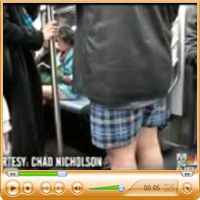 Almost all of Improv Everywhere's missions take place on the streets and subway trains of New York City. It's not exactly improvisation, of course, because the performances are planned out in advance; but many of the initial, core members of Improv Everywhere joined the group when they were students at the Upright Citizens Brigade Theatre, a school that teaches long-form improv techniques (and boasts many graduates who went on to do stints on Saturday Night Live). The agents use a lot of those techniques in their performances. And when your audience consists of unsuspecting commuters, tourists and city folk out for a stroll, you've got to be ready for just about any sort of reaction -- and preferably incorporate it seamlessly into the performance with comic results. That's improv.
Charlie Todd came up with the idea for Improv Everywhere after a bar-hopping night out with friends in 2001. That night, his friends mentioned he bore a slight resemblance to musician Ben Folds, and Mr. Todd decided to test the observation by pretending to be said musician. The result was his first successful mission. He drank free all night, received a couple of invitations from apparent Ben Folds' groupies and got ushered into VIP rooms by bouncers who ultimately threw out Todd's friends when it became clear they'd stolen Ben Folds' wallet. And thus, Improv Everywhere was born: A stage for the stageless; a script for struggling actors who have yet to take Broadway by storm; an attempt to get New Yorkers to remove their earbuds -- which is not as easy as it might seem. According to Charlie Todd in a Columbia News Service story, "It's amazing what you have to do to get people to stop and pay attention."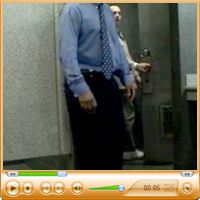 Riding the subway without pants is a good way to get people to pay attention. Improv Everywhere has also arranged a subway surprise party, in which agents hung banners, passed out party hats to subway riders and got everyone to crouch down and yell "Surprise!" when the "birthday boy" agent boarded at the next stop. Everyone sang "Happy Birthday," and the agents served cupcakes. The subway wedding proposal was similarly organized except agents had subway riders holding cards that spelled out "Will You Marry Me?" and one of the agents proposed to his "girlfriend" (another agent) when she boarded the train. This mission had some of the female subway riders a bit teary. The subway is one of Improv Everywhere's favorite stages. But it's not the only stage. Some of the group's finest missions take place above ground. There's the one where a tuxedoed agent set up a fancy amenities table in a McDonald's restroom and offered customers hand towels and cologne when they were done at the urinal.
In another mission, agents staged a time loop in a Starbucks, repeating the same, five, very noticeable actions, in the same order, every five minutes for an hour: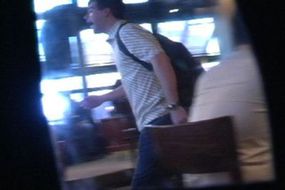 An agent sitting at a table spills his coffee; he runs across the Starbucks for some napkins.

An agent at another table receives a call on his cell phone; the ringtone is "The Entertainer," and it's loud; he goes to the window for better reception.

An agent heads to the bathroom and bumps into another agent on the way; he apologizes; he waits in line for the bathroom for a minute and then returns to his seat.

An agent enters the Starbucks with a boombox playing "Shiny Happy People" by R.E.M.; he walks through the store and exits.
And in a fountain in Washington Square Park, agents making up the New York City Synchronized Swimming team performed a routine to Styx's "Come Sail Away" in front of delighted onlookers and three, very serious-looking agent-judges. The team needed a total of 28 points to go to the Athens Olympics. They just made it.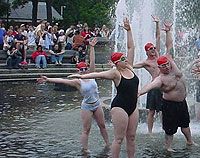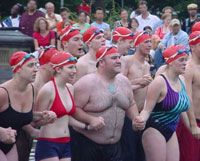 In the next section, we'll take a closer look at a few of Improv Everywhere's missions, including Best Buy, Cell Phone Symphony and Best Gig Ever.