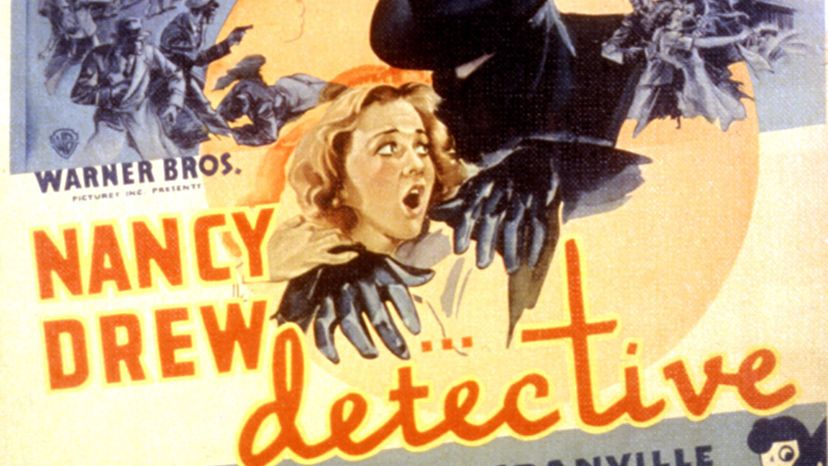 Bonita Granville stars in the 1938 movie "Nancy Drew - Detective."
LMPC via Getty Images
Back in 1930, a certain "girl sleuth" appeared on the scene driving a sporty blue roadster at top speed as she solved mysteries in books with names like "The Hidden Staircase" and "The Mystery at Lilac Inn." Who could this be? Why, Nancy Drew of course.
"Nancy Drew grew out of the Depression and wanting to give children something to think about other than problems at home," said Nancy Axelrod, a writer and editor involved with the syndicate that published the Nancy Drew books, in the book "Nancy Drew and Company." Throughout the decades, and various iterations, the fictional heroine has remained very popular. Here are five secrets we've uncovered about Nancy Drew.
1. Who Was Carolyn Keene?
Carolyn Keene is listed as the author of all the Nancy Drew books. But there was no such person. From the beginning, there was a stable of writers for the series, none of whom had that name. Twenty-three of the first 30 books were written by a journalist named Mildred Wirt Benson, under the direction of Edward Stratemeyer, who developed several series books for children (Ever read the Hardy Boys, Bobbsey Twins or Tom Swift? Those were his creations too.) Stratemeyer came up with the characters and outlines and farmed out the content to various ghostwriters to finish.
But you could say that Benson was the one who made Nancy what she became. Tired of the "namby-pamby" girls' series of the time, Benson made Nancy an independent, adventurous girl (with her own car!) who solved mysteries by herself, occasionally referring to her father Carson Drew, a lawyer, for advice.
"I sort of liked the character from the beginning," Benson told The New York Times in 1993. "Now that kind of woman is common, but then it was a new concept, though not to me. I just naturally thought that girls could do the things boys did." Yet, she added shockingly, "I'm so sick of Nancy Drew I could vomit."
Another series writer was Harriet Stratemeyer Adams (Edward's daughter) who wrote Nos. 33-56, plus No. 31. And a handful of men also ghostwrote as well.
2. Why Did Nancy Drew Change?
Edward Stratemeyer died suddenly in 1930, the same year the series premiered, and Harriett Adams took over the syndicate. Under her guidance, Nancy underwent a heavy revision in 1959, becoming more sedate and less snooty. Take, for instance, the first book "The Secret of the Old Clock." "1930 Nancy was more emotional and chided herself. She was a little less perfect and more real," wrote Nancy Drew expert Jennifer Fisher. "1930 Nancy referred to the Topham girls as 'vapid creatures' and said they do not deserve the Crowley fortune. By 1959, this rather un-Nancy like behavior was shouldered upon Hannah Gruen."
In the revision, Nancy aged from 16 to 18 (so she could legally drive in all 50 states), exchanged her roadster for a convertible (to keep up with the times) and had more of a familial relationship with the housekeeper Hannah Gruen; originally, she played more of a servant role. Hannah, who was invariably described as "motherly," provided a somewhat parental figure for Nancy, whose mother, we're given to understand, died when Nancy was 3. But at the same time she wasn't so much of a parent as to forbid Nancy from undertaking her various adventures. Adams also removed some of the racially stereotypical characters that had clouded the original series.
In 2004, another set of revisions followed, which put the Nancy Drew books into the first person, and had her tooling around in a hybrid vehicle (still blue) and helping Hannah with domestic chores. Her best friends remained the "pleasantly plump" Bess Marvin and her cousin, the athletic tomboy George Fayne.
3. Is It True the Critics Hated the Books?
Yes, even wholesome Nancy was not a universal favorite with adults when she first debuted. Many librarians considered these books to be "trash" and a "menace to good reading" because of their formulaic plots and characters. In 1957, writer Phyllis Fenner complained that Nancy was "saucy" and "strongheaded" while performing "all kinds of stunts, [and solving] mysteries involving high-powered cars and expensive perfumes." Opposition largely fell away as educators began embracing series books, comics and graphic novels as ways to get children to get more interested in reading.
4. What Became of Helen Corning?
You remember her? She was Nancy's sidekick in the early books before Bess and George showed up. In the original series Helen Corning was portrayed as a bit of a gossip who was always up for some fun. She popped in and out of several books, subbing for Bess and George when they weren't available; she also happened to date Buck Rodman, Ned Nickerson's roommate (Ned was Nancy's "steady," as they used to say.) In the 1959 revisions, Helen Corning got engaged in the second book "The Hidden Staircase" and by the 10th, "The Passage to Larkspur Lane," she was married to Jim Archer, and hardly seen again — which allowed Bess and George to assume bigger roles. Decades later, Helen was resurrected as part of the newer incarnation of the series, "Nancy Drew, Girl Detective" which ran 2004-2012.
5. How Many Nancy Drew Books Are There?
Harriet Stratemeyer Adams died in 1982, and the series syndicate was sold to Simon and Schuster who went to work creating a whole lot of spinoffs, many of which Adams would not have approved of. "I feel you overstepped your position in trying to revamp Nancy's character," Adams wrote to an editor back when she was warring with the previous publisher Grosset and Dunlap. "She is not all those dreadful things you accuse her of and in many instances you have actually wanted to make her negative. And don't forget, every Shakespearian tragedy has plenty of humor in it!"
The classic series ran to 56 books, but the current total is over 175. Let's see if you can keep all these spinoffs straight: In the 1980s, there was the Nancy Drew files (which lasted for 125 books) and was more focused on romance as well as mystery. The "On Campus" series of the 1990s had Nancy attending Wilder University, while the "Nancy Drew Notebooks" targeted the very young with stories about Nancy and her friends in elementary school.
The current incarnation of the classic Nancy Drew series is called "The Nancy Drew Diaries" and debuted in 2013. Nevertheless, the books will sound familiar to any Nancy Drew reader, past or present: "Nancy, Bess, and George race to catch an international jewel thief" reads the synopsis for "The Stolen Show."
Originally Published: Apr 2, 2019