Like a lot of young kids, Stephen Wiltshire found comfort in the pages of a sketchpad. Born in 1974 to West Indian parents, the London native faced some unique challenges early on. While most kids start uttering words within their first two years, Wiltshire was mute. At age 3 he was diagnosed with autism. Unable to communicate his thoughts and feelings, Wiltshire channeled his energy onto blank pages. "When I was a young boy, I couldn't speak and drawing was my way of expressing myself," he says via email. "I drew animals, London buses, and sometimes demolitions of large buildings as well. It helped me to say what I couldn't with words."
Fast-forward 45 years, and not only has Wiltshire continued the practice of self-expression through art, but he's become one of the most successful and renowned artists in Britain and beyond. His commissions have four- to eight-month waiting lists, and he's routinely swarmed by flashbulb pops and fans clamoring for autographs, as is evident in the trailer for his upcoming feature length documentary, "Billions of Windows." And while the journey to his present-day triumph wasn't exactly simple or straightforward, Wiltshire's unique story has kept the world captivated for decades.
Using Visual Art Instead of Words
At age 5, Wiltshire was sent to London's Queensmill School, which specializes in the education of children and young people with autism. The faculty quickly realized Wiltshire was entirely capable of communication — he just chose pencil strokes over sentences. Once they picked up on his attachment to art, they began experimenting, temporarily taking away his materials to see if and how he'd react. The tactic worked: Wiltshire spoke. "Paper," he said to the staff, attempting to reclaim his artistic tools. He slowly developed his vocabulary, speaking in full sentences by age 9. But before he mastered verbal language, he demonstrated an aptitude for art that floored those around him, producing unfathomably detailed sketches of animals, London landmarks, and architectural structures by age 7.
"I enjoy drawing the chaos and order at the same time — the rush hour traffic versus square avenues and skyscrapers and the people who make these cities work," Wiltshire says. "Also, I like that some parts of the scenery will never change and others constantly develop."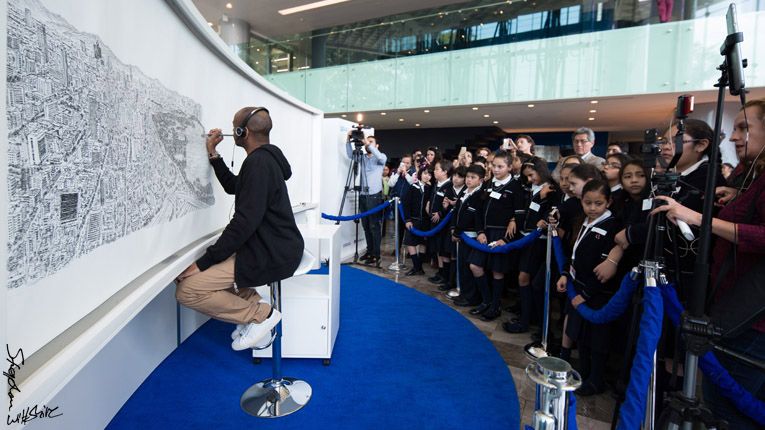 Wiltshire works to an astonished crowd on a panorama of Mexico City.
Stephen Wiltshire
That distinct perspective on the surrounding urban landscape and his ability to convey it on paper started to pique the interest of Wiltshire's teachers. One instructor in particular accompanied the young student on drawing excursions and entered his work in children's art competitions. Wiltshire began winning awards, and soon the local press started questioning how such a young artist could produce such impressive work.
But others — like Prime Minister Edward Heath — didn't need convincing; when Wiltshire was just 8, Heath became one of his first paying clients, purchasing one of his drawings of Salisbury Cathedral. In 1987, 13-year-old Wiltshire appeared in a BBC program called "The Foolish Wise Ones," in which Hugh Casson, a former president of London's Royal Academy of Arts, referred to him as "possibly the best child artist in Britain."
It was Casson who introduced the teen to literary agent Margaret Hewson, and helped him publish his first book, "Drawings," consisting of his early sketches. Two years later, after his first trip abroad with Hewson to see and sketch New York City's legendary skyscrapers, Wiltshire released his second book, titled "Cities."
"I like the details of the windows, shades, sharp edges, and foliage," Wiltshire says of his fondness for urban landscapes. "I often add mood and atmosphere to these views and sometimes change bits and pieces to make them look better."
Drawing the Cities of the World
After the release of his second book, Wiltshire embarked on a drawing tour of Venice, Amsterdam, Leningrad, and Moscow, compiling original drawings for his third book, "Floating Cities." In 1992, a Tokyo-based television company invited the young artist to tour Japan and create drawings of landmark structures like Shinjuku's metropolitan government building, and a year later, Wiltshire released yet another book titled "American Dream," including cityscapes of Chicago, San Francisco, and New York, and desert landscapes of Arizona.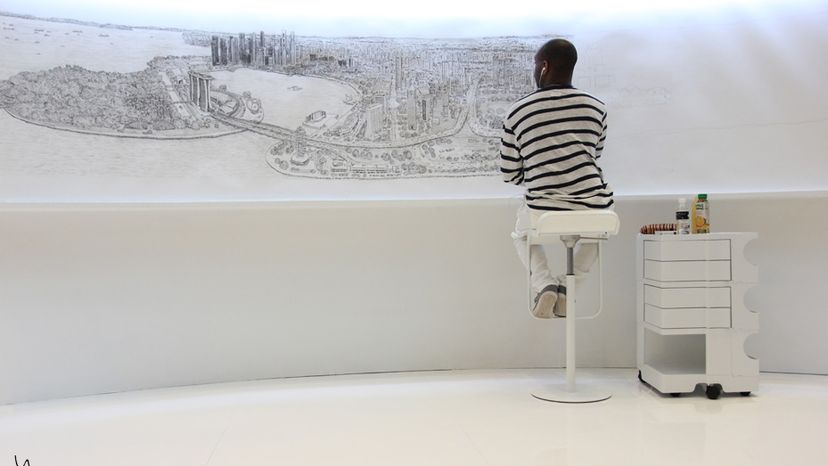 Wiltshire sketches the Singapore skyline.
Stephen Wiltshire
Wiltshire's extraordinary skill and prolific production captivated audiences, but his creative methods invited even more fascination: Many of his painstakingly detailed drawings were produced entirely from memory, including a panoramic piece depicting the city of Rome, including iconic structures like the Vatican and St. Peter's Cathedral.
Dozens of international trips, accolades and career highlights later, Wiltshire now owns his own permanent art gallery in London's Royal Opera Arcade, and has been named by Queen Elizabeth II as a Member of the Order of the British Empire. And while architecture and cityscapes are the subjects of some of his most popular works, he finds joy in creatively capturing everything from celebrity portraits to classic American cars. "I love movies from the '70s where these huge, comfortable, and powerful cars were travelling on the wide roads like boats," Wiltshire says. "I also like the culture of the '70s, just like disco as well as the earlier times like the '60s with motown music."
Music continues to play a major role in his creative process to this day. "I listen to music when I draw," he says. "Sixties motown, R&B, '70s disco, and the latest charts. It helps me focus better. I also play the piano and sing, but it's just a hobby."
Despite the astronomical success Wiltshire has already achieved, he continues to draw every single day, continuously seeking out new ways to capture the world and abiding by his own personal motto, "do the best you can, and never stop."