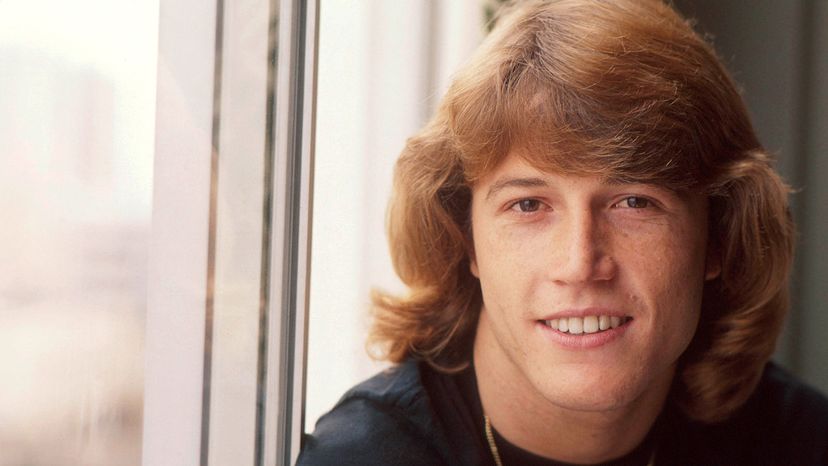 A portrait of Andy Gibb in his early days of stardom, 1978.
Michael Putland/Getty Images
The youngest of a celebrated music clan that spawned the Bee Gees, Andy Gibb had a few fleeting years of fame in the late '70s, but it all faded due to years of drug use. Andy was on the cusp of a comeback when he died tragically in 1988 at the age of 30. Here are five questions people ask about Andy Gibb, the former teen idol who died so young.
Was He Ever Part of the Bee Gees?
Andy was born in England in 1958, the youngest of five children — including three that would later become the Bee Gees (oldest brother Barry and twins Maurice and Robin) as well as a sister named Lesley. When Andy was 6 months old, the family moved to Australia. By the time he was a preteen, the Bee Gees had hit it big in England and Andy had moved with his parents to Ibiza, Spain. He went to school in a Rolls Royce, but quit at 13 to start playing in bars.
"Everybody said I'd regret leaving school so young, but there was nothing else I would rather have done," Andy once said, according to Biography.
Andy expected he'd become the fourth member of the Bee Gees at some point, but with his good looks and appealing voice, brother Barry thought Andy should try for a solo career, starting out in Australia. After forming a couple bands, Andy caught the attention of Bee Gees manager Robert Stigwood who signed him to a solo contract.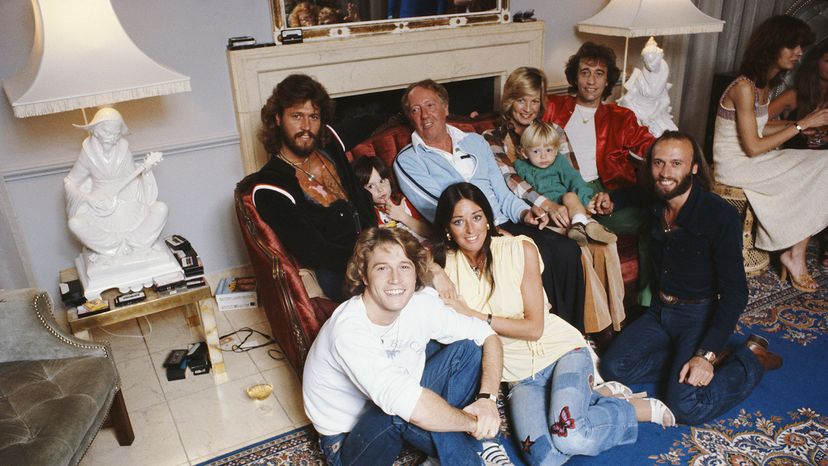 Andy Gibb (front, far right) sits surrounded by members of his family, including brother Barry (back row, far left), Robin (back row, far right) and Maurice (front, far right). Manager Robert Stigwood is next to Barry in the blue jacket.
Michael Brennan/Getty Images
What Were His Biggest Hits?
In 1976, Andy moved to Miami and began working on his first album, "Flowing Rivers." His first hit "I Just Want to Be Your Everything" was written by Barry and went to No. 1 in the U.S. and Australia in 1977. This was followed by "Love Is (Thicker than Water)," another No. 1 hit. The album went platinum.
In 1978 he released a follow-up album "Shadow Dancing," which also went platinum. The title track (co-written by all four brothers) was his biggest hit, becoming Billboard's No. 1 song of the year, after seven weeks at the top of the charts. Andy was the first solo male artist to have three consecutive songs hit No. 1 — and all in less than a year. Two other songs made the top 10 in 1978: "An Everlasting Love" and "Don't Throw It All Away (Our Love)." He was just 20 years old at the height of his fame.
Yet Andy was insecure in his abilities and felt that much of his success was due to his family connections rather than his talents. "Sometimes I'd say, 'Andy, look in the mirror. You've got everything — good looks, talent. Women love you.' Men liked him too. But when he looked in the mirror, you always had the feeling he didn't see anything," Jeff Witjas, Andy's agent between 1983 and 1985 told People magazine.
Who Was He Married to?
At the tender age of 18, Andy married receptionist Kim Reeder, also 18, in Australia just a few months before he moved to America. But the marriage was short-lived as Andy became enamored with drugs. "Cocaine became his first love. He became depressed and paranoid. He wasn't the man I married," Reeder told People. She left him when she found out she was pregnant and headed back to Australia.
A few years later, Andy began a relationship with "Dallas" actress Victoria Principal, eight years his senior. But the addiction to drugs and alcohol continued and she gave him an ultimatum. "I asked either to choose me or to choose drugs, and I know that with all his heart he wanted to choose me... [but] he chose drugs," Principal told VH1's "Behind the Music."
Victoria Principal and Andy Gibb attend the People's Choice Awards in 1981.
Barry King/WireImage/Getty Images
How Did Andy Gibb Die?
With chart success declining, Andy turned to other opportunities, like hosting "Solid Gold" on TV and starring in the musical "The Pirates of Penzance." But those fizzled because he missed several appearances due to his addictions. His family tried to help and he entered treatment. He signed a new record deal and appeared to be getting his life together in England.
But on March 10, 1988, he died in hospital of heart inflammation. He had been complaining of stomach pains and there was no evidence of alcohol or drugs in his system at the time of his death, according to The Associated Press. However, years of substance abuse likely contributed to his heart condition. "I always knew that one day I'd get a call with news like this," Andy's ex-wife Reeder told People. "It was only a matter of time."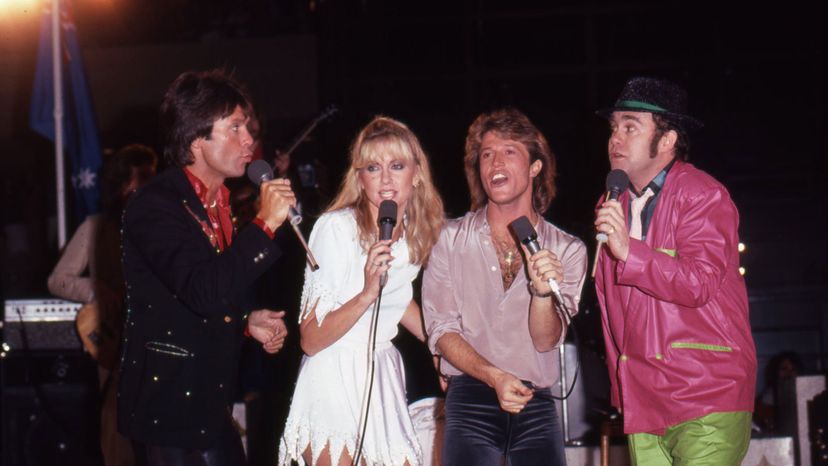 Andy Gibb, surrounded by Cliff Richard, Olivia Newton-John and Elton John, performs on the "Hollywood Nights" TV special in March 1980 in Los Angeles.
Ron Eisenberg/Michael Ochs Archives/Getty Images
What Happened to His Daughter?
Andy and Reeder had one child, a daughter named Peta who grew up in Australia. Andy never saw Peta (who goes by the name Peta Weber) after she turned 2.
"I didn't have the chance to get to know my father as well as I should have," Weber told News.com.Au in 2017. "As I grew I learned that he was famous, and that he had famous siblings, but for me he was just a guy on the end of the telephone line." He died when she was just 10 years old and Weber endured bullying at school after news of their relationship became known. Over the years she rarely spoke about her famous family.
But in 2016, her cousin Samantha (daughter of Maurice) called her to ask if she'd like to be part of a project where the children of the Gibb brothers would re-record classic Bee Gees songs. At first Weber wasn't sure about doing it, even though she does sing. But then she changed her mind.
"My father is an integral part of the Gibb musical legacy. I came to the conclusion that if anyone was going to represent him, it should naturally be me."
The project from The Gibb Collective called "Please Don't Turn Out the Lights" was released in 2017 and working on it proved very healing for Weber.
"I've found such a connection with my cousins. The long-overdue family reunion to come out of this project is something I never expected. I'm finally able to connect with that side of my life in a positive way, on my terms and in a way that makes me feel proud," she said to News.com.Au.