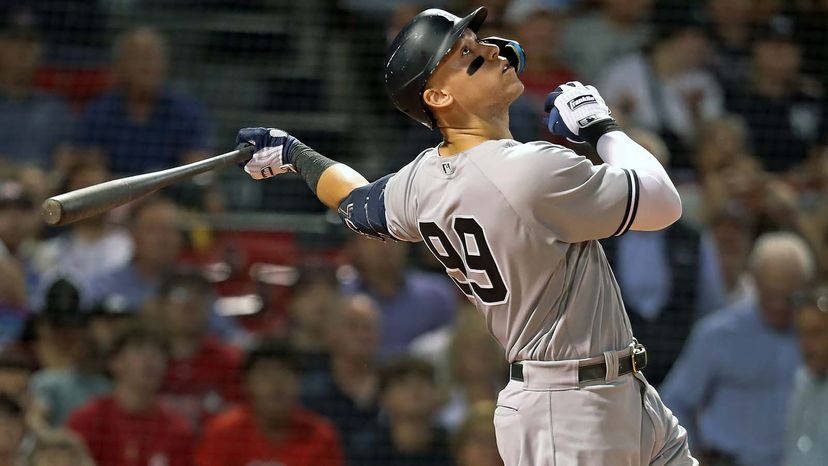 Even for non-baseball fans, October is classic. It's the final stretch to the World Series and when we take a last peek at the standings to see which Major League Baseball teams might make the playoffs.
This season, baseball fans have also been watching New York Yankees outfielder Aaron Judge who has been chasing the American League home run record. And on Oct. 5, he finally hit No. 62 at Globe Life Field against the Texas Rangers. That means Judge has officially broken the Yankees' — and American League (AL) — single-season home run record (61) that Roger Maris set in 1961.
According to Elias Sports Bureau, Aaron's 57th home run Sept. 13 was the first time a player finished the day with 20 or more home runs over the next closest player since the 1928 season. That's when Babe Ruth had a 23–home run lead over both Jim Bottomley and Hack Wilson. Judge's closest competitor then was Kyle Schwarber of the Philadelphia Phillies who (to date) has 46 home runs.
After the Sept. 18 game, Judge was on pace to hit a home run every 2.5 team games over the Yankees' final games. But the Yankees' regular season ends Oct. 5, so it's unlikely Aaron will hit 65 home runs in the regular season. Earlier this year, Judge hit six homers in April, over 20 games; 12 in May during 27 games; 11 in June during 28 games; 13 in July's 25 games and nine in the 27 games he played in August.
It's important to note that if Judge hits 65 home runs, it would be the highest single-season home run total since 2001 when Barry Bonds hit 73, and it would be the fifth 65-plus home run season in Major League Baseball history.
However, many fans believe those home runs records are tainted and come with asterisks by their names. Every non-Yankee player that hit 60 or more home runs in a single season — Barry Bonds (73 in 2001), Mark McGwire (70 in 1998 and 65 in 1999) and Sammy Sosa (66 in 1998 and 64 in 2001) — was legitimately accused of or confessed to using performance-enhancing drugs (PEDs), substances that are banned in baseball.
While the single season home run record is prestigious enough, there's also the possibility that Judge could also snag the Triple Crown. The Triple Crown goes to a player who leads the league in three specific statistical categories in the same season: batting average, home runs and runs batted in (RBI).
Judge leads the American League (and MLB) in home runs (62) and RBIs (133), and his batting average is a respectable .311, which is currently fourth in the American League.