Zydrunas Savickas of Lithuania competes in the Deadlift for Max event during the World's Strongest Man competition on Hainan Island, China, in 2013. Savickas is often considered the world's strongest man of all time.
Victor Fraile/Getty Images
Ancient myths and legends abound with astounding feats of superhuman strength, but the truth is that today might very well be the golden age of strongmen.
"I would argue that the strongest men in history are alive on our planet right now," says Jan Todd, and she would know. Jan Todd and her late husband Terry are powerlifting royalty, sports historians and co-founders of the Stark Center for Physical Culture and Sports at the University of Texas, Austin.
"I don't think we've ever had a period in history where we have as many men who are in the kind of physical condition and able to lift the kinds of weight they're lifting right now," says Todd, who credits the surge in strongmen to the popularity of competitions like the World's Strongest Man and the Arnold Strongman Classic, which her husband helped create. (Events at these competitions may include powerlifting, pulling vehicles and lifting heavy round stones called Atlas stones.)
"The Arnold Strongman Classic is typically seen as a test of raw strength," says Conor Heffernan, who blogs about the history of strength and exercise at Physical Culture Study and teaches the sociology of sport at the University of Ulster in the U.K. "Whereas the World's Strongest Man combines strength, agility and endurance."
The current "World's Strongest Man" titleholder is Tom Stoltman, a 27-year-old gentle giant from Scotland who stands 6 feet, 8 inches (203 centimeters), weighs 397 pounds (180 kilograms) and holds the world record for lifting a 630-pound (286 kg) Atlas stone and hurling it over a chest-high bar. Another up-and-coming champion is American Martins Licis, the 2019 "World's Strongest Man" and the 2021 winner of the Rogue Invitational, who Todd thinks may be "the future of the sport."
But neither of these impressive strongmen has earned the title of the strongest man to ever live, or even the strongest man alive. According to Todd and other strength experts, that crown (size XXXL) goes to a man known as "Big Z."
Zydrunas Savickas, the Lithuanian Superman
"Zydrunas [Savickas] may actually be the strongest man who ever walked the earth," says Todd. "He's one of the most amazing athletes I've ever seen of any kind."
Still competing at 46 years old, in his prime Savickas took home more strongman titles than anyone in the game. The 6 foot, 3 inch (191 centimeter), nearly 400-pound (180-kilogram) Lithuanian has not only won the World's Strongest Man four times, but he took first place in the Arnold Strongman Classic a mind-blowing eight times. (He's also won Lithuania's Strongest Man 16 times.) In all, he's broken more than 20 world records in strength competitions.
The fact that Savickas defeated world-class competition in both contests is proof to Heffernan that the Lithuanian champ is not only "one of the most complete strongmen to ever compete" but also "probably the strongest man to have ever walked the earth, or close to it."
If you want a taste of Big Z's world-conquering strength, check out this highlight reel of his 10 most iconic strongman moments.
More Living Legends of Strength
There are a handful of other strongmen who could rightfully challenge Big Z for the title of the strongest man alive. Here are some of the top contenders according to Todd and Heffernan:
Mariusz Pudzianowski won the World's Strongest Man competition five times, more than any other competitor. Heffernan bumped him from the top of the list because Pudzianowski never won the Arnold Strongman Classic like Big Z. The Polish strongman retired from strength competitions and now competes in mixed martial arts.
Mark Henry lived with the Todds after high school as he trained to become an Olympic weightlifter, and the beefy American went on to win the very first Arnold Strongman Classic in 2002. "Mark's natural talent for strength exceeded anything that I ever saw in my lifetime up close and personal," says Todd. Henry holds world records for "raw" squat and deadlift (no straps to help grip the bar) and was the first to lift the "unliftable" Thomas Inch dumbbell (172 pounds [78 kilograms] with a handle as wide as a Coke can) above his head with one hand. Henry left strongman for a long and successful career as a WWE professional wrestler.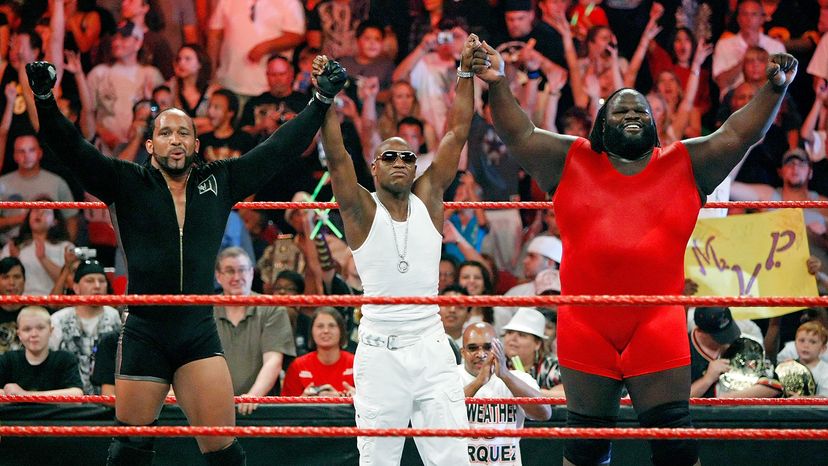 Wrestler Mark Henry (far right), boxer Floyd Mayweather Jr. and wrestler MVP (far left) celebrate at the end of a tag team match during the WWE Monday Night Raw show in Las Vegas, 2009. Mayweather was a special guest host during the broadcast.
Ethan Miller/Getty Images
Brian Shaw has come the closest to replicating Big Z's amazing record. The 6 foot, 8 inch (203 centimeter) American has won the World's Strongest Man four times and the Arnold Strongman Classic three times (he won both competitions in 2011 and 2015), proving that he's "an amazing athlete and a very complete strongman," says Todd. At 39, Shaw is still competing and may yet take the title of strongest man ever.
Bill Kazmaier was never shy about claiming he was the "strongest man to ever live" and maybe he was right. The American was one of strongman's "first breakout stars" in the 1980s, says Heffernan. Kazmaier won the World's Strongest Man three years in a row (1980-82) and "wasn't invited back" because the contest organizers feared it was "getting boring," says Heffernan.
Hafthor "Thor" Julius Bjornsson, who played "The Mountain" on the HBO series "Game of Thrones," is a legit giant, standing 6 foot, 9 inches (207 cm) with a competition weight of 420 or 430 pounds (190 or 195 kilograms). "It's not an accident that the strongest men on the planet are also some of the biggest," says Heffernan. "They're atypical men." The 33-year-old Thor is a three-time winner of the Arnold Strongman Classic, one time champion of World Strongest Man and currently holds the world deadlift record (with straps) at 1,104 pounds (501 kilograms).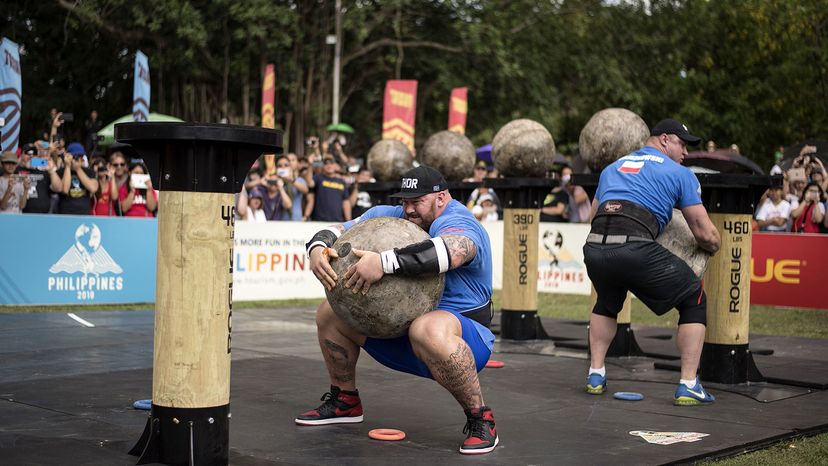 Hafthor Julius Bjornsson of Iceland (center) and Mateusz Kieliszkowski (right) of Poland lift concrete spheres during the Atlas stones competition of 2018 World's Strongest Man in Manila.
NOEL CELIS/AFP via Getty Images
The late Jón Páll Sigmarsson deserves a place on this list. The charismatic Icelandic strongman won World's Strongest Man four times and Europe's Strongest Man twice before his sudden death in 1993 from cardiac arrest at just 32 years old. In competition, the larger-than-life Sigmarsson often yelled "I am a Viking!" and was a beloved figure in Iceland.
Strongman Culture Started More Than 100 Years Ago
It's only recently that being really strong was considered a legitimate sport. Back in the late 1800s, the first big names in strength were entertainers.
"Strength performers had their origin in the circus, in Vaudeville and music halls," says Heffernan.
Arthur Saxon, a German-born strongman who gained fame in England, was a wildly popular performer who may have been the strongest man of his generation, says Heffernan. Saxon was a pure weightlifter who dazzled crowds with old-timey lifts like the "bent press" in which he'd raise more than 300 pounds (136 kilograms) over his head with one arm.
The French-Canadian strongman Louis Cyr stood only 5 foot, 8 inches (174 centimeters), but weighed almost 300 pounds (136 kilograms) and had 20-inch (51-centimeter) biceps. His claim to being the world's strongest man came from an 1895 backlift in which he supported 16 men standing on a platform weighing more than 4,000 pounds (1,814 kilograms).
Perhaps the most famous strongman of the turn-of-the-20th century was Eugen Sandow, considered the world's first professional bodybuilder. An international sex symbol and a master of self-promotion, "Sandow had this amazing physique and he knew how to court public favor," says Heffernan. Sandow organized some of the first bodybuilding competitions and toured the world as an ambassador for fitness.