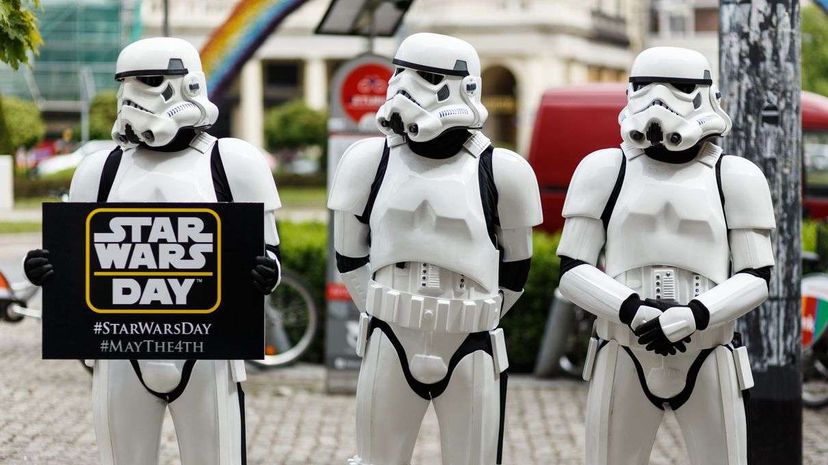 The first time the phrase "May the Fourth be with you" appeared in the world was in 1979. May 4 of that year was the day Britain's first female prime minister was elected to that office, and the phrase was in a newspaper ad congratulating Margaret Thatcher on her historic victory.
The phrase has come a long way since then.
May has traditionally been a month for "Star Wars." The first six films in the Skywalker saga all debuted in May during their years of release. It's also the month that boasts the birthday of the maker himself, George Lucas. A compelling argument was made at one point by "Star Wars" fans that May 25 would be the best day for a "Star Wars" day, as it's the date "A New Hope" was originally released in 1977. But that idea never quite gained traction.
It was the internet and social media that eventually revived the "May the Fourth" wordplay. Fans across platforms began talking about May 4th as "Star Wars Day" and tagging posts as such. They used it as an excuse to watch the movies all over again (as if you need an excuse) and to talk about it under a unified hashtag.
Amy Ratcliffe, a writer for StarWars.com and a correspondent for the Nerdist, explained to us by email in 2016 that the best thing about this new holiday is that there's no set way to celebrate. "I've seen fans throw special parties with themed food and cocktails for the occasion, I've seen fans gather at restaurants, bars and comic book shops, and I've seen fans head to Disney Parks to celebrate with special events or by riding Star Tours," she said./\r\n/
Since there are no official guidelines for the holiday, there's no wrong way to celebrate it. To that end, other organizations have gotten in on the festivities to support great causes. For instance, Rancho Obi-Wan, a "Star Wars" museum, run by former Lucasfilm head of fan relations Steve Sansweet, has used this week to highlight a fundraiser for their education and preservation mission.
The U.S. Rebel Alliance, an organization created by the fan activist Andrew Slack, has used the day to talk about the importance of mentors and teachers by way of Yoda. Using the #TeachMeYouDid tag, they took the holiday and tried to make it an opportunity to honor the teachers of our lives, and for many, "Star Wars" itself is that teacher.
However people celebrate, it's good news for Disney and Lucasfilm, as it's essentially free publicity. "The holiday has gained traction in the media in the last five or so years to the point where even people who don't know Star Wars — like my mom — will text me to say, 'May the Fourth be with you!'" Ratcliffe said.
That's not to say that the owners of "Star Wars" and their merchandising partners don't get in on the celebration as well. Sales on every type of "Star Wars" merchandise available abound on May 4, and let's be honest, it wouldn't be a true American holiday without this feature.
However you decide to celebrate, one thing is certain: The Fourth will be with you ... always.