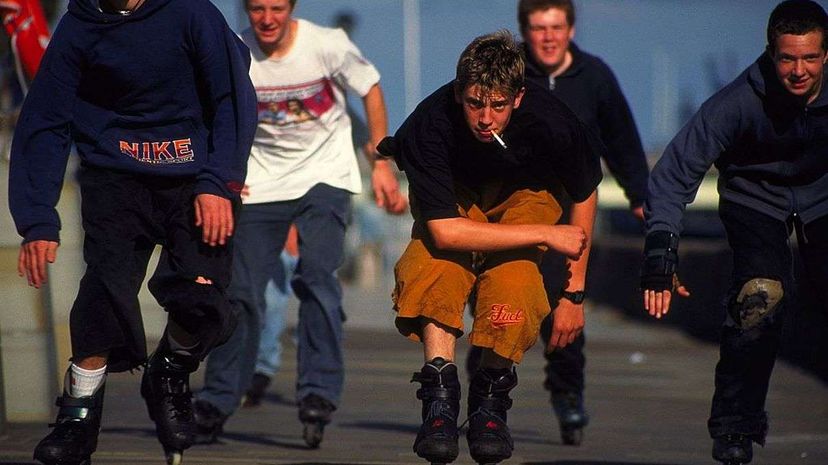 Nothing screams 1995 quite like a sweet pair of Rollerblades. And the Mighty Morphin' Power Rangers. In fact, the apex of '90s culture may very well be the opening scene of the Power Rangers movie, in which kneepad-clad Rangers strap on their inline skates and hit the streets for a wild ride, including lots of unnecessary slo-mo flips.
If you were born after 2000, it's hard to grasp the immense popularity of inline skating. Every park and walking trail and outdoor mall was swarmed with entire families on Rollerblades. "Aggressive" inline skating was so cool that the 1998 X Games featured four inline skating events. Old-fashioned quad skates were piled up and burned by angry mobs. (OK, not quite).
By the late '90s, more than 20 million Americans were skating at least once a year, making it the fastest-growing sport in the country.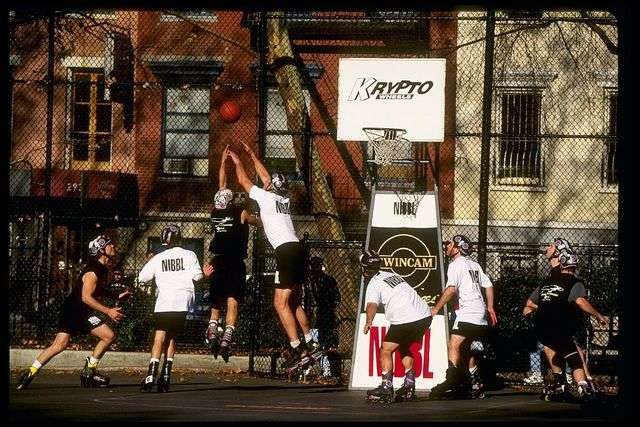 And today? (Cue the crickets and tumbleweeds.) According to numbers from the Sports & Fitness Industry Association (SFIA), which conducts a massive annual sports participation survey, only 6 million Americans tried inline skating in 2015, with only 1.7 million "core" inline skaters rolling out on a regular basis. 
Allan Wright remembers the inline skating boom years very well. In 1997, he quit his corporate job and launched Zephyr Adventures, the world's first inline skating tour company. Just two years in, he realized that skating's popularity was racing downhill fast, so he quickly expanded his offerings to biking, hiking and food and wine tours.
"Skating declined quickly and substantially," says Wright. "I think part of this was due to the difficulty of the sport. It's easy to strap on a pair of skates and go but not easy to brake or to skate with confidence for many people. Once people fell a few times, they would leave their skates in the closet. It's a shame because once someone does learn to skate safely, it is a fast, fun and healthy sport."
Despite skating's steep decline in popularity, Zephyr Adventures still offers two inline skating tours a year, including an upcoming 20th anniversary tour in 2017. Wright says that the tours mostly attract middle-aged folks with good jobs and the disposable income to pay $2,300 per person for a five-day skating and trekking excursion in Wyoming.
Inline skating may not be officially dead, but the health-conscious 50-somethings who roll around national parks are certainly a far cry from the "edgy" image of Rollerbladers cultivated by 90s-style aggressive skating. By 2005, the cool factor of inline skating had dipped so low that the X-Games dropped all inline events.
Still, as evidenced by rampant '90s nostalgia in pop music and fashion, everything old is new again, and the time might be ripe for an inline skating resurrection. Trish Alexander's a believer. She started the Skate Journeys skating school outside of Seattle in 1999 and also runs the Skate Instructors Association (Skate IA), which certifies and promotes skating classes across the country.
"This year, I certified more instructors for skate rinks than ever before," says Alexander, who took over Skate IA in 2009. "And it was a record year at Skate Journeys, too, in terms of the number of students taught." 
Alexander credits the surging popularity of roller derby — a quad-skate only sport — with the renewed interest in inline. Still, there are significant hurdles to be overcome before inline skating returns to the glory days of the '90s.
"This is not a sport that teenagers take up willingly," says Alexander, who teaches inline skating in local public schools through a grant from US Speed Skating. "It's hard to look good on skates. Once you get good, you'll look good, but there's nothing you can buy that will make that easier. It's a balance point that has to be learned and earned."
 Although the SFIA's survey showed Americans' participation in inline skating had fallen 5.7 percent between 2010 and 2015, the numbers for the last three years showed the decline as essentially flat (0.9 percent). So, an upswing could be just around the corner.