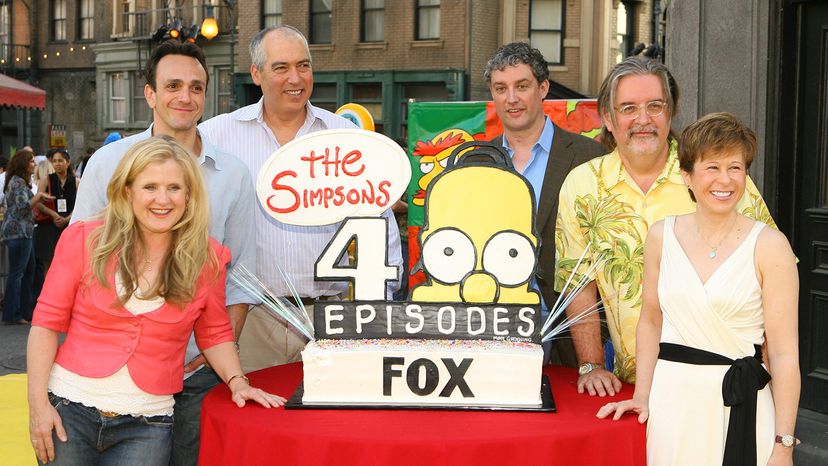 Image: L-R: Voice actors Nancy Cartwright, Hank Azaria and Dan Castellaneta; creator Matt Groening, writer Al Jean and voice actor Yeardley Smith (Photo by M. Tran/FilmMagic).
About This Quiz
There's acting, and then there's voice acting. Both are difficult in their own specific ways. How much do you know about these voice acting legends?
Which Samoan professional athlete (current or former) voiced the part of Maui in "Moana?"
Dwayne "The Rock" Johnson
The Rock, as he's better known, has a thriving voice acting career, having really broken out as the main character of Maui. He has also voiced characters in multiple video games (like Fortnite), and even makes a vocal appearance in a Taylor Swift video.
Which famed voice actor was known as "the man of a thousand voices?"
Never heard his name before? Perhaps you know some of the characters he voiced, like Bugs Bunny, Daffy Duck, Porky Pig, Yosemite Sam and many others.
Which "The Simpsons" character is NOT voiced by Hank Azaria?
Azaria has voiced more than a dozen supporting characters on the show. He announced in 2020 he would stop voicing Kwik-E-Mart convenience store owner Apu, and even apologized for how he may have negatively portrayed Indian racial stereotypes. Homer is voiced by Dan Castellaneta.
The actor who made Groot come alive in "Guardians of the Galaxy" also voiced which infamous villain?
Shredder in "Teenage Mutant Ninja Turtles"
Kevin Michael Richardson may have played the beloved Groot in the "Guardians" franchise; however, he's best known for voicing villains like Shredder and even the Joker in the "Batman" animated series.
Slade in "Teen Titans Go!"
Mumm-ra in "The Thundercats"
The narrator of "The Powerpuff Girls" also voices which legendary character?
Legendary voice actor Tom Kenny's career spans decades across dozens of TV shows and movies. In addition to SpongeBob himself, Kenny also voices the show's characters of Gary the Snail, Patchy the Pirate and the French narrator.
Which of these famous actors has NOT voiced a character in a Disney animated movie?
Goldberg voiced Shenzi the hyena in "The Lion King" while Moore voiced Esmerelda in "The Hunchback of Notre Dame." Clooney hasn't voiced any characters for Disney (yet) though he did star in a forgettable Disney pic called "Tomorrowland."
Which character is also voiced by the actor who made Daisy Duck famous?
Dot Warner of "Animaniacs"
Tress MacNeille has long voiced the iconic parts of Daisy Duck and Dot Warner, not to mention Rosie the Robot from "The Jetsons" and a ton of animated characters on both "Veggie Tales" and "Disenchantment," among others.
Jane Jetson of "The Jetsons"
The voice of "The Marvelous Mrs. Maisel" character Susie Myerson can be heard in multiple roles on which animated series?
You probably recognize Alex Borstein as Midge's gambling-prone manager on "The Marvelous Mrs. Maisel," but she also voices Lois Griffin on "Family Guy," as well as other characters on the show.
The voice actor for Susie Carmichael on "Rugrats" also starred on which long-running '80s sitcom?
Cree Summer played free-spirited Freddie on "A Different World" for many years while working as a voice actor. She started off in the role of Penny in "Inspector Gadget" and is currently the voice of several characters on "Puppy Dog Pals," "The Patrick Star Show" and other series.
Which "Winnie the Pooh" character is NOT voiced by Jim Cummings?
In addition to more than 400 voice roles on his resume, Cummings is also an amazing singer. He filled in for Jeremy Irons when he came down with vocal problems while trying to record "Be Prepared" for "The Lion King." Cummings is the official voice of Winnie and Tigger, but not Piglet.
L-R: Voice actors Nancy Cartwright, Hank Azaria and Dan Castellaneta; creator Matt Groening, writer Al Jean and voice actor Yeardley Smith (Photo by M. Tran/FilmMagic).