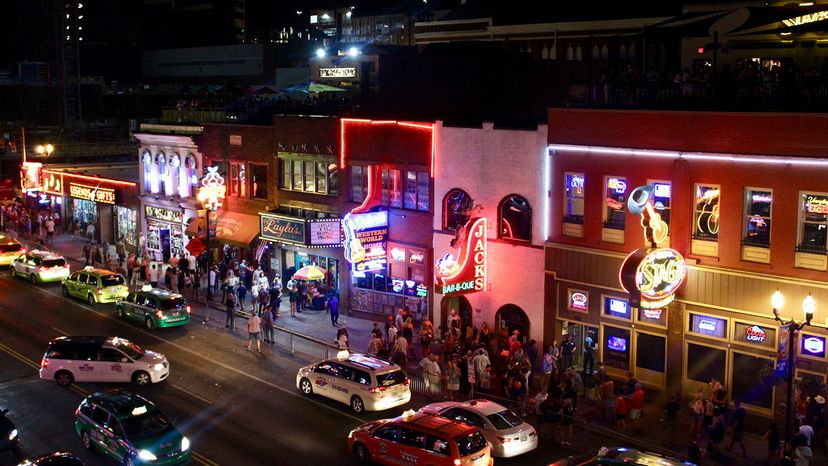 A view of Nashville's Honky Tonk Highway located on Lower Broadway. This is a row of bars and venues pumping live music into the streets from 10am to 3 a.m.
Khiry Clements/HowStuffWorks
In the music business, there are only four world-renowned music "centers": New York City, Los Angeles, London and Nashville, Tennessee. Which of these things is not like the other?
Yet Nashville, with a population of less than 2 million, beats all three of those global metropoli in terms of per capita music production. According to a 2013 report, there are more music industry jobs (56,000) in Nashville per capita than in New York or Los Angeles, and the music and entertainment industry contributes $10 billion to the Nashville economy. And the number has only increased since then.
Nashville is synonymous with country music, but it's also the uncontested capital of contemporary Christian music and gospel, and its diverse and dynamic music scene has launched the careers of everyone from Elvis to Jimi Hendrix to Taylor Swift.
So how exactly did this laid-back Southern city, far from the bright lights and big studios of New York, LA and Chicago, become "Music City, U.S.A."?
The story begins in the 1870s with the Fisk Jubilee Singers, a vocal group from Nashville's Fisk University composed entirely of freed black slaves. The Fisk Jubilee Singers adopted the operatic singing style of the day to sing negro spirituals. They were wildly popular and not only toured the United States, but also Europe with their uniquely American sound.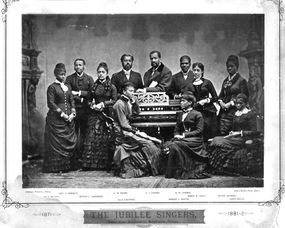 An 1882 picture of the Fisk Jubilee Singers.
Gobonobo/Wikimedia Commons
It was after a concert attended by none other Queen Victoria of Great Britain that Her Highness reportedly addressed the singers and said, "You must come from the music city."
While it's a great story, most music historians -- including the famed documentarian Ken Burns -- think it's probably apocryphal. That doesn't take away from the fact the Fisk Jubilee Singers helped put Nashville on the musical map. They were also one of the first musical acts to perform in Ryman Auditorium, a "gospel tabernacle" built in 1892 by riverboat captain Tom Ryman that's still Nashville's most-beloved music venue (more on the Ryman in a minute).
"We Shield Millions"
Most of the credit for Nashville becoming Music City belongs, oddly enough, to an insurance company. In 1925, the National Life and Accident Insurance Company had the ingenious idea of launching a radio station in Nashville to promote its business. They called it WSM for their company motto "We Shield Millions" and they mostly played classical and easy-listening "dinner" music. But Saturday nights were reserved for the WSM Barn Dance, an evening of live (and lively) country music.
The Barn Dance broadcast was so popular in Nashville that people would come downtown every Saturday night and crowd outside the WSM station to catch a glimpse of the musicians. WSM soon built an auditorium to accommodate the audience and in 1927 changed the weekly program's name to the Grand Ole Opry.
In 1932, WSM got a brand new antenna (the tallest in North America at the time) and broadcast a 50,000-watt clear channel signal that reached every home in America coast to coast. The Grand Ole Opry was one of the most popular radio programs of its day, and in 1943 the live music review moved into the Ryman Auditorium, where it would stay for the next 31 years.
Don Cusic, a Nashville-based country music historian and (not coincidentally) the Music City Professor of Music Industry History at Belmont University, says that the decade of 1945 to 1955 was the Grand Ole Opry's heyday.
"That's when it was the place that every country performer wanted to be," says Cusic.
Nearly every country and rockabilly star of the 1940s and 1950s got their big break playing for the Opry on the Ryman stage, including Hank Williams, Johnny Cash, Patsy Cline, George Jones, Dolly Parton, Charley Pride and Elvis. The entire genre of bluegrass music was literally invented on the Ryman stage in 1945.
It's hard to overstate the magnetic draw of the Grand Ole Opry to country musicians. All the top talent came to Nashville to play the Opry and the recording studios and record labels followed. The nascent industry set up show in Nashville's Music Row along 16th and 17th avenue, home to legendary RCA Studio B, where Elvis recorded 260 songs, including his first number one hit, "Heartbreak Hotel" in 1956.
The true story of how Nashville got its nickname is credited to WSM radio announcer David Cobb who ad-libbed an introduction to a 1960 Opry broadcast by saying that the sounds the listeners were hearing were coming from "Music City, USA." And the monicker stuck.
Cusic says that Nashville trumps other Southern music hubs like Austin and Atlanta because its vibrant, homegrown creative culture is backed by an equally strong industry presence, not just country, but Christian contemporary, gospel, alternative rock and more. He says that Austin is always making a run for music capital of the South, but that Austiners hate the business side.
"The music business is the music, the business and the technology all rolled together," says Cusic. "You can't hate the business side because that makes it profitable."
Musicians who call Nashville home include Justin Timberlake, Sheryl Crow, Jack White, Paramore, Kings of Leon, Ben Folds and more. And although the Grand Ole Opry moved to a new home in 1974, the Ryman Auditorium is still hosting sold-out concerts more than 125 years later.