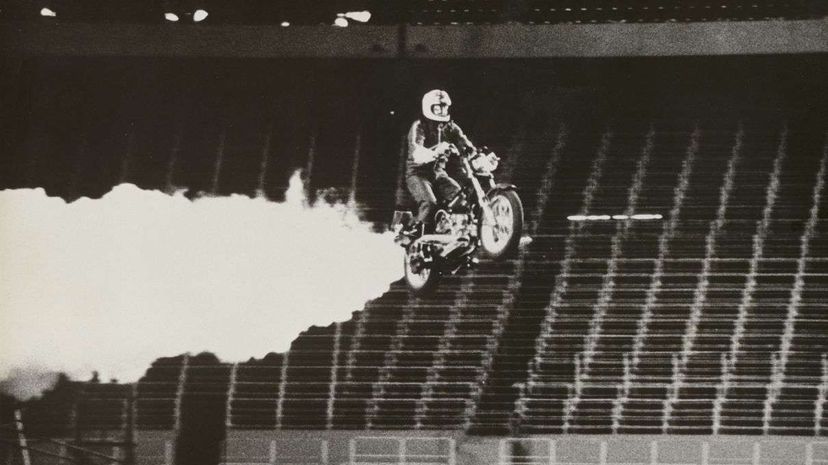 Skydivers landed on the Las Vegas Strip in front of Caesars Palace on July 3, part of the Las Vegas landmark's celebration of its "daredevil legacy." Almost 50 years ago, an upstart Evel Knievel convinced a brand-new Caesars Palace Hotel & Casino to let him try to jump the 151-foot (46-meter) Caesars fountain on a Harley-Davidson, and the rest was history.
Knievel didn't make the jump. But he did clear 14 buses in 1975 (video), a 133-foot (41-meter) jump, setting a distance record that stood until 1999.
Still, technically, daredevil Rick Rojatt surpassed Knievel's distance long before that. In 1977, the Canadian stuntman tried to clear 26 buses on a rocket-powered Harley. He crashed somewhere around bus 19.
Actually, we don't know if his name was really Rick Rojatt. Or whether he was a stuntman — he claimed to have worked in Hollywood for a time, but there's no record of that. But he was definitely in Canada at some point.
Rojatt seems to have materialized in Montreal in the mid-'70s, when he joined forces with two sausage-makers who wanted to get into the daredevil business. They thought they could break Knievel's record. Having no interest in jumping any buses themselves, they recruited Rojatt, a "new guy in town, a chancer who talked big and who owed one of their cousins some money," writes Michael Odell on Esquire.com.
A Superhero Is Born
Rojatt took on an alter ego for the new venture. He became The Human Fly, a superhero who wore head-to-toe red spandex, and sometimes a white cape. The eyeholes in his face mask were outlined in silver sequins. His body, he said, was mostly metal; he was practically unbreakable.
The Fly made his stunt debut in June 1976, standing on the roof of a DC-8 jet as it flew low over the Mojave Desert at about 300 mph (483 kph).
It was a huge hit, and in the coming months, he was profiled in People magazine, appeared on "That's Incredible" and was interviewed on the CBC's "90 Minutes Live." Marvel licensed The Human Fly for a series of comic books, billing the daredevil as "The wildest superhero ever, because he's real!" The series ended in 1979.
Through it all, Rojatt was never out of character, and he never revealed his face.
Some say Rojatt was a dreamer — that he actually wanted to be a superhero. Even before The Human Fly, he told people he was once attacked by a gorilla and was so shattered he had to be rebuilt, so his body was mostly metal.
Rojatt has also been described as a "con man" and an "idiot."
Ky Michaelson, who built Rojatt's rocket bike, is nicer about it.
"I don't want to say 'fruitcake'," Michaelson says, "but, at the time I thought that he was just another one of 'those guys.'"
Michaelson, also known as the Rocketman, has been building rockets for more than 60 years. He led the team that sent the first civilian, amateur rocket into space in 2004. He's currently working on a rocket-powered backpack in his Minnesota workshop.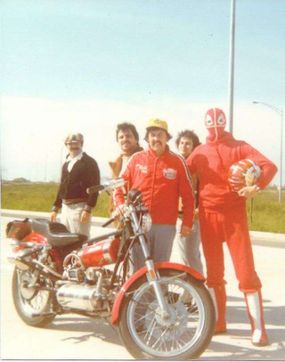 Michaelson has been involved in a lot of stunts, and he's met a lot of "those guys."
"I'm kind of like a magnet, and I draw a lot of strange people into my life that want to do a lot of crazy things," Michaelson explains.
Rojatt called about the rocket bike in 1977, when Michaelson was in California.
"He wanted me to build him a rocket-powered motorcycle, a Harley-Davidson," Michaelson remembers. Rojatt wanted to jump 36 buses to obliterate Knievel's record.
Michaelson said no.
"I just thought that he had no clue what he was getting into," he says.
"I mean when a guy calls you up and tells you the majority of his body is made out of steel, you know it's not exactly true," Michaelson reasons. "So I just kind of blew it off."
Obviously There Is No Stopping This Man
Rojatt told Michaelson he was basically bulletproof. He claimed he'd been in an accident years ago, and had been rebuilt with metal parts.
"If that's promotion or that's true, I have no clue," Michaelson says with a laugh.
It was at least partly promotion. When Marvel licensed the character, Rojatt got a better backstory. No more gorilla. Esquire's Odell quotes from the first issue of Marvel's "The Human Fly":
"We'll have to start with an automobile accident sometime in the early Seventies. An accident so serious it took four years of hospitalisation and only after all the bones in both legs and hips were completely crushed; half the stomach removed; and both arms shredded to uselessness; that he could honestly aspire to be the greatest daredevil of all time! ... To everyone's amazement he walked out of the hospital a man, but a man remade of steel in 60 per cent of his body. Obviously there is no stopping this man.
Michaelson told Rojatt he'd still crash and die if he tried to jump 36 buses.
"At the speed he would have needed to do that," Michaelson says, "he would have hit the wall on the other side of the building there."
Rojatt agreed to 26 buses — still well over Knievel's feat — and Michaelson built him a rocket bike. Rojatt sent him a black, 1977 Harley Davidson XL-1000 Sportster, and the Rocketman replaced the engine with two 1,500-pound (680-kilogram) thrust hydrogen-peroxide rockets. At full power, the machine could do "well over 300 mph in the ¼ mile," Michaelson writes on his website.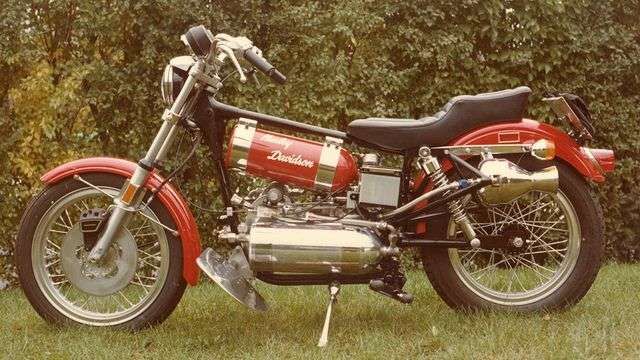 The plan was simple: Rojatt would activate the rocket, head up the ramp at full throttle and then just hang on as the bike sailed across the chasm to the landing platform.
At Montreal's Olympic Stadium in October 1977, that's not how it went down.
"I Wasn't Gonna Let It Happen"
The stunt was a disaster from start to finish. Michaelson says he arrived in Montreal to find the ramps were all wrong — both the jumping and landing ramps had been changed from his specifications. He called the whole thing off.
"I wasn't gonna let it happen ... that bike had well over 3,000 pounds of thrust, and double that in horsepower," he says. "I saw the ramp was all changed, and I said 'He's not jumping here tonight.'"
Michaelson says no one would listen. The stunt was happening anyway. He was furious. The ramp wasn't even the only problem.
"We never tested the motorcycle, he'd never been on the motorcycle, he never rode the motorcycle," he says. "And uh, you have to jump on that thing." 
Michaelson says Rojatt came up to him before the stunt and asked how to work the bike.
"And I tell ya, I looked into his eyes and it looked like he wasn't even there. So he was definitely either drunk, or he was really drugged up," he recalls. "I said 'sit on the bike, hit the red switch, and twist the throttle,' and I walked away from him."
And Rojatt went for it.
And Like That, Poof. He's Gone.
Before a very small crowd, The Human Fly sped up the ramp as music blared, white smoke poured dramatically from the exhaust. He reached the launch point and went soaring (video, 4:30).
He crashed around bus 19. The bike flipped over and slammed down on top of him, and the two slid over the roofs of several buses before smashing into the landing platform at high speed.
From Michaelson's vantage point, Rick opened the throttle too slowly, so the bike wasn't moving fast enough when it left the jump ramp.
"I think that was a blessing in disguise," he says, "because he would have gone much faster and it could have resulted in a complete disaster."
Rojatt survived the crash (making the whole steel-body thing seem somewhat less stupid), and fully masked to boot. He waved to the crowd from a stretcher, left the stadium in an ambulance, and never appeared in public again.
Not as Rick Rojatt, anyway. If Evel Knievel was king of the daredevils, Rick Rojatt was their Keyser Söze.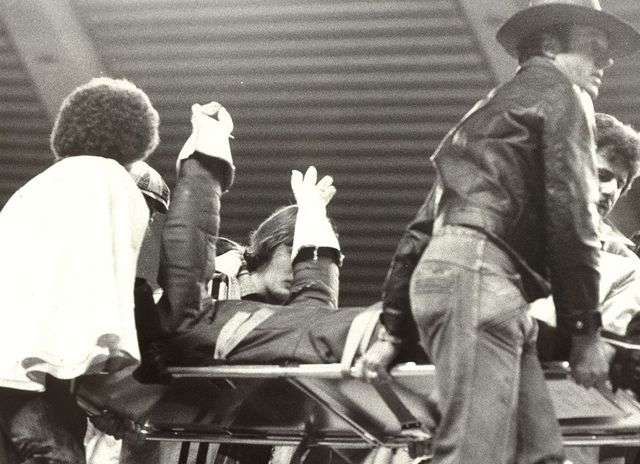 A stranger once showed up at the Rocketman's shop while he was working on the Harley. The man said he was an engineer, and that he represented Rick Rojatt. Michaelson thinks about that visit a lot.
"I don't even know if that engineer ... was Rick Rojatt," Michaelson says. "The guy's under a mask all the time ... you don't know who you're with."
Michaelson says he never saw Rojatt again after that night in Montreal, and he's not shy about what he thinks happened. He's confident something shady went down — that the whole endeavor was shady, from the start. He believes Rojatt is dead. He mentions a life-insurance policy.
"There's a lot of things — well, there's a lot of things that I don't talk about, let's just put it that way," Michaelson says. He alludes to possible lawsuits, and protecting witnesses.
But "I'll tell you," Michaelson says, "it would make such a good movie, the real story. It's unbelievable."
Someone else's version of that movie has been in the works for years, but keeps vanishing. IMDb now says 2017.