In the early 1970s, when video poker was introduced and was still struggling for acceptance, the machines were usually referred to as "poker slots." And video poker has a lot in common with slot machines. They are easy to use, requiring no interaction with a dealer or with other players. Card combinations, like slot reels, are governed by a random-number generator.
Casino Image Gallery
But video poker adds something slot machines don't have -- an element of skill. Players have decisions to make that affect the outcome. And because cards are required to be dealt from a randomly shuffled 52-card deck -- or 53 cards, in the case of Joker's Wild machines -- the possible combinations are known, the frequency of the combinations can be calculated, and an optimal playing strategy can be devised. In fact, when Missouri riverboats opened under a law that forbade games of chance, casinos were allowed to offer video poker, as a game of skill, even though slots, as games of chance, had to wait until voters changed the law.
The best video poker machines, played skillfully, offer odds that rival any table game. The basic game, Jacks or Better, in its full-pay version returns 99.5 percent with optimal play over the long haul. Other machines, especially some versions of Deuces Wild, offer a positive expectation to the player -- that is, over the long haul, they'll return more than 100 percent with optimal play.
Why do casinos offer games that can be beaten? Because only a very small percentage of players know the basics of proper play. Enough mistakes are made that the casinos actually pay out 2 to 4 percent less than the expectation for skilled players. In competitive markets, casinos walk a tightrope between two choices -- offering a pay table so good that the best players can expect to make a profit in the long term, or offering lower pay tables and risk driving away the weaker players who are the casino's bread-and-butter customers. In less-competitive markets, where the demand for space to play is great, casinos will offer lower-paying machines because they will be played despite the low payoffs.
Enough Americans have an easy familiarity with the rank of poker hands that video poker has become one of the most popular casino games. As gambling markets mature and players become more experienced, the demand for video poker has tended to become stronger. In Nevada, casinos with a clientele of locals devote more than 50 percent of slot space to video poker, and there are video poker bars that offer few other gambling options. The major resorts that cater to tourists turn a lower percentage of space to video poker, about 10 percent to 15 percent. That's about the percentage you'll find in other United States gaming destinations. In Missouri, as soon as voters allowed games of chance, about 80 percent of slot space was turned over to reel slots.
In the early 1980s, Si Redd and his new International Gaming Technology entered into a licensing agreement with Bally's Manufacturing that gave IGT exclusive rights to manufacture video poker machines. Few people recognized the potential at the time, but that gave IGT the boost it needed to become Bally's main competitor in producing electronic gaming devices. Today IGT and Bally's both produce video poker machines, and their machines take up most of the floor space devoted to electronic gaming devices across the country.
If you're ready to join the video poker craze, you have found the right article. In the following pages, you will learn how to navigate the sea of buttons and flashing lights that is a video poker machine, as well as tips and tactics to come out a winner. Let's get started with a quick refresher on the winning hands in poker.
Rank of Poker Hands
All payoffs are based on five-card poker hands, which rank as follows: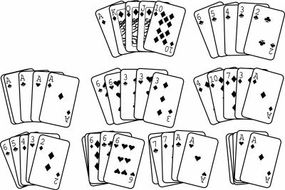 Royal flush: Ace-king-queen-jack-10 all of the same suit (hearts, clubs, spades, or diamonds).
Straight flush: Five consecutive cards of the same suit; for example, 2-3-4-5-6, all of clubs.
Four of a kind: Four cards of the same rank; for example, ace of hearts, ace of spades, ace of clubs, ace of diamonds.
Full house: Three cards of one rank, two cards of another rank; for example, 3 of diamonds, 3 of hearts, 3 of spades, 6 of hearts, 6 of spades.
Flush: Five cards of the same suit; for example, ace, 10, 7, 4, 3, all of diamonds.
Straight: Five consecutive cards of mixed suits; for example, 2 of diamonds, 3 of hearts, 4 of diamonds, 5 of clubs, 6 of spades.
Three of a kind: Three cards of the same rank; for example, 6 of hearts, 6 of clubs, 6 of diamonds.
Two pair: Two cards of one rank, two cards of another rank; for example, ace of spades, ace of hearts, 7 of clubs, 7 of diamonds.
Pair of jacks or better: Two jacks, queens, kings, or aces.
Now that you know how to win, let's take a look at the device that you'll be playing on. Move on to the next section to learn the anatomy of a video poker machine.