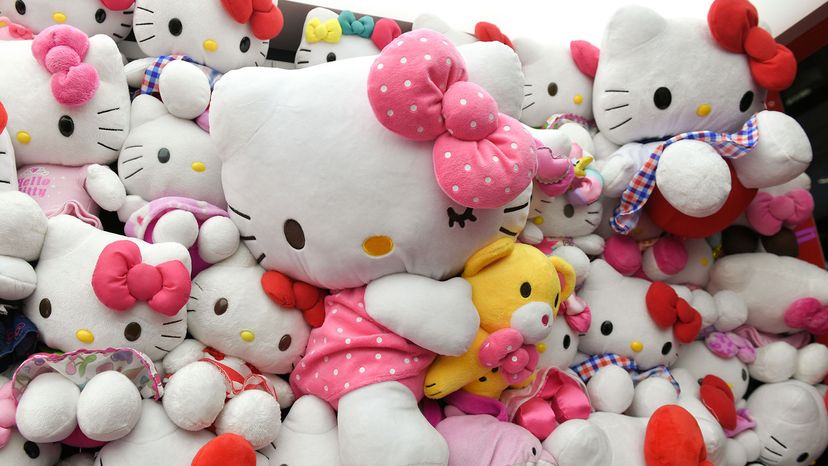 Image: Jens Kalaene/picture alliance via Getty Images
About This Quiz
She's dominated pop culture for decades, but how much do you really know about the cutest anime character around? Take our purrfect quiz to find out!
True or False: Hello Kitty isn't actually a cat.
Despite her whiskers and feline-esque appearance, Hello Kitty is not a cat. Minds were blown when in 2014 Sanrio (the brand owner) confirmed that, while the character takes "the motif" of a cat, she's actually a human character. In fact, her name is Kitty White and she lives in London.
Sanrio takes the Fifth on this one.
What was the first item Hello Kitty ever appeared on?
Kitty's debut was on a coin purse in 1974. Since then, she has appeared on everything from bras to rice cookers and even airplanes.
Which facial feature is Hello Kitty lacking?
That's right, you probably never noticed that she doesn't have a mouth. Ever. Sanrio says that she speaks from her heart, so she doesn't need actual words. Awww...
Who is Daniel Star to Kitty?
Kitty comes with a full cast of characters, including twin sister Mimmy, Mom (a master at making apple pies) and her longtime boyfriend, Daniel Star (aka Dear Daniel). A gentle bear named Tippy would also like to be Kitty's boyfriend, but so far Daniel's the front-runner.
Hello Kitty is the driving force behind the Japanese "kawaii" merchandising industry. What does kawaii mean?
Kawaii is Japanese for "cute," and Kitty certainly fits the bill! Sanrio founder Shintaro Tsuji noticed back in the 1960s that adding cute designs to products helped to sell them.
Hello Kitty is the second-highest grossing media franchise of all time. What's the first?
Despite raking in more than $80 billion since her creation in 1974, Kitty lives in Pokemon's shadow of more than $100 billion. Star Wars is the fifth-highest grossing media franchise, behind Winnie the Pooh and Mickey Mouse & Friends, respectively.
How many Hello Kitty products are there?
Kitty boasts 50,000 products in 130 different countries. They rack up about $8 billion in sales every year.
Kitty always says that you can never have too many ____
Her favorite word is friendship! However, she also values her family and pets, which includes two Persian cats.
Which of these things has Hello Kitty NOT done?
launched a line of candy-flavored coffees
While you can buy a Hello Kitty coffee maker and even dine at a Hello Kitty Café, there are no Hello Kitty branded coffees. At least not yet. A Hello Kitty doll did go to space on the nanosatellite Hodoyoshi 3 in 2014. And in 2008, Hello Kitty was named Japan's tourism ambassador to China and Hong Kong.
served as ambassador to China and Hong Kong
Which celebrity once wore a dress made entirely of Hello Kitty plushies?
To celebrate the toy's 35th anniversary (in 2009), Lady Gaga donned a dress made completely of Hello Kitty stuffed toys.
Jens Kalaene/picture alliance via Getty Images