Guitar Image Gallery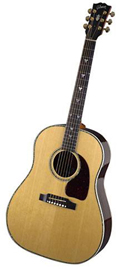 Photo courtesy Gibson Guitars
The Gibson J45 Rosewood is a classic acoustic guitar.

­The guitar is one of the most popular musical instruments in use today, and it spans a huge range of musical styles -- rock music, country music and flamenco music all use the same instrument to create wildly different sounds. The guitar is an instrument that has been around since the 1500s, but it has undergone several big transformations during its history. The development of the electric guitar is the most obvious recent mutation, and it had a huge effect on the popularity of the guitar.
Whether you're a musician or you simply enjoy listening to music, have you ever stopped to think about how a guitar works? What are frets for? What does the big hole in the front do? How does an electric guitar's pick-up work? In this article, we'll explore exactly how guitars make music! You will also learn a good bit about notes and scales in the process.
A guitar is a musical instrument with a distinctive shape and a distinctive sound. The best way to learn how a guitar produces its sound is to start by understanding all of the different parts that make up the instrument. We'll start here with the acoustic guitar and then look at the electric­ guitar later
in the article.