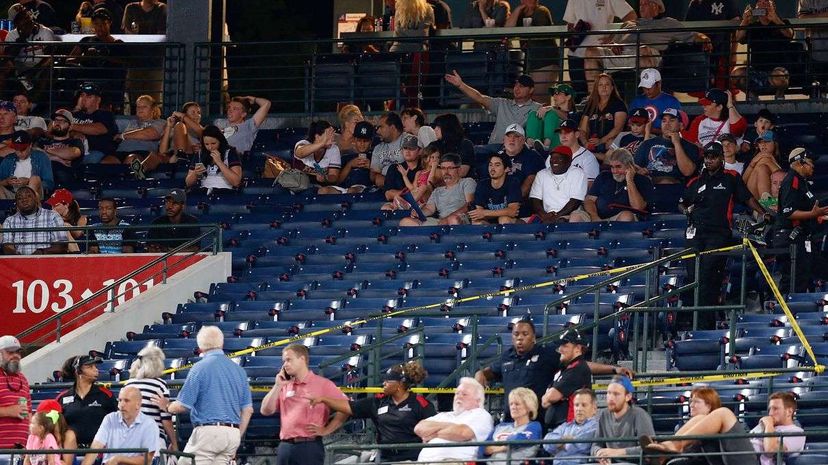 When 60-year-old Gregory K. Murrey fell to his death during an Atlanta Braves game in August 2015, he became the 24th fall-related fatality at a Major League Baseball park since 1969. Murrey was standing at his seat near the front of Turner Field's 400 level, allegedly heckling Yankees batter Alex Rodriguez, when he suddenly fell over the section's railing onto a concrete walkway about 50 feet (15 meters) below.
According to one witness, Murrey seemed to have had some sort of "medical emergency" immediately before the fall that could have caused him to lose consciousness. "He went from a good, excited fan to silent immediately," Justin Arnold told Atlanta's 11Alive News. "He would have been able to catch himself if he were conscious during the fall."
Murrey's death was the third fall-related fatality at Turner Field, which opened in 1996 in Atlanta. (A 30-year-old man's 2013 falling death at the stadium was ruled a suicide, and in 2008 a 25-year-old man died while trying to slide down a railing in an interior stairway.) Between 2003 and 2013, 14 people died in falls at collegiate and professional sports events in the United States.
Thanks to the 2009 book "Death at the Ballpark," by Robert M. Gorman, there is a wealth of information on falling deaths at baseball games, but there haven't been any official compilations of statistics for other sports and arenas. Still more difficult to find is information on nonfatal falls, of which there have been many over the years — these incidents are reported to the league, not to the public, says Elizabeth Voorhees, director of certifications for the National Center for Spectator Sports Safety and Security (NCS4) at the University of Southern Mississippi, and teams are pretty tight-lipped about sharing the information. 
Even the quickest search on falling deaths makes it clear that alcohol has played a role in many of these deaths — intoxicated, blurry-eyed fans are obviously more likely than sober spectators to stumble on steep stairs or take risks like sliding down stair railings. But each of these terrible accidents always triggers a debate about how far teams should go to protect their fans and exactly what measures, if any, should be taken to prevent more falls.
On one side are the people who argue for alcohol restrictions, railing-height standards and safety nets. On the other side are those who think that fans are ultimately responsible for themselves and that nets and higher railings would unnecessarily obstruct views. Voorhees believes there isn't a one-size-fits-all answer. "The facility can do its best to manage the risk by doing things like not overserving," she says, "but there's only so much they can do."
As it stands now, Voorhees says, no professional or collegiate leagues have across-the-board railing height standards or safety-net requirements. Facility architects must adhere to the International Building Code (IBC), but the choice to exceed those requirements (or not) is generally left to the team. The IBC requires a 26-inch (66-centimeter) railing in front of seated areas and a 42-inch (1-meter) railing around open-sided areas like walkways. 
Some teams have immediately jumped into action after a falling death. In 2012, the Texas Rangers raised the railings in Globe Life Park from 33 to 42 inches after a fan fell to his death trying to retrieve a foul ball that was tossed to him. But other teams have resisted changes — the Braves haven't raised the railings at Turner Field, and the team has declined to reveal the plans for its new stadium, which will open in 2017. Major League Baseball, for its part, seems to be in a constant state of re-evaluation and negotiation.
At the end of the day, you are your own best protection against a fall. "People take on personal responsibility when they enter a stadium," Voorhees says. "You mitigate your risk as best you can."