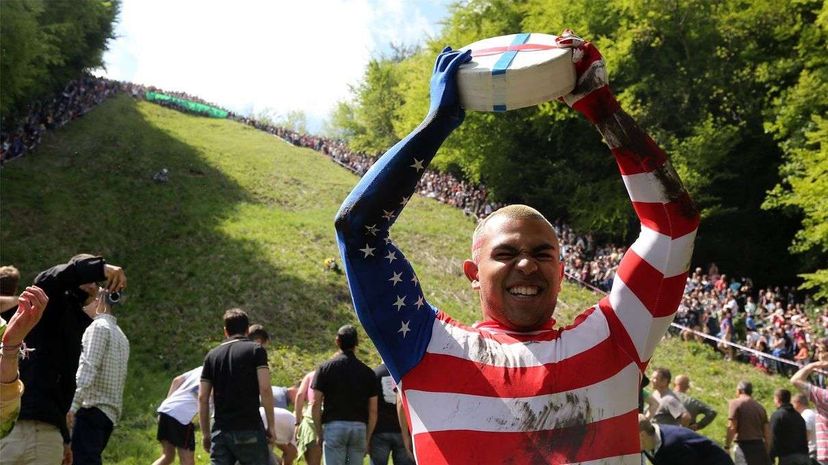 Usually on the last Monday in May, a huge wheel of cheese goes hurtling down a hillside in southwest England. And if that weren't awesome enough, people chase it.
The annual Cooper's Hill Cheese Rolling in Gloucestershire County has been going on for centuries. It's not the only cheese-rolling event in Gloucestershire, and there are at least a couple outside England, but the Cooper's Hill one in the town of Brockworth is the most famous. Thousands of people show up to watch racers fall their way down the course. (Due to the Queen's Platinum Jubilee this year, the 2022 version of this race will be held on Sunday, June 5, instead.)
It's an extreme sport. Few, if any, of those chasing the cheese remain on their feet. Cooper's Hill is bumpy and might as well be vertical — the slope is 70 degrees in some stretches — so racers basically lurch, roll and tumble their way to the finish line. That's about 220 yards (200 meters) of falling hard. Bruises, scrapes, sprains, dislocations and broken bones are common. A bouncing cheese wheel once sent a spectator to the hospital.
But one hardy runner from each race walks away with a roughly 8-pound (3.6-kilogram) wheel of traditional Double Gloucester, a firm cheese described by the British Cheese Board as "mellow, creamy or buttery."
Gloucestershire residents have been producing Double Gloucester since about 1500. When exactly they started chucking it down Cooper's Hill is hard to say.