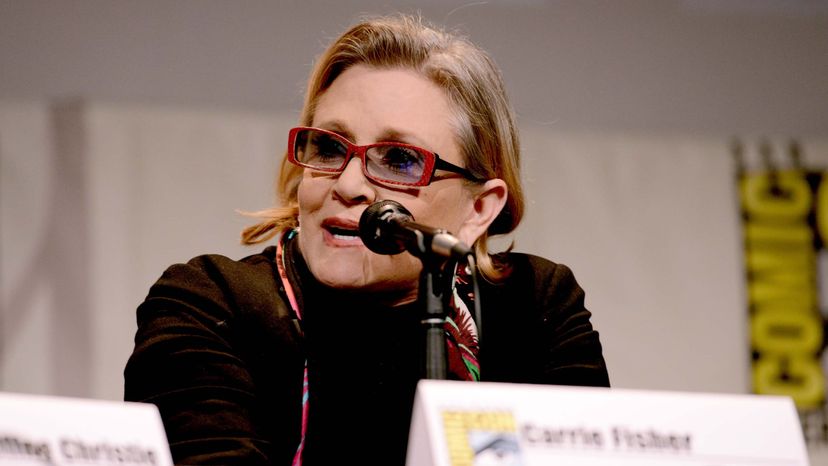 While doing press for "The Force Awakens," Carrie Fisher was a force of nature. She lit up every room she walked into. We even wrote an entire article of times she delighted us. Her presence was something everyone looked forward to during the next press tour, but, sadly, she passed away in December 2016.
Her absence was felt during the press tour for "The Last Jedi," and her castmates made sure to talk about her impact and importance.
"Carrie Fisher isn't here with us today except probably in spirit," Anthony Breznican, reporter for Entertainment Weekly and host of the international press conference, said. "She's giving everyone the finger from up there. But I wanted to ask the women in this film about the impact that Princess Leia had on generations of young girls who were watching these movies, even though there wasn't a whole lot of variety for them."
It was Gwendoline Christie, aka Captain Phasma, who offered the most stirring response. "She was very significant because I was first shown "A New Hope" when I was 6, and I remember thinking, 'wow, that character's really different.' It stayed with me throughout my formative years: She's really interesting, she's really smart, she's really funny, she's courageous, she's bold, she doesn't care what people think, and she isn't prepared to be told what to do. As someone that didn't feel like they fit into that homogenized view of what a woman was supposed to be, that there was inspiration there, that you could be an individual and celebrate yourself and be successful without giving yourself over, without necessarily making some sort of terrible, huge compromise, was a big inspiration for me."
Laura Dern, who plays a new character and ally of Leia's named Vice Admiral Amilyn Holdo, spoke of Carrie's lack of shame in being herself as what moved her the most. "[It was for her] to share her story and to expect nothing less from any of us. [It was] the privilege of watching how Rian has so beautifully captured all of that and her grace in this amazing, beautiful, pure performance, but also I think she found an equal irreverent subservience and they had this dance that gives us this performance that I was just so moved by."
Kelly Marie Tran, who plays Rose Tico, a character new to the saga, agreed. "Something about Carrie that I really look up to is, and something I didn't realize until recently, was just how much courage it takes to truly be yourself when you're on a public platform or when possibly a lot of people will be looking at you, and she was so unapologetic and so openly herself and that is something that I am really trying to do, and it's hard."
Oscar Isaac might have been the actor who worked closest with Carrie Fisher during their time together on "The Last Jedi," and during downtime they would even dance with each other (you can read more about that at Entertainment Weekly). But he also talked about why her presence in this film and all the other "Star Wars" films she appeared in, was so important. "For me, the most formative people in my life have been women. And so that has shaped my destiny so much and so to see that reflected in the film is really, really a beautiful thing, and it is more true to real life and to what's happening now. They're the ones that shape you."
Carrie Fisher completed her work on "The Last Jedi" before passing away in 2016. It's unknown how her character will be handled as shooting starts on the yet-to-be-titled ninth installment of the saga sometime in the next few months.