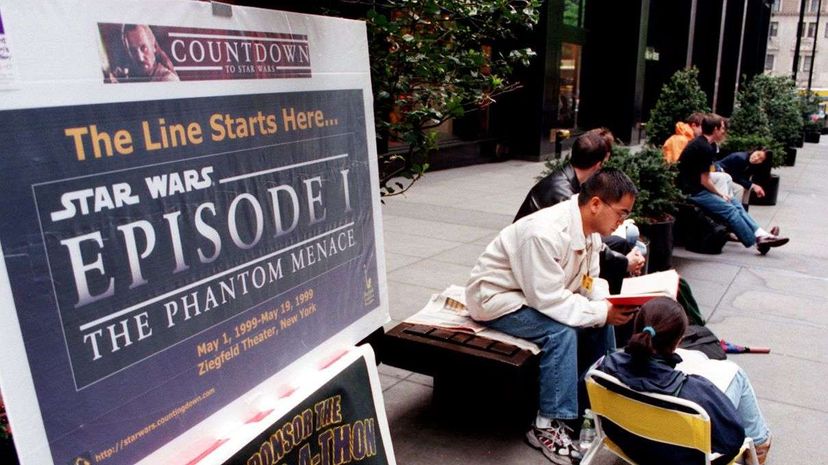 "When I was a boy over the holiday season of '77-'78, we were visiting my grandparents in California and my Uncle Mike was arguing with my mom about if I was old enough to see 'Star Wars.' My uncle was in favor of taking me, while my mother thought I was too young. My uncle won, took me to see it," explains "Star Wars" fan Scott Hoaglund in an email, "and I was forever changed."
It's easy to assume kids obsessed with lightsabers and space swashbuckling will eventually grow out of it. But what happens when people don't lose their love for the characters the Los Angeles Times film critic Charles Champlin called "salty squatty robots," back in 1977? Hoaglund's experience isn't unique; lifelong fans are pretty common to the "Star Wars" franchise. May 4th is now "Star Wars" Day thanks to fans. And collectors have spent $96,000 on Princess Leia's slave costume, and a record-breaking $450,000 for a model of the blockade runner that carried Princess Leia, C-3PO and R2-D2 in "A New Hope."
 It doesn't just stop with memorabilia. "Star Wars" fan Laura Peterson explains that although "Star Wars" greatly impacted her childhood, it's also a permanent part of who she is today as an adult. "My close friends watch me make a complete fool out of myself, jumping around with uncontainable excitement during my favorite scenes, quoting huge tracts of dialogue, hosting 'May the Fourth' parties."
The "Star Wars" fan community now spans across three generations of devotees. And it's a community that's still going strong: In April 2015, nearly 2,700 people camped outside the Anaheim Convention Center before opening ceremonies for chance to see peeks of the new movie "The Force Awakens," which opens in theaters on Dec. 18 — more than 38 years after "A New Hope" debuted. 
What is this spark, the rare thing about the story that keeps us coming back, keeps us watching and engaging with these movies and passing along the legacy to our children for decades? "Star Wars" is our story. My story. Your story. The story of our ancestors and those who will come after us. It's the archetypal hero's journey that Joseph Campbell wrote about: bad guys versus good guys. There's a reluctant protagonist called to adventure. With the help of a mentor, that hero is tested, overcomes and returns home forever changed. Sound familiar? It's a recurring myth among humans around the world and throughout time, and that familiar story brings people together.
"Every once in a while I have what I think of as an out-of-the-body experience at a movie," wrote Roger Ebert in 1977, continuing that "in a curious sense, the events in the movie seem real, and I seem to be a part of them. 'Star Wars' works like that."
The characters, for fan Peterson, especially Luke and his fraught struggle to become a Jedi, "became substitute role models, almost a proxy set of extended family."
Just as the adventurers in the movie form a makeshift family, "Star Wars" fandom also provides a tight community — a family of sorts — for fans.
"When I'm a serious fan ... something about the work resonates with me to a point where I have to understand the inspirations and motivations behind it," says movie superfan Sean Sisson in an email interview. "It's almost always a joy to meet other people who share common obsessions."
With its debut, "Star Wars" also brought about what Carrie Fisher called, "a new order of geeks, enthusiastic young people with sleeping bags," who, brimming with anticipation of a new adventure, and perhaps sensing a disturbance in the Force, began to camp out in front of theaters in an effort to drink in every available "Star Wars" experience and ensure a great seat at debut showings.
Today, some fans prefer to "camp" online instead of on the sidewalk. With the advent of reserved theater seating, there's no need to camp out, says cosplayer and fangirl Krysta Scharlach, "you just have to buy tickets a few weeks in advance. That is genius."
While that's mostly true, when advance ticket sales for "The Force Awakens" opened on Oct. 19, the frenzy of fans vying for seats temporarily crashing both Fandango and MovieTickets.com. In a rather ironic turnabout, some eager ticket buyers opted to drive to their local theaters to purchase tickets directly from the box office when online efforts failed repeatedly, rather than risk being shut out of the opening day experience.
Furthermore, adds Hoaglund, with the introduction and increasing popularity of in-person events, such as comic cons and cosplaying, fans who perhaps would have camped out for the movie and the community experience now have the chance to "hear the latest and greatest news before anyone else, and to see and hear from the actors in person via panels." And many, such as those 2,700 fans in California, wait in line for these experiences.
Not all "Star Wars" fans agree, however, and continue to see excitement and fanfare in the communal experience of camping out for opening day. Many fans have made friends and formed close bonds with people they've met in such lines.
"Films are for sharing," says Sisson. "Being in a packed house on opening night is an electric experience; it's rock and roll."
So although community campouts may have largely shifted from the cinemas to convention centers, you might still see some people bedding down in front of your local movie theater this December.